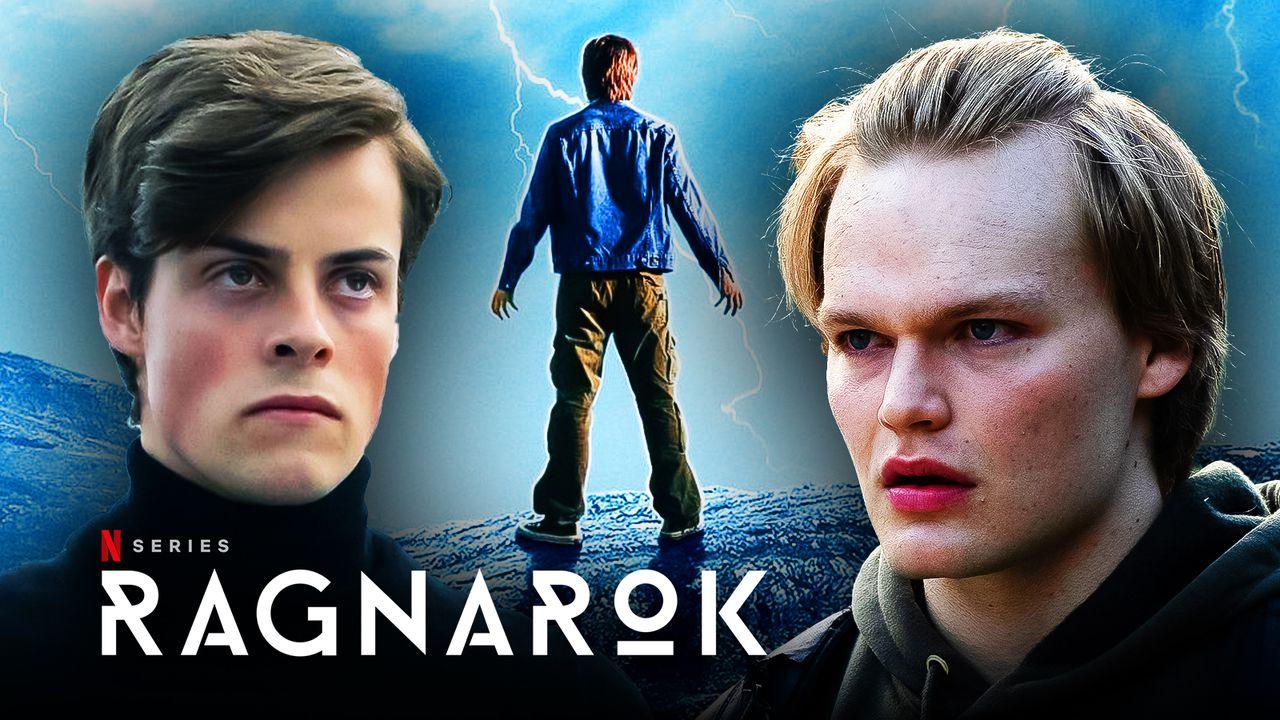 Ragnarok Season 3 features a cast filled with franchise mainstays and new characters. 
The show's third and final season on Netflix revolves around the clash between Magne and Laurits. In Ragnarok, the pair are reincarnations of Thor and Loki, respectively.
Every Actor & Character in Ragnarok Season 3
1.) David Stakston - Magne Seier
David Stakston plays Magne Seier, the reincarnation of the Norse god Thor aka the God of Thunder. 
At the end of Season 2, the high school student is still struggling to come to terms with the fact that he is Thor, and more of this subplot is expected to be highlighted in the third season.
Magne's power as the God of Thunder will also be pushed to the forefront, especially now that he has his powerful weapon, Mjolnir, by his side. Still, going up against his half-brother will be another obstacle for him in Season 3.
Stakston's other acting credits include Skam and Ikke Din Skyld.
2.) Danu Sunth - Iman
Danu Sunth plays Iman, the reincarnation of the Norse goddess Freyja who helps Magne in his quest to stop those who want to destroy Earth. 
Sunth is known for her roles in To Nowhere and Flus.
3.) Bjørn Sundquist - Wotan
Bjørn Sundquist portrays Wotan, Odin's reincarnation aka the father of Thor and Loki and the King of the Gods. 
Wotan acts as Magne's surrogate father and joins him to fight against the Jutuls to save the planet. 
The veteran Norwegian actor is known for his roles in Dead Snow, Hansel and Gretel: Witch Hunter, Wild Men, and Lilyhammer. 
4.) Benjamin Helstad - Harry
Benjamin Helstad plays Harry, Tyr's reincarnation aka the God of War. 
Harry is one of Magne's loyal allies, and he will do anything to help his friend in the great battle to save Earth. 
Helstad's acting credits include King of Devil's Island, Cave, and The Outlaws.
5.) Billie Barker - Signy
Billie Barker plays Signy, Magne's love interest who is rumored to be Sif's reincarnation on Earth. In Norse mythology, Thor is married to Sif. 
Barker's past credits include Om Litt, Nach, and Venner fra før.
6.) Vebjørn Enger - Jens
Vebjørn Enger plays Jens, an employee at Edda Grillen, a restaurant in the small town of Edda. 
Enger is an actor known for his roles in The Orheim Company, Twin, and Hjerteslag. 
7.) Theresa Frostad Eggesbø - Saxa
Theresa Frostad Eggesbø portrays Saxa, the daughter of Ran and Vidar and Fjor's sister. The character hides her true identity as an ancient Jotunn. 
At the end of Season 2, it was revealed that Saxa wanted Magne to become Thor so he could kill her family. After sleeping with Magne in the finale, it is unknown if he will trust Saxa again in Season 3.
Eggesbø is known for her roles in Skam, The Comet, and Threesome.
8.) Herman Tømmeraas - Fjor
Herman Tømmeraas plays Fjor, a character who is secretly an ancient Jotunn and is causing destruction on Edda and the planet. 
Fjor is Saxa's brother who is set to fight against Magne (Thor) in Season 3. 
Tømmeraas' other credits include Semester, Skam, Nightmare, and Leave.
9.) Jonas Strand Gravli - Laurits Seier
Jonas Strand Gravli plays Laurits Seier, Loki's reincarnation and Magne's half-brother. Season 3 is expected to culminate with the clash of Magne and Laurits as the Season 2 finale laid the groundwork for the pair's battle. 
Season 2's final scene revealed that Laurits released the tapeworm he had taken from his stomach and injected it with Odin's blood. 
In the prophecy, the worm will grow into the Midgard Serpent, the creature that will bring about Ragnarok aka the end of days. 
Gravli is best known for his roles on 22 July, Wild Men, and Wisting.
10.) Espen Sigurdsen - Halvor Lange
Espen Sigurdsen plays Halvor Lange, a doctor at a nursing home who is secretly a dark elf or a dwarven blacksmith.
In Norse mythology, dark elves are supernatural beings who reside in Svartalfheim.
11.) Gísli Örn Garðarsson - Vidar Jutul
Gísli Örn Garðarsson plays Vidar Jutul, Fjor, Saxa, and Laurits' father who is the leader of Jutul Industries. Similar to his son and daughter, Vidar is secretly an ancient Jotunn. 
Garðarsson is an Icelandic actor known for his roles in Blackport, Children, and The Oath. 
12.) Synnøve Macody Lund - Ran Jutul
Synnøve Macody Lund plays Ran, Vidar's wife and Fjor and Saxa's mother. Ran also serves as Edda Secondary School's headmaster who gives Magne problems. The character is also secretly an ancient Jotunn. 
Lund is known for her roles in Headhunters and The Girl in the Spider's Web.
---
Ragnarok Season 3 is streaming now on Netflix.