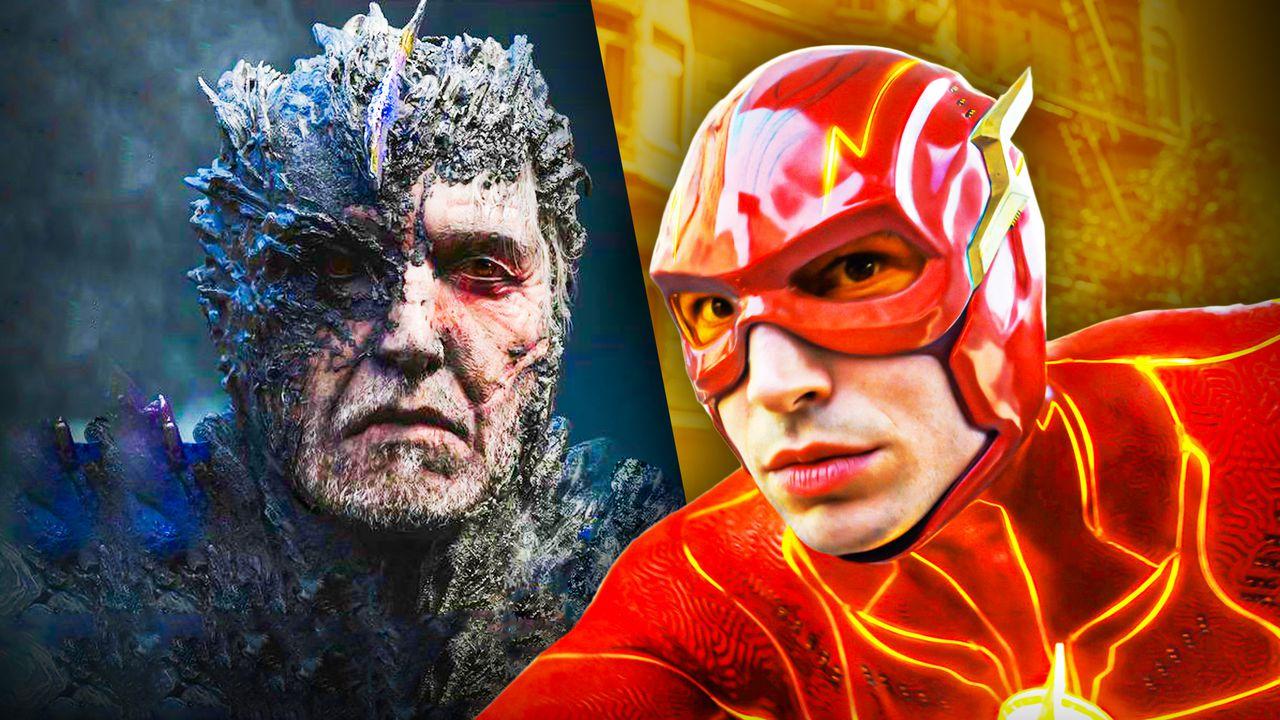 A concept artist revealed a new look at The Flash's villain, Ezra Miller's Dark Flash.
In a twist that was exclusively revealed by The Direct almost two years ago, The Flash's true surprise villain was ultimately not Man of Steel's General Zod as the trailers indicated, but rather the Dark Flash - an older and twisted Barry Allen. 
The villain was mostly absent from The Flash's trailers, aside from one accidental spoiler, although Dark Flash was revealed ahead of time through merch which even teased his unique and terrifying speedster superpowers.
New Look at The Flash's Dark Flash Villain
The Flash concept modeler Sam Williams took to Instagram to reveal the best up-close look yet at the movie's secret time-traveling villain, Dark Flash.
The Dark Flash was properly introduced during the climax of The Flash as a version of the movie's young Barry Allen who spent his whole life trying to avert a fixed event - the deaths of Michael Keaton's Batman and Sasha Calle's Supergirl.
Alongside the post, Williams noted he was "quite proud" of the design for Dark Flash before explaining the challenges and process involved:
"I was quite proud of this one. Challenging for me as it was a bit more of a creature project than props or costume but actually a nice change. I thought he was one of the more successful things we did on Flash.

Designed by Alexandra Byrne. Costume supervisor Dan Grace. Again Domachowski did the initial conception.

Practically this was a collaboration between Kristyan Mallett and the costumeFX team. We made the patterns and molded them and then he ran them in foam latex. It worked well. He also did the prosthetics."
One of the designs offered an up-close look at Dark Flash's real face, revealing Ezra Miller's older Barry Allen and giving an indication of just how long he spent running back through time frivolously trying to save the Justice League.
The Flash Had a Big Villain Problem
In many ways, Dark Flash was not the real villain of The Flash, nor was Man of Steel's General Zod. The true antagonist of the solo speedster outing was, in reality, time itself, with the Dark Flash arguably serving more as a representation of Barry Allen's moral struggle while Zod was really just an obstacle to overcome.
As The Flash was an adaptation of the classic "Flashpoint" event, many were ultimately disappointed Reverse Flash was absent from the movie. That said, director Andy Muschietti has confirmed Eobard Thrawne was still the murderer of Barry's mother, and would likely be the villain of a sequel doomed to never happen.
One could argue Dark Flash disappointed as his somewhat replacement in The Flash, especially given he was only seen for a few short minutes in the movie, most of which came right at the end during the climactic final conflict.
The Flash is playing now in theaters worldwide.