While Disney may be known best for its cache of top-tier animated movies, the studio has been retelling many of those classic stories in live-action remakes - to varying levels of success.
Outside of Disney's consistent efforts with Marvel, Star Wars, and original properties, live-action remakes have become a big source of income and publicity for the studio.
Some of the remakes for more beloved Disney animated movies brought some major returns at the box office and on Disney+; however, fans have shown a wide range of reactions to these retellings of the studio's classics.
Ranking Live-Action Disney Remakes
With that being said, it's time to rank the 23 live-action Disney remakes that were released between 1994 and the present day.
Each will be listed with its Tomatometer and Audience Score from Rotten Tomatoes.
23.) Pinocchio (2022)
Tomatometer Score: 29%
Audience Meter: 27%
Ranking at the very bottom of the list is Pinocchio. Director Robert Zemeckis' adaptation of 1940's Pinocchio made exclusively for Disney+ features Tom Hanks as Gepetto and Joseph Gordon-Levitt as Jiminy Cricket
While the slight changes made to the story fit well enough for the present day, the visual effects didn't live up to modern standards at all, especially with the villainous whale Monstro coming with extra tentacles and appendages. Combine that with subpar visuals for the other main CGI characters and lifeless attempts at Easter eggs, and it's easy to tell why this outing didn't land with most fans or critics.
22.) The Jungle Book: Mowgli's Story (1998)
Tomatometer Score: -%
Audience Meter: 32%
Even taking into account that this film was a straight-to-VHS release made 25 years ago, The Jungle Book: Mowgli's Story didn't have the same charm or joy that fans saw in the original movie from 1967.
The biggest problem with this project was that the talking animals' mouths didn't move when they spoke, taking away one of the most unique qualities that animal-starring Disney movies have. Additionally, the sets and visual effects didn't live up to the standard of the time and couldn't bring a story that viewers wanted to embrace.
21.) Alice Through the Looking Glass (2016)
Tomatometer Score: 29%
Audience Meter: 48%
2016's Alice Through the Looking Glass came as the direct sequel to 2010's Alice in Wonderland, featuring James Bobin as the director along with Johnny Depp (Mad Hatter), Anne Hathaway (White Queen), and Helena Bonham Carter (Red Queen).
While the visual effects from this movie looked quite stunning, the story didn't live up to either the original live-action movie or both films' animated predecessor, even though it was a more original story for a Disney remake. With dismal ratings from fans and critics and a rough run at the box office, this simply didn't bring a take on Alice that resonated with those who had loved her for years.
20.) Maleficent: Mistress of Evil (2019)
Tomatometer Score: 39%
Audience Meter: 95%
In a jam-packed year for movies, Angelina Jolie brought her second effort as Sleeping Beauty villain Maleficent in Maleficent: Mistress of Evil, teaming up with Elle Fanning, Michelle Pfeiffer, and Chiwetel Ejiofor.
Viewers once again enjoyed Jolie's passionate performance as the iconic Disney villainess, although the rest of the story and the characters largely fell flat and wound up being seen as underwhelming. Mistress of Evil simply didn't improve on even the movie that came directly before it in the timeline.
19.) Rudyard Kipling's The Jungle Book (1994)
Tomatometer Score: 80%
Audience Meter: 56%
The Jungle Book's first live-action retelling came in 1994 with Jason Scott Lee playing a much older version of Mowgli than is usually seen in this story.
While Lee put forth a great performance as the more grown-up Mowgli, this story diverted from the one originally told in 1967 with Baloo, Bagheera, Shere Khan, and the other core animal characters. The film also doesn't exactly bring Rupyard Kipling's voice to life from the book as well as one might expect, making for a somewhat disjointed product from start to finish.
18.) Peter Pan & Wendy (2023)
Tomatometer Score: 62%
Audience Meter: 11%
Attempting to provide a nearly identical retelling of 1953's animated Peter Pan, Peter Pan & Wendy became Disney+'s latest exclusive release - one that earned less-than-stellar reviews from many different sources.
While it dealt with a round of review-bombing, the movie came off as slightly boring and rushed, even though most of the casting decisions weren't bad. But even behind talents like Jude Law and Yara Shahidi, the lackluster visual effects and dull lighting didn't do Peter Pan & Wendy any favors for the viewing experience.
17.) Christopher Robin (2018)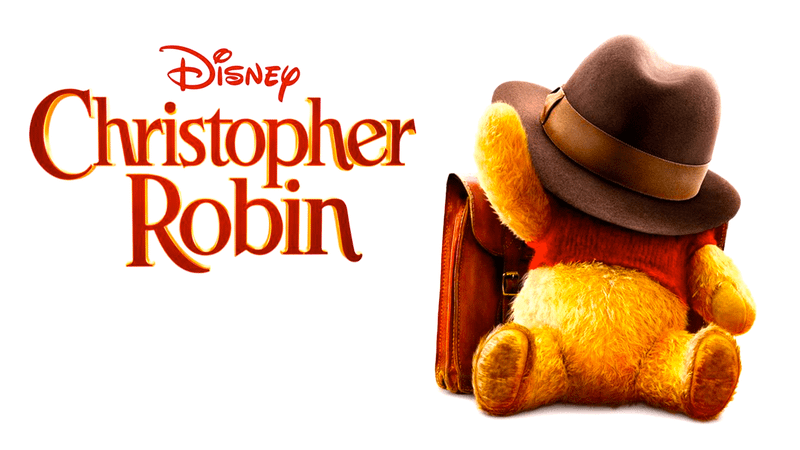 Tomatometer Score: 72%
Audience Meter: 82%
Ewan McGregor and Hayley Atwell joined forces for a unique take on the Winnie the Pooh story titled Christopher Robin, which features the character as a full-grown adult who reunites with Winnie and his memorable animal friends from the past.
Although many saw McGregor's take on Christopher Robin as needlessly cynical and jaded, it managed to recapture some of the magic from the original Winnie the Pooh cartoons as Winnie and crew looked to give their friend that same sense of joy. Ultimately, the movie wasn't able to balance the light and dark of its story effectively, leading to something that was too adult-oriented for kids and a little too immature for adults at times.
16.) Dumbo (2019)
Tomatometer Score: 46%
Audience Meter: 48%
Tim Burton brought his iconically wild style of filmmaking to the retelling of the 1941 Disney animated classic Dumbo. But while this movie featured the acting talents of Batman movie actors Colin Farrell, Michael Keaton, and Danny DeVito, not even a pretty stellar cast could save this blockbuster.
While the core of the original movie was still there, Dumbo suffered from its extended runtime, with the story being needlessly stretched out and weighed down by excess story details throughout. For every fantastic visual shot, the energy seemed to go down with some of the changes made to the original, leaving for a largely disjointed and disappointing final effort.
15.) Lady and the Tramp (2019)
Tomatometer Score: 66%
Audience Meter: 50%
Tessa Thompson and Justin Theroux provide the voices for the titular cocker spaniel and mixed breed in Lady and the Tramp, which features other memorable stars like Sam Elliot, Janelle Monae, and Benedict Wong.
The adorable looks of both Lady and Tramp helped to make this movie watchable, but most fans viewed this movie as conservative and safe, not seeing Disney take many risks with the characters or the plot. Unable to bring the same kind of emotional range as their cartoon counterparts, the animals in this movie could only do so much to bring emotion and drama, even with the story not taking too many diversions from the original.
14.) 102 Dalmatians (2000)
Tomatometer Score: 31%
Audience Meter: 32%
Future Guardians of the Galaxy star Glenn Close took on the starring role of Cruella de Vil in 102 Dalmatians, appearing alongside Mr. Fantastic actor Ioan Gruffudd in the original sequel that once again featured the loveable liter of puppies.
Although it was still enjoyable, this sequel to the animated classic suffered from doing mostly the same thing as the original movie, hitting many of the same beats as its predecessor while also bringing much more violence than a normal G-rated film. And as good of an effort as Close did to give a fantastic performance, it wasn't enough to make it as memorable as the first film.
13.) The Lion King (2019)
Tomatometer Score: 52%
Audience Meter: 88%
Ranking as the highest-grossing Disney live-action remake by a wide margin, The Lion King assembled a who's who of stars in 2019, including Donald Glover (Simba), Grammy-winner Beyoncé (Nala), Chiwetel Ejiofor (Scar), and more.
The biggest problem with this adaptation was the inability to have the animal characters show the same level of emotion they did in the 1994 original, with Disney doing its best to make them look as life-like as possible. And even though the music and visuals were impressive, it simply didn't have the same heart that its predecessor did, with the original even being nominated for an Oscar.
12.) Mulan (2020)
Tomatometer Score: 72%
Audience Meter: 46%
Released only shortly after the COVID-19 pandemic started in July 2020, Disney brought a much more traditional take on 1998's Mulan featuring Liu Yifei, Donnie Yen, and Jet Li as part of the cast.
While fans appreciated the more realistic telling of Mulan's journey, it didn't have the same entertainment factor as the original, largely due to Mushu and Shang's absences along with major diversions from the story told in its predecessor. These changes earned mixed reactions across the board, although there were positives from some of the acting performances and visual effects as well.
11.) 101 Dalmatians (1996)
Tomatometer Score: 41%
Audience Meter: 42%
Glenn Close took her first stab at Cruella de Vil in a fairly faithful live-action adaptation of 101 Dalmatians, starring alongside Jeff Daniels (Roger), Joely Richardson (Anita), Hugh Laurie (Horace), and a hoard of adorable canines.
Even though Close was the clear standout with her terrifying rendition of Cruella, the movie was a solid adaptation, setting itself in the present-day quite effectively. And while it didn't take any major diversions from its 1961 predecessor and didn't have talking animals, the cast did an admirable job providing a fresh take on this movie, and it still holds up fairly well nearly three decades later.
10.) The Sorcerer's Apprentice (2010)
Tomatometer Score: 40%
Audience Meter: 53%
Inspired by the musical segment from 1940's Fantasia featuring Mickey Mouse, The Sorcerer's Apprentice took a look at 2010 New York City infused with magic behind the efforts of Nicolas Cage, Jay Baruchel, and Alfred Molina.
Taking one of the most unique paths creatively on this list, Cage and Baruchel helped deliver a fun story filled with humor and magic, including thrilling visual effects and plenty of exciting plot threads. And while it hit on many of the same action movie tropes that had been seen plenty of times before, it was different enough from any previous Disney movie to stand on its own as well.
9.) Cinderella (2015)
Tomatometer Score: 83%
Audience Meter: 78%
65 years after the original Cinderella hit theaters, 2015 brought a new take on the role with Lily James playing the titular hero, joining a cast that included Cate Blanchett, Richard Madden, and Stellan Skarsgård.
This movie actually brought plenty of charm thanks to the cast's performances, with the visual effects serving as a positive to the movie rather than simply being there to push the story along. And while it doesn't quite live up to the magic that fans felt from one of the original Disney princesses back in the day, it does its best to bring that magical feeling while giving the story a fresh rejuvenation.
8.) Aladdin (2019)
Tomatometer Score: 57%
Audience Meter: 94%
Will Smith's rendition of the Genie was the driving force behind the live-action Aladdin remake, teaming up with Mena Massoud as Aladdin and Marwan Kenzari as the villainous Jafar.
The former Fresh Prince star wound up giving a wildly entertaining take on the Genie, making it his own and bringing plenty of smiles, while the rest of the movie held up well by paying homage to the original and adding a few new beats. The original songs and music were updated quite well, and while it had a challenge to live up to its predecessor, it stood on its own two feet and brought plenty of joy and emotion.
7.) Alice in Wonderland (2010)
Tomatometer Score: 57%
Audience Meter: 94%
Johnny Depp, Anne Hathaway, and Helena Bonham Carter teamed up with Tim Burton for a darker and more adult-oriented take on Alice in Wonderland, taking inspiration from the 1951 animated flick and adding a new flair to the story.
Burton delivered exciting visual effects and his knack for creepy and dark storytelling, meshing his own directorial style quite effectively with Disney's animated classic. And while this movie added a few new beats to the story first told nearly 60 years prior, it kept the same child-like wonder throughout its plot and allowed Burton to put his own stamp on a story that resonated so passionately with fans.
6.) Maleficent (2014)
Tomatometer Score: 57%
Audience Meter: 94%
Angelina Jolie first donned the horns, dark cloak, and evil magic of the villainous Maleficent in her own solo movie from 2014, reimagining Sleeping Beauty alongside Elle Fanning as Princess Aurora and Ted Lasso's Juno Temple.
Jolie became the standout in this reimagined movie as she brought everything she had to the iconic Disney villain, making up for the lacking VFX work and the sometimes bland plot details. While it was an unexpectedly great match between actor and role, the Oscar-winner made this role her own while adding a thrilling new chapter to Disney's growing legacy of live-action remakes.
5.) Pete's Dragon (2016)
Tomatometer Score: 88%
Audience Meter: 72%
2016's Pete's Dragon delivered a unique retelling of the original 1977 animated movie with Bryce Dallas Howard, Karl Urban, Wes Bentley, and Robert Redford telling the story of a young boy raised by a dragon after his parents are killed.
Placing the story in the same time period in which the first movie was released gave a sense of emotion and heart to Pete's Dragon, fueled by fantastic performances and stunning visual effects for the woodland and mythical creatures. While the original film never made a massive impact on moviegoers back in 1977, this honors the original and adds its own individuality for new fans looking to jump into the story.
4.) The Little Mermaid (2023)
Tomatometer Score: 67%
Audience Meter: 95%
The most recent Disney remake, The Little Mermaid, also turned out to be one of the most highly-rated, as Halle Bailey (Ariel), Melissa McCarthy (Ursula), and Javier Bardem (King Triton) lead an all-star cast of characters under the sea.
Bailey gave a stand-out performance with her Disney princess-style voice, while McCarthy and the other cast members all captured the essence of what this story is truly about. Some have even gone so far as to call this "the best Disney live-action adaptation to date," hopefully indicating that it will live in fans' memories for years to come.
3.) Beauty and the Beast (2017)
Tomatometer Score: 71%
Audience Meter: 80%
Trading in her wand for a ball gown, Harry Potter star Emma Watson embodied the classic Disney princess Belle in Beauty and the Beast alongside Dan Stevens (Beast), Ewan McGregor (Lumiere), and Luke Evans (Gaston).
Making some small adjustments to empower Watson's Belle further than the original movie, this remake put forth a fantastic effort visually, thematically, and even musically. Only adding a couple of extra songs while hitting most of the same beats that came from the 1991 animated Oscar-nominee, Beauty and the Beast was a winner for fans, critics, and Disney itself at the box office.
2.) Cruella (2021)
Tomatometer Score: 67%
Audience Meter: 95%
Spider-Man star and Oscar winner Emma Stone provided an in-depth look at up-and-coming designer Estella as she grows into Cruella de Vil, starring alongside Emma Thompson and Mark Strong in this Disney prequel.
Cruella took a new route by delivering a story that hadn't been told before in animation or live-action, giving fans a fresh glimpse into a classic Disney story while also hitting beats that are familiar for legacy fans. And with Stone's impressively dark performance as a top-tier Disney villain, this origin movie holds its own place in the fandom as a project that won most fans over quickly.
1.) The Jungle Book (2016)
Tomatometer Score: 94%
Audience Meter: 86%
Marvel and Star Wars legend Jon Favreau served as the director of the live-action The Jungle Book movie in 2016, which featured A-list voice talent in Bill Murray (Baloo), Scarlett Johansson (Kaa), Idris Elba (Shere Khan), and Sir Ben Kingsley (Bagheera).
With grade-A VFX and a largely faithful adaptation from the source material, complete with well-written covers of the original movie's song, fans and critics couldn't get enough of this remake. Its quality and rewatchability take this version of The Jungle Book to at least the same level as the 1967 movie in terms of reverence, and for some, the live-action version even improves on everything that came before it.
---
Most of these live-action remakes are available to stream on Disney+ or available for home purchase, and The Little Mermaid is currently playing in theaters.