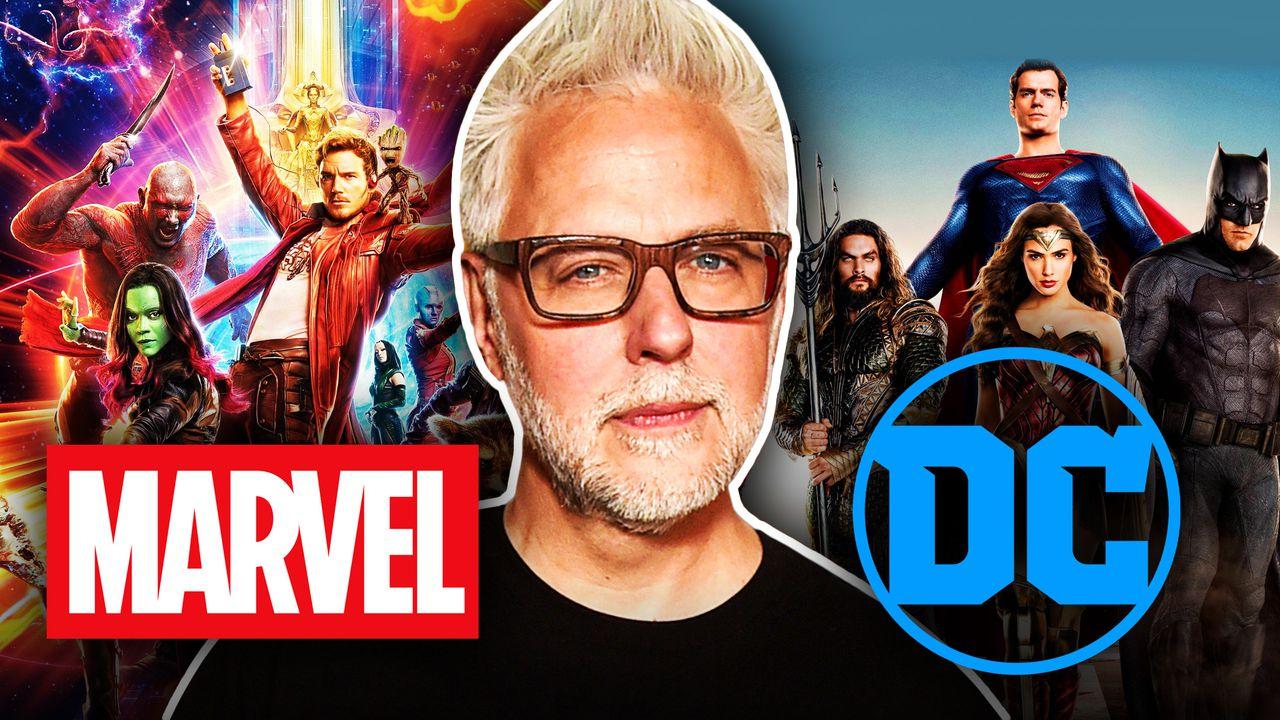 After expressing interest in bringing Marvel's Guardians of the Galaxy actors over to the DC Universe (DCU), DC Studios co-CEO James Gunn addressed the backlash behind his statement with a strong response.
DC's reboot is slowly being pushed to the forefront, and one of the lingering questions from fans is the topic of recasting. Gunn already confirmed that Henry Cavill would not return as Superman as his story will focus on an "earlier part" of the DC hero's life. 
Aquaman star Jason Momoa also broke his silence about the recasting rumors, saying that he will "always be Aquaman" and that nobody is taking that history away from him.
The Suicide Squad director then made headlines when he teased that several Guardians of the Galaxy actors from Marvel, like Chris Pratt, could join him in the new DCU. 
As expected, fan discussion about this prospect has emerged. 
James Gunn on Casting Marvel Actors for the DCU
When @nonstudios told DC Studios boss James Gunn to "not encourage" the Guardians of the Galaxy stars to follow him to the DCU and to find "fresh actors," the veteran filmmaker responded by saying that the DCU's cast will consist of "brand new faces," actors that he has worked with before, and some that he has never worked with.
Gunn then responded that what matters most is the "actor fits the role" and they are "easy to work with."
The full exchange can be seen below: 
@nonstudios: "please do not encourage #GotG cast to follow you to DCU. Find fresh actors that can craft brilliant characters and forge new memories for audiences, instead of swimming in the same muddy pond. I know I am not alone in feeling this way. Rebirth, not reuse. Please."

James Gunn: "We have hundreds of roles to cast. As I've always done, some will be brand new faces, some will be actors I've worked with before, & some will be actors you know who I've never worked with. What matters most is the actor fits the role & they're easy to work with."
Gunn's latest statement echoed his past sentiments on Twitter from August 2022 when he explained that he always does his "due diligence" on everyone involved with the production: 
"I always do due diligence on actors & production heads with directors, actors, producers & crew members I trust. If it checks out they're jerks (not just cranky or curmudgeons but actual jerks) or irresponsible I don't hire them. Some actors I already know never to even consider."
The DC boss also pointed out that he will "immediately recast" a cast member if he notices one of three things -  a bad temperament, repeatedly showing up to work late, or being unprepared. 
Why James Gunn's Casting Never Fails 
DC Studios boss James Gunn has many good friendships with actors, which is validated by the fact that he's easy to work with. 
Given his impressive resume and past comments, Gunn clearly has eyes for talent and the correct work ethic for the actors he wants to cast. 
Gunn's latest statement also indicates that the new DCU will be filled with various actors that could elevate the franchise like never before. Casting brand-new faces combined with familiar actors offers a fresh perspective for DC's reboot. 
Moreover, Gunn's remarks also mean that some Marvel actors may jump ship to DC, but this could be restricted to ones that have ended or will soon end their MCU runs.
This latest news is also in line with a past report that described Gunn and Peter Safran's new DCU as a "broad but not blanket reset" where nothing is ruled out. 
Hopefully, the filmmaker-turned-studio-executive will shed some more light on this topic when the DCU's new slate is announced sooner than later. 
---
Aeron is a news/features writer and Content Lead for The Direct who has been working for the site since March 2020. From writing about the inter-connectivity of the Marvel Cinematic Universe to having an extended knowledge about DC TV's Arrowverse, Aeron's expertise has since expanded into the realm of reality TV, K-drama, animated, and live-action shows from Netflix,  Disney+, Prime Video, MGM+, Peacock, Paramount+, and Max. When he isn't writing and watching all things MCU, Aeron is heavily invested with the NBA (go Celtics!) and occasionally watches thrilling matches in the WWE.