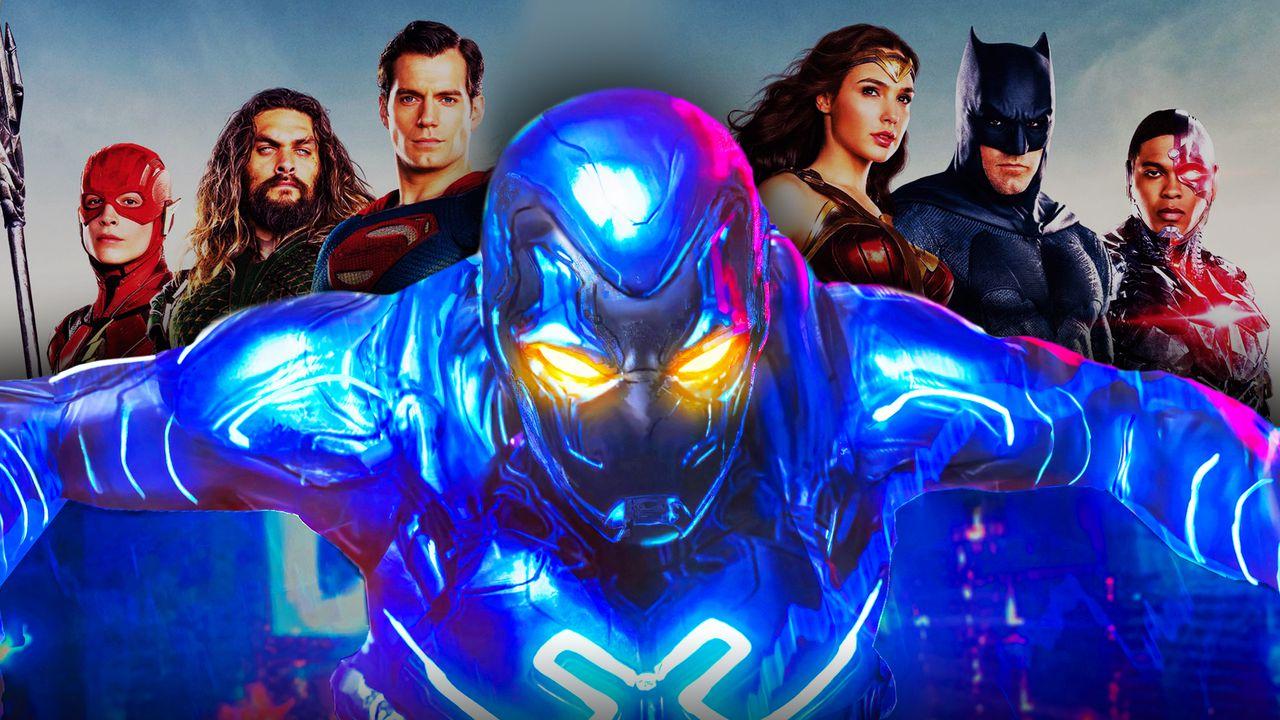 Xolo Maridueña's Jaime Reyes will suit up for the first time in this summer's Blue Beetle, and a new look at his suit was revealed.
Fans caught the first look at the Cobra Kai star suited up during Blue Beetle's production in May 2022. The superhero suit quickly caught praise from the fanbase, although some compared his look to the MCU's Iron Man. 
Despite initially being headed for an HBO Max debut, Blue Beetle is now set for a big-screen release this August, with marketing starting to kick into gear and a trailer seemingly on the way soon.
New Look at Blue Beetle's DC Suit Revealed
New art from DC's Blue Beetle recently surfaced online, revealing brand-new looks at Xolo Maridueña's superhero suit ahead of the upcoming August release.
Merchandise art showed off Blue Beetle in an action-ready stance with his superhero suit of armor on full display.
Jaime Reyes becomes Blue Beetle and gets his superhero suit after the college graduate finds the Scarab, an ancient piece of alien biotechnology. After the Scarab chooses the youngster as its symbiotic host, he receives the Blue Beetle set of armor and some extraordinary superpowers. 
As such, a second piece of art shows off Blue Beetle's mask up close, with the suit clearly engraved with scarab-like patterns to reflect his origin.
Another piece of art has the young superhero jumping in front of a vibrant and colorful cityscape - which is likely El Paso as that is the usual home of Reyes' Blue Beetle. This art appears similar to the original concept art for the DC movie released in late 2021.
When Will Blue Beetle Marketing Kick Into Gear?
DC's other summer 2023 movie release, The Flash, debuted its first trailer in February during the Super Bowl, roughly four months out from release. Following the same pattern, Blue Beetle ought to debut its first trailer in April, lining up well with the recent promise of footage coming rather soon.
With new art beginning to surface, fans can look forward to Blue Beetle marketing kicking into gear properly in the coming weeks on the road to the first trailer. This ought to be exciting for many after things have been rather quiet on the new DC movie after wrapping up production in July 2022.
Much like everything from the old regime, the fate of Blue Beetle beyond his movie remains uncertain for now as the DCU sets course for a reboot. Although Blue Beetle's poster did offer a glimmer of hope as it referred to the movie as "just the beginning," potentially hinting it will actually be the first movie of this new world.
Whether Jaime Reyes' Blue Beetle has a future in the DCU will largely depend on how his debut performs. Luckily, there have been some positive signals for Blue Beetle as the movie has reportedly been received "extremely well" at test screenings, with particular praise given to the action and star Xolo Maridueña.
Blue Beetle hits theaters on August 17.