In addition to its theatrical offerings, DC is hoping to push its heroes onto other platforms like HBO Max. So far this has included new shows like James Gunn's Peacemaker and re-purposing previous DC projects like Doom Patrol for the service.
Another of these projects is Blue Beetle, which is set to introduce Jaime Reyes to live-action for the first time. Cobra Kai's Xolo Maridueña will be bringing the character to life, making him DC's first Latino leading character.
Meanwhile, Angel Manuel Soto has been brought on to direct the project and "can't wait to make history together" with DC. After showing off new featurettes for Black Adam and Aquaman and the Lost Kingdom, DC FanDome has shed some more light on Blue Beetle.
Fans have now been treated to the first look at the character, who seems to resemble a certain Marvel character…
Blue Beetle Concept Art Revealed
During DC FanDome, official concept art for the Blue Beetle movie for HBO Max was revealed.
The artwork displayed Jaime Reyes' electrifying superhero costume in front of a Kord Industries skyscraper.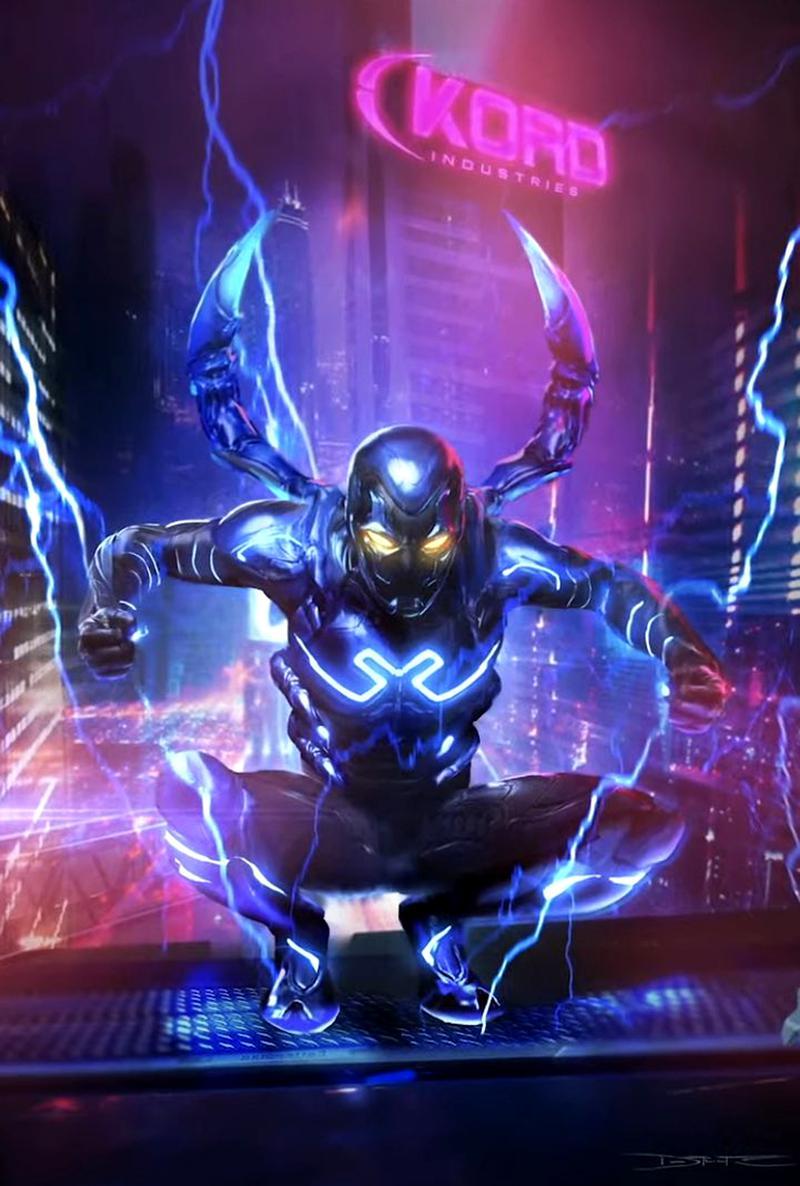 The suit seems to take at least some inspiration from the MCU's Iron Man in terms of how its design has been adapted to live-action, possessing many visual similarities to Tony Stark's armor. Most notable is the helmet, which has a very similar shape to Iron Man's, and the illuminated lights, which resemble the ones seen on the suit from Avengers: Infinity War.
DC Takes Inspiration From Iron Man
HBO Max's version of Jaime Reyes looks incredibly faithful to his comic book counterpart while incorporating some additional flourishes for live-action.
The most striking aspect of this suit is perhaps how much it resembles MCU characters like Iron Man and Iron Spider. The mechanical arms, in particular, heavily resemble the ones that Peter Parker possesses in Avengers: Infinity War and Avengers: Endgame, appearing more insectoid and robotic.
While the general design from the comics has been retained, much of the armor has been separated into panels. The lining of the suit has been enhanced with glowing lights, departing from the comic design where the lines are simple decoration. 
Jaime Reyes is the third iteration of Blue Beetle, so it is interesting to see that the second incarnation Ted Kord will have some influence on the film's narrative. The Kord Industries towers heavily indicate that the former hero will appear in the film, though it is unknown how substantial his role will be. Perhaps his role will be similar to Hank Pym's in Ant-Man, ushering in a new version of his superhero identity -- another possible connection between Blue Beetle and the MCU.
No release window has been given for Blue Beetle yet, but it will be exclusively available on HBO Max.