Over the past few weeks, MCU fans have gotten a look at various alternate storylines from the Infinity Saga in the franchise's fourth Disney+ series What If…?.
Each episode brings a different "Absolute Point" from MCU history that takes the fan-favorite characters on wildly different paths than any of the live-action stories. Peggy Carter took Steve Rogers' place as a superhero, Hank Pym's vengeful murder of the entire Avengers team led to the tease of a new crew headed by Captain Marvel, and the most recent episode saw Erik Killmonger saving Tony Stark before seemingly taking over Wakanda.
Fans already have an idea about other stories that haven't come to life quite yet; rumors have even pointed to one centered around a character called "Party Thor."
As it turns out, that episode will be the next to air as What If…? reportedly shows Chris Hemsworth's Thor kickstarting an intergalactic party on Earth, possibly bringing severe consequences as a result. While the end result is still unknown, a tease of this party was shown in an officially released clip.
Thor Parties With Aliens in What If...? Clip
Rotten Tomatoes released a new clip from Episode 7 of Marvel Studios' What If...?, featuring Thor and Jane Foster alongside Jeff Goldblum's Grandmaster, Topaz, and the Skrulls.
Thor is enjoying a massive party when he is approached by Jane Foster seemingly in their first meeting, before the God of Thunder hits her with a semi-godlike one-liner. The Grandmaster and Topaz are also enjoying a delicious-looking cake, all after Thor gets a group of Skrulls (originally introduced in Captain Marvel) to shape-shift into himself.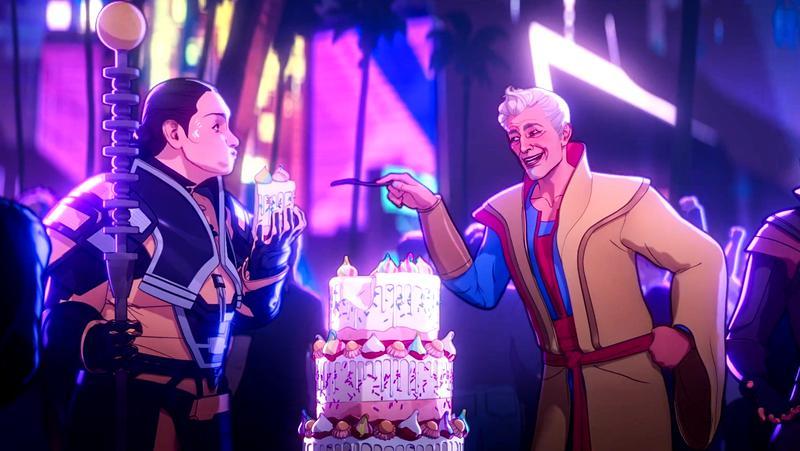 The episode's title was also revealed to be "What If… Thor Was An Only Child."
The full clip can be seen below:
"Are you Thor, the God of Parties?"
Chris Hemsworth has certainly seen his MCU character go through some drastic character development over the past decade. However, it seems safe to say that fans have never seen a version of the hero that's turned into something of a college frat boy, but with the potential to cause utter chaos throughout the universe.
As has been the case in the first six episodes, Episode 7 also takes the opportunity to bring in characters that weren't yet available for use in 2011's Thor. The central hero is seen making a literal party trick out of the Skrulls and their shapeshifting abilities, first seen in 2019's Captain Marvel, while Jeff Goldblum gets to revisit his iconic MCU Elder of the Universe from 2017's Thor: Ragnarok.
Additionally, this episode reimagines the first meeting between Jane Foster and Thor, although they do still meet on Earth through the party shown in this new clip. The biggest difference is that Thor is still the full God of Thunder, not having lost Mjolnir as he did in his first solo movie and therefore still possessing his godlike arrogance and feeling of superiority with Jane.
A New Royal Family Dynamic?
Besides the new interactions shown in the 40-second clip, Episode 7's title brings even more questions about how Thor's What If...?-style origin story will unfold.
Whether Loki is a full Frost Giant or even exists at all in this universe is still unknown, although his absence could drastically change Thor's first on-screen action from his 2011 solo movie. Perhaps Loki never tips off Odin about the invasion into Jotunheim, or maybe Thor isn't punished for what he does to the aliens after ruining his coronation as King.
Whatever the case may be, this take on Chris Hemsworth's hero will never go through the event that forced him to earn a sense of humility, seemingly choosing Earth for his party site rather than being banished there as punishment. The MCU veteran is once again showing his mastery over his Asgardian hero, and his animated debut will help to expand on the God of Thunder's legacy in a big way.
Episode 7 of What If...? will premiere on Disney+ on Wednesday, September 22.
LATEST NEWS
TRENDING