Before Ant-Man and The Wasp: Quantumania makes its debut on Disney+, the streaming service brought a new collection of MCU movies featuring Ant-Man.
Ant-Man's third solo MCU adventure is fast approaching its debut on Disney+ after a largely disappointing theatrical run, winding up as the lowest-grossing movie of Paul Rudd's entire trilogy.
Although it was mired in controversy due to the legal troubles surrounding Jonathan Majors and bogged down by negative reviews, Ant-Man 3 had a heavy impact on the MCU with its Multiversal storylines and the new characters it introduced.
Ant-Man Collection Arrives on Disney+
Disney+ revealed a brand-new collection of movies centered on Paul Rudd's Ant-Man in celebration of Ant-Man and The Wasp: Quantumania's debut on Disney+ on Wednesday, May 17.
This comes with an all-new visual featuring a number of promotional photos and screencaps from the Ant-Man movies, showing off Paul Rudd's Scott Lang and Evangeline Lilly's Hope van Dyne.
Included in this collection are 2015's Ant-Man, 2016's Captain America: Civil War, 2018's Ant-Man and the Wasp, and 2019's Avengers: Endgame, as well as 2021's What If...? series.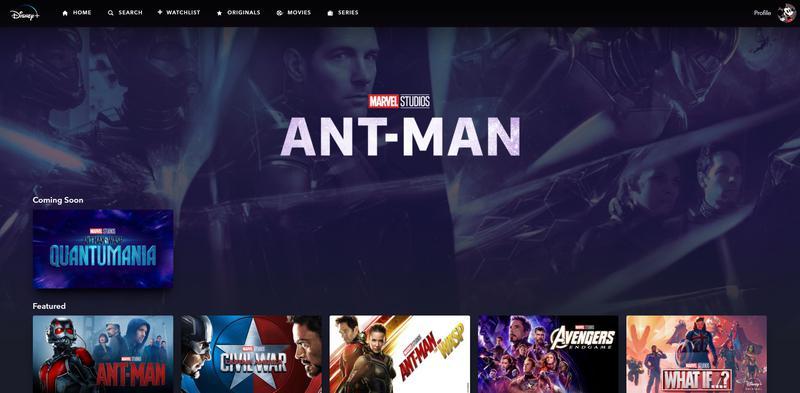 This marks the 12th specific Marvel Studios collection on Disney+ alongside characters like the Hulk, Thor, and Doctor Strange.
The last character to receive a collection similar to this one was Black Panther ahead of the theatrical debut of Black Panther: Wakanda Forever.
When Will Ant-Man Return After Quantumania?
With the underwhelming success that Ant-Man 3 saw during its run in theaters, having its debut on Disney+ will at least help fans enjoy the film from the comfort of their own home.
But considering how controversial this movie is, along with all of the drama that took place behind the scenes, fans can only wonder when the shrinking Avenger will be back in play again after Quantumania.
This collection of movies should only expand as the MCU does, particularly if Rudd ends up bringing Scott Lang into bigger movies like Avengers: The Kang Dynasty or Avengers: Secret Wars.
But with Marvel potentially looking to make some major changes behind the scenes in a changing world of superhero movies, it could be some time before this story sees a new addition.
Ant-Man and The Wasp: Quantumania will arrive on Disney+ on Wednesday, May 17. The Ant-Man Collection is now available to stream.