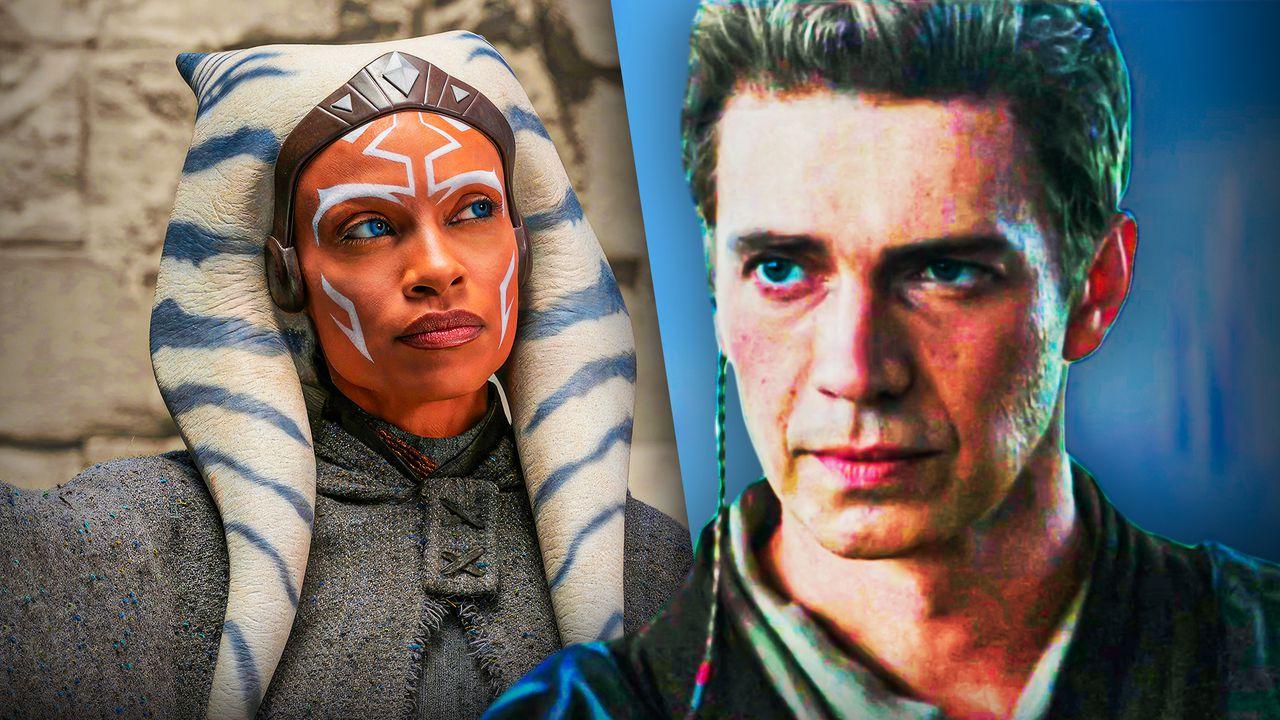 A new trailer for Rosario Dawson's upcoming Star Wars Disney+ series Ahsoka included Hayden Christensen's Anakin's Skywalker.
To this date, Christensen's take on the chosen one has never shared the screen with any version of Ahsoka Tano.
Thankfully, that will be changing in the coming weeks. Last year, The Hollywood Reporter revealed the actor would be returning to the role of Anakin alongside Rosario Dawson's Ahsoka in her upcoming series.
Many speculated that this would be in the form of a Force ghost, but details were never revealed.
Anakin Skywalker Appears in Ahsoka Trailer
A new trailer for Lucasfilm's upcoming Ahsoka Disney+ series included Hayden Christensen's Anakin Skywalker.
In the opening seconds, following Baylan Skoll's narration, a shot of Anakin from Obi-Wan Kenobi episode 5 is shown.
Previously, another trailer confirmed that Ray Stevenson's Baylin Skoll seems to have run across Anakin in the days of the Clone Wars.
While it's exciting to see him, it's Christensen's dialogue that really draws attention, as it seems completely new. The Jedi warns some off-screen (assumingly Ahsoka) that "[they'll] face more than just droids" while also telling Rosario Dawson's hero that "[she] can do this:"
"In this war, you'll face more than just droids. As your master, it is my responsibility to prepare you… Don't be afraid. You can do this, Ahsoka."
The trailer, which first aired during ABC's broadcast of Ms. Marvel, can be seen in full below.
Rosario Dawson and Hayden Christensen Meet on Screen?
A while back, it was reported how Ahsoka could feature scenes with a younger version of the titular hero—Anakin Skywalker's voiceover seems to confirm just that.
Anakin's dialogue about facing more than just droids sounds like something he would have said to his young Padawan during the Clone Wars. Could audiences be treated to a fun training scene like the one in Obi-Wan Kenobi between Skywalker and his master?
A scene during the Clone Wars could even include Captain Rex, a beloved character who still has not seen live-action.
The inclusion of this hypothetical flashback scene doesn't rule out Anakin's speculated force ghost appearances either. It would be a missed opportunity not to explore those interactions in Ahsoka's first solo onscreen adventure.
Hearing from Anakin after the events of Return of the Jedi and the fall of Vader also rarely happens. This undoubtedly made the situation too tempting for the show's director and writer, Dave Filoni, to simply skip over.
Ahsoka's first two episodes hit Disney+ on August 23.