Season 5 Part 2 of Yellowstone is expected to begin filming once the Screen Actors Guild (SAG-AFTRA) strike is over, and when it is released, it will feature plenty of characters that were present in other seasons.
Part 2 of Season 5 of Paramount's hit Western drama will serve as the final installment of the show, which means that numerous character arcs and plotlines will be resolved when it is finally released.
Every Character Expected to Appear in Yellowstone Season 5 Part 2
Yellowstone is one of the most successful TV shows of the last decade, proving that it is still in high demand after rerun episodes from Season 1 were featured on CBS which amassed between 4 and 5 million viewers on average per episode.
The show's success is largely thanks to its Western themes and political aspects, but also because of the cast that has been featured across its five seasons.
Kevin Costner - John Dutton
There are many important characters in Yellowstone, but at the top of that list is Kevin Costner's John Dutton, the leader of the Dutton family and the Yellowstone Dutton Ranch.
It is unclear just how much Costner will appear in Season 5 Part 2 due to controversy between the actor and series creator Taylor Sheridan that ultimately forced the upcoming installment to be the final batch of episodes for the show.
Costner reportedly only wanted to dedicate one week of his schedule to film Part 2 so that he could devote most of his time to his own upcoming Western drama, Horizon.
Costner's John Dutton, who is now the governor of Montana, is currently at odds with his adopted son, Jamie Dutton. In the Season 5 Part 1 finale, Jamie officially called for John to be impeached, setting up a major conflict between the two characters and anyone else involved.
Costner is known as one of Hollywood's biggest stars, being featured in films such as Dances with Wolves, The Postman, and Robin Hood: Prince of Thieves.
Kelly Reilly - Beth Dutton
Kelly Reilly portrays John's daughter, Beth Dutton, in Yellowstone. She is known for being very straightforward and willing to do absolutely anything to protect her family and the Dutton Ranch.
Beth should be right at her father's side in Season 5 Part 2 as the pair strategically plan out how to deal with Jamie calling for John's impeachment. If fans have learned anything from the series, it's that Beth already hates Jamie to his core, which means that she will stop at nothing to aid John and deal with her brother once and for all.
Reilly is known for her roles in Eden Lake, Pride & Prejudice, and Kenneth Branagh's 2023 film A Haunting in Venice.
Luke Grimes - Kayce Dutton
Luke Grimes' Kayce Dutton is probably the most reasonable member of the entire Dutton family.
He had to quickly learn how to balance his involvement in the Dutton Ranch with his life as a husband and a father. After becoming a livestock commissioner earlier in the series, he recently gave up his badge and decided to devote more time to his family.
Grimes also appears in films such as Fifty Shades of Grey, American Sniper, and The Magnificent Seven.
Wes Bentley - Jamie Dutton
As previously mentioned, Wes Bentley's Jamie Dutton is the adopted son of John Dutton. After finding out that revelation, Jamie sought out his biological father but was ultimately forced to kill him.
However, he quickly turned into one of the show's biggest antagonists after he was talked into waging war against his family by Market Equities, the real estate company that is aiming to claim the Yellowstone territory in an attempt to build an airport in that area of Montana.
Bentley is also known for his roles in American Beauty, The Hunger Games, and Interstellar.
Cole Hauser - Rip Wheeler
Cole Hauser's Rip Wheeler became a fan-favorite early on in Yellowstone due to just how likable the character is.
Rip essentially came from nothing and was forced to dedicate his entire life to John Dutton and the Yellowstone Ranch. He was even branded by John after he made the decision to kill one of the cowboys when Rip was just a teenager.
Rip's loyalty to John and the ranch shines in many of Yellowstone's episodes. He was even given the main house on the ranch by John after he married Beth.
In Part 2, Rip will be leading a group of the Yellowstone's cowboys down to Texas along with a large portion of the cattle. A disease began sweeping through that area of Montana, forcing the cattle to be moved so they wouldn't be euthanized by the state.
Hauser is also known for his roles in 2 Fast 2 Furious, Good Will Hunting, and Dazed and Confused.
Kelsey Asbille - Monica Dutton
Monica Dutton is the wife of Kayce Dutton, portrayed by actress Kelsey Asbille.
Many fans didn't initially see Monica's point of view that Kayce should distance himself from the Yellowstone Ranch, but now almost everyone can agree that she is one of the strongest characters in the entire show.
Monica ultimately had to endure multiple hardships such as losing her brother, but most recently she had to deal with the death of her and Kayce's second child due to a car accident.
Viewers will see her do anything necessary to protect her son, Tate, in Season 5 Part 2, and after all that she has had to go through, anyone who stands in her way will likely regret it.
Asbille is also featured in Fargo and Wind River.
Brecken Merrill - Tate Dutton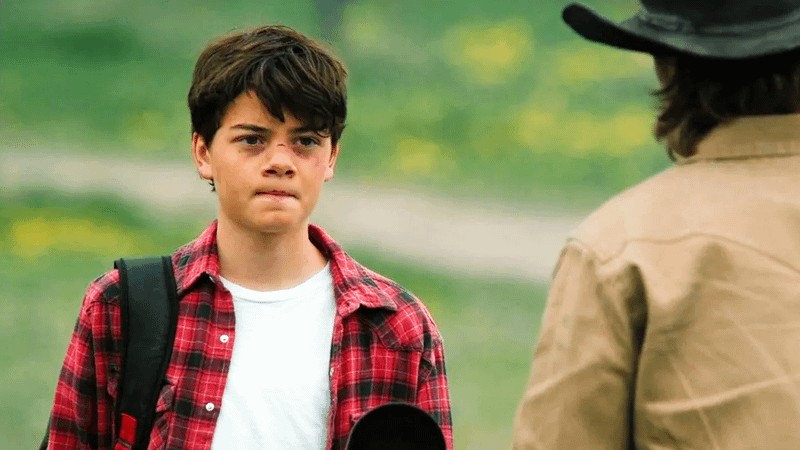 Brecken Merrill's Tate Dutton is the son of both Kayce and Monica and like many other characters, has had to go through a lot. 
Tate and John have a particularly special relationship with one another, but being around so much family and political drama has ultimately taken its toll on him.
However, Tate could very well end up inheriting the Yellowstone Ranch at the end of Season 5 Part 2, and few others would be better equipped to have it since Tate has had to learn and grow so much because of his struggles.
Merrill also appeared in the widely-popular TV show This Is Us.
Gil Birmingham - Thomas Rainwater
Thomas Rainwater, who is portrayed by veteran actor Gil Birmingham, first served as the main opposing force to John Dutton in Season 1 of Yellowstone.
He is the chairman of the Confederated Tribes of Broken Rock and the leader of the Broken Rock Indian Reservation close to the Yellowstone, and at this point in the series, is willing to side with John against Market Equities as long as John will grant his requests to acquire ancestral land and help ensure the safety of the reservation.
In Season 5 Part 2, John will likely need all the help he can get from Thomas when he has to go to war with Jamie.
Birmingham is known for his roles in the Twilight series, Wind River, and Rango.
Jefferson White - Jimmy Hurdstrom
Like Rip, Jefferson White's Jimmy quickly became a fan-favorite character in Season 1 of Yellowstone.
After Jimmy was forced to work on the ranch, he didn't really excel at a lot of his tasks, but quickly learned how to be a cowboy and ended up being a vital hand to John and the ranch.
However, Jimmy's love for rodeo got in the way and badly injured him, which led John to punish him by sending him to the 6666 Ranch in Texas. This experience changed Jimmy's life completely, and once he returned to Montana, John allowed him to return to Texas and permanently live at the 6666.
White's character appeared one time in the mid-season finale of Season 5 where he was seen with his wife, Emily, and he is expected to return in Part 2 when Rip and some of the cowboys get to Texas.
White has also appeared in Eileen and God's Country.
Kathryn Kelly - Emily
Kathryn Kelly's Emily hasn't appeared much in Yellowstone, but she is still quite an important character seeing as how she is Jimmy's wife and a veterinarian who has worked at the 6666 Ranch.
Emily did make one appearance in Season 5 Part 1 alongside Jimmy in the mid-season finale, and she will likely be seen again during the Texas plotline of Part 2.
Kelly is best known for her role in Nashville.
Forrie J. Smith - Lloyd Pierce
Forrie J. Smith's Lloyd Pierce is the most experienced cowboy at the Yellowstone Ranch, but that doesn't mean he isn't still at the top of his game in terms of work ethic and production.
As far as likability goes, most Yellowstone fans will agree that Lloyd is near the top of the list. The character is always willing to lend a helping hand to anyone who needs him, and like Rip, his loyalty is unmatched.
It is unclear how Lloyd's story will end in Season 5 Part 2, but he will not be one of the cowboys who is traveling to Texas with Rip.
Pierce has also appeared in Rambo III, 2 Guns, and Hell or High Water.
Denim Richards - Colby Mayfield
Some of the cowboys in Yellowstone have minimal screentime, but that is not the case when it comes to Denim Richards' Colby Mayfield.
Colby is another character who is devoted to his job on the ranch, but his relationship with Teeter is one element that fans find most interesting.
He will be staying at the Yellowstone Ranch in Season 5 Part 2, meaning that he will be away from Teeter for the time being since she is going to Texas with Rip.
Richards is known for his roles in County Line: All In and Good Trouble.
Jen Landon - Teeter
Jen Landon's Teeter is a character that makes Yellowstone unique in comparison to other Western dramas. While she does have fans laughing out loud at points in the series, she is also one of the hardest workers at the Yellowstone Dutton Ranch.
At one point in the show, Teeter and some other women were banned from the bunkhouse. However, after proving to John just how dedicated and valuable she was, he let her back in.
As previously mentioned, she will be heading to Texas with Rip in Part 2, which made for a heartbreaking moment when she found out that she would have to leave Colby for the time being.
Landon also appeared in Animal Kingdom and Banshee.
Ryan Bingham - Walker
At one point in the show, many fans considered Ryan Bingham's Walker to be one of the more despicable characters in the entire show since he was directly at odds with Rip.
However, over time Walker became one of the most well-liked cowboys on the entire ranch.
He will be heading down to the 6666 Ranch in Texas with Rip in Part 2 where his experience will be useful considering he worked at that exact ranch at an earlier point in his life.
Bingham is known for his roles in Crazy Heart, Joe, and Hostiles.
Ian Bohen - Ryan
Ian Bohen's Ryan is yet another cowboy at the Yellowstone Dutton Ranch, but he is also a livestock agent.
Ryan's screentime skyrocketed in Season 5 when he not only continued his work on the ranch but also formed a relationship with Abby, a character played by country music singer Lainey Wilson.
Ryan and Abby pulled on the heartstrings of some fans, but they ultimately had to end their relationship when Ryan found out he would have to go to Texas with Rip.
Bohen also appeared in Wind River, Sicario: Day of the Soldado, and even The Dark Knight Rises.
Wendy Moniz - Lynelle Perry
Wendy Moniz's Lynelle Perry began the show as the governor of Montana, a position that is now filled by John Dutton.
Moniz's character has made some important appearances throughout the show, but in Part 1 she really helped John as he tried to learn how to be a state governor.
Lynelle will be a powerful ally to John in Part 2 as she helps him defend himself against his impeachment.
Moniz is known for her roles in The Guardian and Guiding Light.
Piper Perabo - Summer Higgins
Piper Perabo's Summer Higgins and John Dutton didn't start out on exactly the best of terms, but she is now his environmental advisor and is also living at the Yellowstone Ranch.
Beth also had quite the hatred toward Summer for much of Seasons 4 and 5, and the two even got into a fairly brutal fistfight near the end of Season 5 Part 1.
However, this fight caused Summer and Beth to have a bit more respect for each other, and Summer will likely still be by John's side in Part 2 as he tries to keep Market Equities from building an airport near the Yellowstone Ranch.
Perabo can also be seen in Coyote Ugly, The Prestige, and Angel Has Fallen.
Jacki Weaver - Caroline Warner
Jacki Weaver's Caroline Weaver is one of the most ruthless antagonists that Yellowstone has ever seen.
As the CEO of Market Equities, all of the actions against the Yellowstone Ranch and the Duttons have really stemmed from Caroline's orders. She has proved as a worthy adversary against all members of the Dutton family, but her main enemy is Beth.
In Part 2, fans can expect to see a final showdown between Caroline and Beth, and the latter will need all the help she can get to take down Market Equities once and for all.
Weaver is known for her roles in Silver Linings Playbook, Animal Kingdom, and Stoker.
John Emmet Tracy - Ellis Steele
John Emmet Tracy's Ellis Steele is a representative for Market Equities and often works directly alongside Caroline Warner.
Ellis will continue to try to push Market Equities' airport into place in Season 5 Part 2, and will also continue to be a thorn in the side of the Duttons.
Tracy can also be seen in Batwoman and iZombie.
Dawn Olivieri - Sarah Atwood
Dawn Olivieri's Sarah Atwood is the one directly responsible for turning Jamie against his family.
After Market Equities brought her on to literally seduce Jamie to the point where he would do anything she wanted, Sarah will likely appear in Part 2 continuing to push Market Equities' agenda by manipulating Jamie even further.
Olivieri is known for her roles in 1883, Den of Thieves, and House of Lies.
Lilli Kay - Clara Brewer
Lilli Kay's Clara Brewer proved herself to be one of the most helpful characters to John once he was sworn in as governor of Montana.
Acting as his personal assistant, Clara proved her value and worth by helping John with his political matters while also assisting him and the cowboys with work on the ranch.
In Season 5 Part 2, she will be right by John's side during his impeachment, and her advice will more than likely be most helpful to the show's main character.
---
Yellowstone is available to stream on Peacock.