The first part of Season 5 of Yellowstone already premiered on Paramount, but the final episodes of the current installment (which will also end the show altogether) have still yet to be filmed.
Part 2 was scheduled to go into production earlier this year in March, but due to series lead Kevin Costner's filming schedule, it was pushed back and then was further delayed by the current Writers Guild of America (WGA) and Screen Actors Guild (SAG-AFTRA) strikes.
Paramount's initial plan for Part 2 was to have it debut sometime in November, but since filming hasn't even started yet on the TV show and won't be able to do so until the strikes are over, it is highly unlikely that it will come anytime before 2024.
However, Yellowstone is a massive show with a cast that is just as big, so here is every major character and cast member present in Season 5 of the show.
1.) Kevin Costner - John Dutton
When it comes to Yellowstone, all roads seem to lead back to John Dutton. The first episode's cold opening featured the tenured actor and immediately caused fans to stay tuned and want to know more about his story, and he has had quite the journey over the course of the show.
In Part 1 of Season 5, viewers got to witness firsthand what Montana looked like with John as the state's governor.
While he did take a bit of a backseat in Part 1 as opposed to other seasons, the leader of the Dutton family still had an extremely prominent role.
However, the mid-season finale may be the last time that fans ever see John on-screen, as it still hasn't been confirmed whether or not Costner will return in the show's final episodes.
2.) Luke Grimes - Kayce Dutton
Luke Grimes' Kayce Dutton has had one of the most grueling character arcs of any figure in fiction.
After witnessing the death of his brother, Lee, Kayce was forced back into the Dutton's Yellowstone Ranch. 
After working through some troubles with his wife, Monica, Kayce ultimately took on the role of Livestock Commissioner but then realized that he couldn't be there for his family after a car accident resulted in the death of his unborn child.
Near the mid-season finale of Season 5, Kayce decided to give up his badge as commissioner and become more of a family man, but his journey is likely far from over.
3.) Kelly Reilly - Beth Dutton
Kelly Reilly's Beth Dutton instantly garnered attention from fans due to her no-tolerance approach to everything and because she will do anything necessary for the ones she loves.
Her story has at least taken a turn in a positive direction as she is now married to fan-favorite Rip Wheeler and seems to be in a better place all around.
However, after fans were given an unfiltered look into her past and how it has affected her as a person, she is now going to have to face her adopted brother, Jaime, once again as he wages war on the Duttons in Part 2 of Season 5.
4.) Wes Bentley - Jamie Dutton
Jamie always seemed like the outcast of the family and for good reason. After it was revealed that he was actually adopted by John, Jamie sought out his real father, who he ultimately started to build a relationship with.
After the honeymoon phase of their father/son relationship wore off, however, Jamie decided that he had no choice but to shoot his father, which is just one of many difficult decisions he had to make throughout the series.
After getting into a physical relationship with Market Equities' Sarah Atwood, Jamie is manipulated by her and ultimately seems to want to completely bury his adopted family. 
The first signs of his upcoming war with them were put on display in the midseason finale when he claimed that John violated state law as governor and requested a senate tribunal seeking impeachment.
5.) Cole Hauser - Rip Wheeler
If the expression "tough as nails" could ever be applied to any one person, it would most definitely be Rip Wheeler.
After becoming an instant fan-favorite, Rip worked his way up from a trusted hand on the ranch to actually marrying John's daughter, Beth, and living in the ranch house.
It seems as though Rip is now first in line to inherit the Yellowstone Ranch unless some heartbreaking moment in Part 2 of Season 5 prevents that (which isn't out of the question).
Fans can expect to see him more in Season 5, Part 2 as he and a majority of the cowboys head off to Texas.
6.) Kelsey Asbille - Monica Dutton
As the seasons of Yellowstone have progressed, Monica has arguably been the character that has changed the most.
Starting out as a wife who didn't want Kayce to get back into the Yellowstone Ranch due to her resentment towards John because of the death of her brother, Monica endured hardship after hardship and is now one of the strongest faces in the entire show.
After coming close to losing her life on multiple occasions, it is clear that she will do whatever it takes to give her son the best life possible, and in Part 2 of Season 5, she really displayed qualities that prove she is now a true Dutton.
In the midseason finale, there was a pretty heartfelt conversation between John and Monica about how he truly felt about her and her family. John ultimately offered for her and Kayce to stay at the ranch and watch over it while he, Rip, and most of the other cowboys are gone.
7.) Brecken Merrill - Tate Dutton
Tate may not have connected with the entire audience when he was first introduced in Season 1, but viewers have got to witness him grow up from a boy into a full-fledged young adult over the course of five seasons.
The character has been forced to go through a lot, to say the least. Despite the fact that he is a Dutton and is around all of the family drama, Tate also got kidnapped at one point in the series and even had to shoot a man in order to protect his mother.
As just a teenager, that is more than most adults have ever witnessed, but he still possesses strengths and qualities that help him get through any hardship.
As previously mentioned with Rip, Tate is also another character that could possibly inherit the ranch at the end of the show.
8.) Gil Birmingham - Thomas Rainwater
Gil Birmingham has had a recurring role in Yellowstone since Season 1 when he was the main opposing force against John and the ranch.
However, he and John have been able to almost see eye-to-eye on a lot of topics, but really their relationship can be described better by the saying, "The enemy of my enemy is my friend."
However, Thomas has proved to be a useful ally and friend to Kayce and Monica over the course of the show as he is the chairman of the Confederated Tribes of Broken Rock and also the leader of the Broke Rock Indian Reservation.
9.) Forrie J. Smith - Lloyd Pierce
Another fan favorite, Lloyd captured the hearts of viewers early on in Yellowstone due to his balance of being a reliable cowboy, providing comic relief, or just being there when someone needs him.
Lloyd has appeared in all but two episodes over the entire series, and it is important to remember that he is not one of the ranch hands that will be going down to Texas with Rip.
Season 5 really gave viewers a perfect look at Lloyd in the younger days, specifically how he came to build a relationship with Rip and groom him to become the cowboy he is today.
Unfortunately, Lloyd is the perfect type of character to receive a heartbreaking death near the end of the series as a whole, but fans can be safe in assuming that if that does happen, he is going to go out in a memorable way.
10.) Denim Richards - Colby Mayfield
Colby is one of the many ranch hands that can often be seen in the bunkhouse at the Yellowstone, and when scenes take place there, it is almost surely to be either laugh-out-loud funny or extremely serious.
However, Colby has become one of the more studied members of the bunkhouse, specifically when it comes to his relationship with Teeter.
Sadly the two will be split up for the foreseeable future since Teeter is headed off to Texas and Colby will be staying at the Yellowstone. Hopefully, before the end of the show, the two will be able to reunite one last time.
11.) Jen Landon - Teeter
Jen Landon's introduction as Teeter came in Season 3 of Yellowstone, and she has been a recurring character ever since.
Sporting a heavy country accent, Teeter told the other ranch hands that she was from Arkansas and after a bit of drama, she along with the other women were thrown out of the bunkhouse by John.
However, Teeter proved herself and how useful she is on multiple occasions, which eventually led to her being welcomed back in, even though she now possesses the Yellowstone brand.
At the end of Season 5, Part 1, Teeter found out that she would have to travel with Rip down to Texas with some of the cattle, ultimately resulting in her and Colby professing their love for one another.
12.) Ian Bohen - Ryan
Ryan is another ranch hand that can be seen a lot in Yellowstone. Like the other cowboys, he puts in a lot of good work for John on the ranch and is a huge help when they get in a sticky situation.
Ryan is also an official livestock agent which gives him another layer on his character arc. However, when fans got to see the character in Season 5, it was usually to flesh out his relationship with Abby, who is played by real-life country star Lainey Wilson.
He is also on his way to the land leased to John by the 6666 Ranch in Texas along with Rip and some of the other ranch hands.
13.) Lainey Wilson - Abby
Lainey Wilson only starred in four episodes of Season 5 of Yellowstone, but that doesn't mean the character didn't have a big impact on the story.
As previously mentioned, Abby and Ryan formed a bit of a relationship, and by Episode 7 of Season 5, the two were getting pretty serious.
However, after Ryan told her that he had to travel to Texas for the coming months, Abby reluctantly said goodbye to him and wished him the best of luck.
13.) Ryan Bingham - Walker
When Walker first joined the rest of the ranch hands at the Yellowstone, he caused quite a bit of problems. Even though the convicted felon was branded, he eventually butted heads with Rip for not pulling his weight, but the two ended up working through the disagreement.
At an earlier point in his life, Walker worked at the 6666 Ranch in Texas, and he is now on his way back there with Rip and some of the other ranch hands to watch over a large portion of the cattle.
14.) Jake Ream - Jake
Jake is yet another ranch hand that appears quite often in the show, and he, like many others, received the Yellowstone brand at the end of Season 3.
Also like some of the other cowboys, he can often be seen in the scenes that take place in the bunkhouse and is on his way to Texas with Rip at the end of Season 5, Part 1.
15.) Ethan Lee - Ethan
Ethan is also a ranch hand at the Yellowstone Dutton Ranch that was introduced in Season 1, but he didn't really become a series regular until Season 3. He hasn't had as big of a role as some of the other cowboys, but he has still made quite a few appearances since he was brought on.
Ethan is one of the ranch hands that is not heading down to Texas, so fans will be able to see him continue his work at the Yellowstone in Part 2 of Season 5.
16.) Wendy Moniz - Lynelle Perry
Before John Dutton won the election for Montana state governor, Wendy Moniz's Lynelle Perry held that office.
Throughout the first few seasons, she and John were close friends and sometimes even hooked up periodically, but the two really became close in Season 5 after John was sworn in as governor.
In Part 1, Lynelle really tried to help John get adjusted to political life as best she could, and she will definitely be a powerful friend throughout the remainder of the episodes.
17.) Finn Little - Carter
Finn Little made his first appearance as Carter in the Season 4 premiere of Yellowstone, and has shown up at least once in every episode since.
When fans first met him, Carter was at the hospital with his father who was dying from a drug overdose. He immediately formed a connection with Beth, who obviously had a soft spot for the teenager.
After his father died and Carter was arrested, he came to work at the Yellowstone Dutton Ranch and eventually moved into the lodge with Rip and Beth, basically assuming the role of their adoptive son.
18.) Piper Perabo - Summer Higgins
Piper Perabo's Summer Higgins was also introduced at the beginning of Season 4 where she was leading a protest as a part of an activist group called Free Earth.
Summer was eventually arrested for protesting the future airport that was being built in Montana, and as a result, John granted her clemency once he became governor.
However, she does have to serve the rest of her sentence at the Yellowstone while also acting as John's environmental advisor.
Near the end of Season 5, Part 1, Summer and Beth's heated relationship comes to a head when the two women get into a fight, which results in both parties ultimately forming some sort of respect for the other.
19.) John Emmet Tracy - Ellis Steele
Ellis Steele is a Market Equities representative and has been one of the lead antagonists of Yellowstone since Season 3.
In Season 5 he continued his mission of trying to help Market Equities get an airport built on John's land.
20.) Jackie Weaver - Caroline Warner
If any character in Yellowstone has been able to go head-to-head with Beth aside from Jamie, it's most definitely Caroline Warner.
Caroline is the CEO of Market Equities, and it was really her idea and passion to rip the Duttons' land from them in order to make Montana more of a tourist attraction.
21.) Dawn Olivieri - Sarah Atwood
After Caroline Warner and Ellis Steele saw that Jamie Dutton could actually be used as an ally to them, they brought in Sarah Atwood to do the dirty work for them.
As one of the most cunning and manipulative characters in the entire show, Sarah ultimately brainwashed Jamie to hate his adopted family even further.
Sarah even went as far as to form a physical relationship with Jamie to truly influence him in the way that she wanted, and will likely be seen beside him as he continues to try to get John out of the picture.
22.) Lilli Kay - Clara Brewer
When John first met his personal assistant, Clara, after being sworn in as governor, he assumed the worst.
However, as Season 5 progressed, she not only proved herself to be a valuable asset to John politically but also in his personal life on the ranch.
Clara actually came down to the Yellowstone Dutton Ranch with John in Season 5, impressing everyone with her skills and willingness to work.
She will continue to be a massive help to John as he goes through his impeachment process in Season 5, Part 2.
23.) Josh Lucas - Young John Dutton
One of the biggest aspects of Season 5, Part 1 of Yellowstone was the use of flashbacks in order to bring the past to light for many of the series' main characters.
Josh Lucas was given the incredibly difficult task of following in the footsteps of Kevin Costner by playing a younger version of John, but the actor really shined in the role and almost made it difficult to believe that he wasn't actually John Dutton from the past.
The flashbacks that Lucas was featured in not only showed fans what John was like as a character but also how he brought Rip onto the ranch when he was just a boy.
24.) Kyle Red Silverstein - Young Rip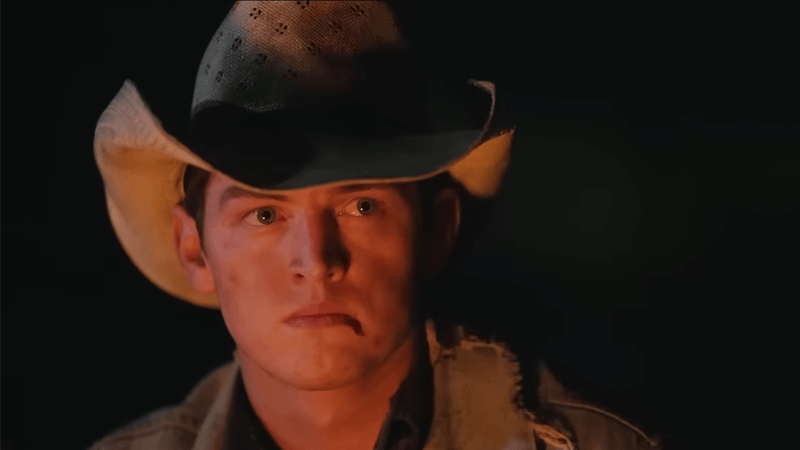 As previously mentioned, Season 5, Part 1 of Yellowstone really implemented flashbacks in a major way.
This included shedding more light on Rip's troubled past, and the flashbacks eventually showed just how much the character cared about Beth even as a young boy when he killed another ranch hand for talking about Beth in a suggestive and highly disrespectful manner.
Rip ended up riding back to the lodge after this conflict occurred and told John the entire truth, probing to fans just why John is now so trusting of Rip.
It also gave viewers a front-row seat to see exactly why Rip was given the Yellowstone brand at such an early age.
25.) Kylie Rogers - Young Beth
Kylie Rogers is another actress who portrays the younger version of one of the show's main characters - Beth.
Just as Kyle Red Silverstein did with the younger version of Rip, Rogers really took what Kelly Reilly did with Beth and ran with it, making every single viewer really believe that it is the same exact character.
In the Season 5 flashbacks fans get to see that a teenage Beth really isn't different from the adult Beth when it comes to her fire and attitude.
26.) Jefferson White - Jimmy Hurdstrom
Jimmy was introduced in the very first episode of Yellowstone as a troublemaker that seemed to be walking down the wrong path.
After Rip pulled him away and brought him to the ranch, however, he became a fan favorite and learned how to be one of the best cowboys in the state of Montana, and even learned the proper skills to show off at the rodeo.
Unfortunately, an accident left Jimmy in the hospital for quite a while, and as punishment, John sent him to the 6666 Ranch in Texas to whip him into shape.
After he returned a changed man he asked John if he could permanently move to the Texas ranch and John granted his wish due to the true character change he saw in Jimmy.
Jimmy only appeared one time in Season 5 during the mid-season finale when he showed up as a surprise cameo alongside his wife, Emily.
Since some of the ranch hands are traveling down to Texas he will likely make at least one more appearance in Part 2, and fans may even see him in a spin-off series at some point down the road.
27.) Kathryn Kelly - Emily
Emily was introduced on Yellowstone when Jimmy first went down to the 6666 Ranch as his punishment from John.
She and Jimmy met when she was at the ranch doing some veterinary work and the two instantly fell for each other.
Kelly made a cameo appearance as Emily in Part 1 of Season 5 and was seen with Jimmy during the mid-season finale.
---
The first four seasons of Yellowstone and Season 5, Part 1 are currently available to stream on Peacock.