The Flash featured a stacked cast of DCEU mainstays and surprising cameos from unexpected actors. 
Despite the movie's low box-office performance, the Ezra Miller-led DC movie's star-studded ensemble is still considered by many as one of its bright spots. 
Every Actor & Character in The Flash Movie 
1.) Ezra Miller - Barry Allen/The Flash
Ezra Miller reprised his role as Barry Allen (aka The Flash), the Scarlet Speedster, Central City's protector, and a founding member of the Justice League. 
After not being ready to let go of the past, Barry decided to travel back in time to save his mother from dying. In doing so, he ended up in an alternate 2013 during the day when he originally received powers. 
Aside from portraying the DCEU's main Barry Allen, Miller also plays his other self from the alternate timeline, the one who eventually became the Dark Flash. 
After saving the multiverse from imploding, Barry restored the timeline while also coming to terms with his mother's death. However, the ending implied that he ended up in another alternate universe after George Clooney's Bruce Wayne showed up to meet him. 
2.)  Michael Keaton - Bruce Wayne/Batman
Michael Keaton made his return as Bruce Wayne (aka Batman). The actor reprises his Dark Knight role after his last portrayal of the character in 1992's Batman Returns. 
In the alternate 2013 where the main Barry ended up, Keaton is that universe's Batman, but he already retired. Despite being hesitant to help the two Barry Allens, Bruce agreed to team up with them to try and find Superman and ultimately defeat General Zod and his forces. 
Due to the overwhelming number of evil Kryptonians, Bruce decided to sacrifice himself in the end to save his Earth from them. 
3.) Sasha Calle - Kara Zor-El/Supergirl
Sasha Calle made her DCEU debut as Kara Zor-El (aka Supergirl), the Kryptonian who ends up on Earth in younger Barry's alternate 2013. 
In The Flash, a Russian mercenary group managed to detain Kara in Siberia for years before the two Barrys and Bruce helped her escape. In doing so, the character was able to regain her powers and join them in the fight against General Zod. 
During the clash with Zod, the villain told Kara that he killed an infant Kal-El while also revealing that the Codex is within her blood. Supergirl was eventually murdered by Zod, successfully retrieving the Codex.
4.) Michael Shannon - General Zod
Michael Shannon reprised his Man of Steel role as General Zod, returning to wreak havoc in an alternate 2013 where Superman was killed by him when he was an infant. 
General Zod's role in The Flash was quite similar to his antagonistic presence in Man of Steel. The only difference was the fact that he went up against two speedsters, Batman, and Supergirl instead of Henry Cavill's Superman during the climactic battle. 
5.) Ron Livingston - Henry Allen
Ron Livingston played Henry Allen, Barry's father who was wrongly incarcerated in Iron Heights Penitentiary after being accused of killing his wife, Nora. 
Henry gave a pep talk to Barry about letting go of the past, but he was not ready to do it. 
Henry Allen served as Barry's emotional anchor, with him trying to do anything he could to prove his innocence. In the end, Henry was eventually freed from prison after Barry meddled with the CCTV of the grocery store in the past. 
6.) Maribel Verdú - Nora Allen
Maribel Verdú played Nora Allen, Barry's mother who was killed by a mysterious murderer in the past. 
Barry dedicated his life to uncovering the mystery behind Nora's death. However, in the end, Barry was able to accept her death with an emotional goodbye in the past. 
7.) Kiersey Clemons - Iris West
Kiersey Clemons made her return as Iris West, Barry's childhood friend and love interest from the comics. 
Although the pair were officially not a couple in the film, there were hints of a romantic bond between them that could happen in future projects. 
8.) Jeremy Irons - Alfred Pennyworth
Jeremy Irons portrayed Alfred Pennyworth, Bruce Wayne's loyal butler and the Justice League's trusted ally.
Alfred was the one who contacted Barry to assist in saving civilians from Gotham City General while Bruce chased down Al Falcone and his goons. 
9.) Ben Affleck - Batman
Ben Affleck returned as Bruce Wayne aka Batman. 
After successfully saving Gotham City, Barry tells Bruce about his plan to alter the past to save his mother from dying. Bruce then warned Barry about the consequences of time travel, noting how the wounds of one's past make them who they are. 
10.) Gal Gadot - Wonder Woman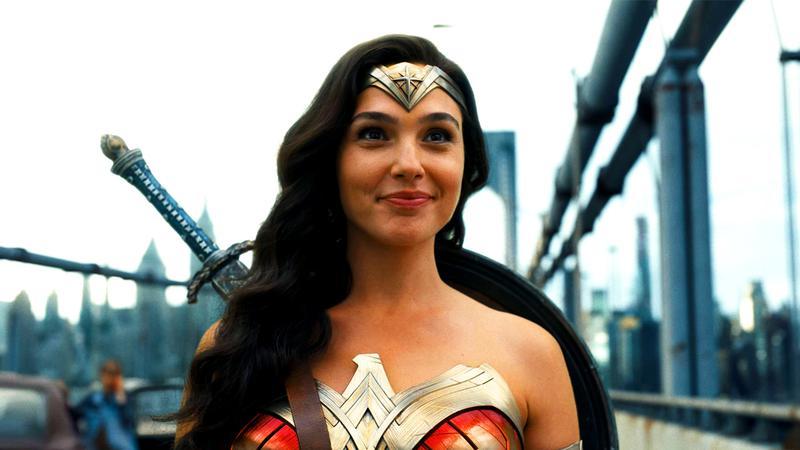 Gal Gadot also made a brief appearance as Wonder Woman. 
The DC heroine and Justice League member appeared at the last minute to save Batman and Al Falcone from falling off Gotham's bridge. Given that she used her Lasso of Truth to save them, it led to a funny (and honest) banter between her and Bruce. 
11.) Saoirse-Monica Jackson - Patty Spivot
Saoirse-Monica Jackson played Patty Spivot, one of Barry's friends from work who usually teased him for fun. 
In the alternate 2013, Patty was in a relationship with Albert Desmond, another one of Barry's friends. 
In DC Comics, Patty Spivot is one of Barry Allen's romantic interests. In the Arrowverse, the character was portrayed by Shantel VanSanten in The Flash Season 2. 
12.) Rudy Mancuso - Albert Desmond
Rudy Mancuso plays Albert Desmond, Barry's co-worker who joins Patty in making fun of him. 
In DC Comics, Albert Desmond is known as a villain called Dr. Alchemy. In the Arrowverse, the character was played by Harry Potter alum Tom Felton, and he served as a member of Team Flash in Season 4. 
13.) Antje Traue - Faora-UI
Antje Traue also made her DC comeback as Faora-Ul, General Zod's lieutenant who helped him invade Earth. 
14.) Temuera Morrison - Thomas Curry
Temuera Morrison reprised his role as Thomas Curry. 
In a brief appearance in the movie's alternate 2013, Thomas answered the phone when Barry was trying to look for Arthur (Aquaman).
15.) Sanjeev Bhaskar - David Singh
Sanjeev Bashkar portrayed David Singh, Barry's boss and the captain of the Central City Police Department. 
David was annoyed by Barry for being late for work and not finishing reports on time. 
16.) Sean Rogers - Gary
Sean Rogers played Gary, Barry's goofy roommate in the alternate timeline. 
17.) Kieran Hodgson - Sandwich Guy
Kieran Hodgson portrayed the annoying "Sandwich Guy" during The Flash's opening moments who took his time to make Barry his sandwich. 
18.) Luke Brandon-Field - Al Falcone
Luke Brandon-Field played Al Falcone, the thief whom Batman chased during the opening sequence and the son of Gotham City criminal boss, Carmine Falcone. 
19.) Ian Loh - Kid Barry
Ian Loh played the kid version of Barry during the flashback of his mother's murder. 
20.) Karl Collins - Henry's Lawyer
Karl Collins played Henry Allen's lawyer who was briefly seen in the courtroom. 
21.) Nikolaj Coster-Waldau - Lucas Desange aka Pizza Guy
Nikolaj Coster-Waldau played the "Pizza Guy," the character who lost his slice of pizza after younger Barry stole it at super speed. 
22.) Poppy Shepherd - Flash Fan # 1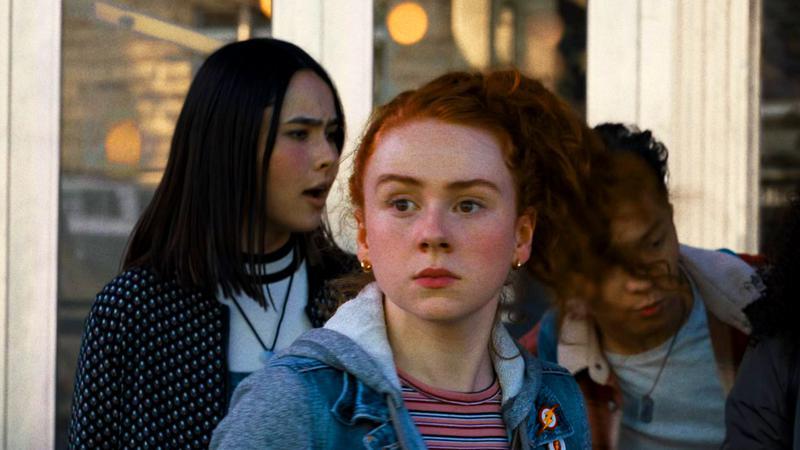 Poppy Shepherd played the girl who screamed, "I love you," to the Flash during the movie's opening scene. 
23.) Nina Barker-Francis - Flash Fan # 2 
Nina Barker-Francis played one of the Flash fans at the beginning of the film.
24.) Ava Hamada - Flash Fan # 3 
Ava Hamada portrayed one of the unnamed Flash fans. 
25.) Maurice Chung - Flash Fan # 4 
Maurice Chung played the other Flash fan. 
26.) Florence Wright - Baby Nurse
Florence Wright played the nurse who was assigned to oversee the babies in Gotham City General. 
27.) Andoni Gracia - Tony
Andoni Gracia played Tony, a civilian whom Flash failed to save during Zod's attack in Metropolis during the events of Man of Steel. 
28.) Bastian Fuentes - Tony's Son
Bastian Fuentes played Tony's son, the only person Barry saved from Metropolis during Zod's invasion. 
29.) George Clooney - Bruce Wayne
George Clooney made his surprise return as the new Bruce Wayne in the movie's ending, much to Barry's shock. 
Clooney originally portrayed a version of Batman in 1997's Batman & Robin. 
30.) Jason Momoa - Aquaman
Jason Momoa reprised his role as Arthur Curry in The Flash's post-credits scene. 
The sequence showed him and Barry going out of a bar after a heavy night of drinking and stories about what the Scarlet Speedster went through. 
31.) Nicolas Cage - Superman 
Nicolas Cage made a surprise return as his version of Superman during the Chronosphere sequence where the universes were colliding. 
The actor almost portrayed the Man of Steel in Tim Burton's scrapped Superman Lives movie. 
32.) Christopher Reeve - Superman
The late Christopher Reeve made a brief appearance as Superman. The actor portrayed the DC hero in 1978's Superman and its three sequels.
33.) Helen Slater - Supergirl
Helen Slater also appeared alongside Reeve's Superman during the Chronosphere sequence. The actress made her DC debut as Kara Danvers in 1984's Supergirl. 
34.) George Reeves - Superman
The late George Reeves made an appearance as his version of Superman. The actor played Superman in the Adventures of Superman TV series from the 1950s. 
35.) Adam West - Batman
Adam West's Batman was also spotted during the Chronosphere scene. The actor portrayed the Dark Knight in the 1960s Batman series and its theatrical movie in 19666.
36.) Henry Cavill - Superman
Henry Cavill made a cameo as Superman during the Chronosphere scene where a CGI recreation of himself as a shirtless Kal-El was seen. 
---
The Flash is now streaming on Max.