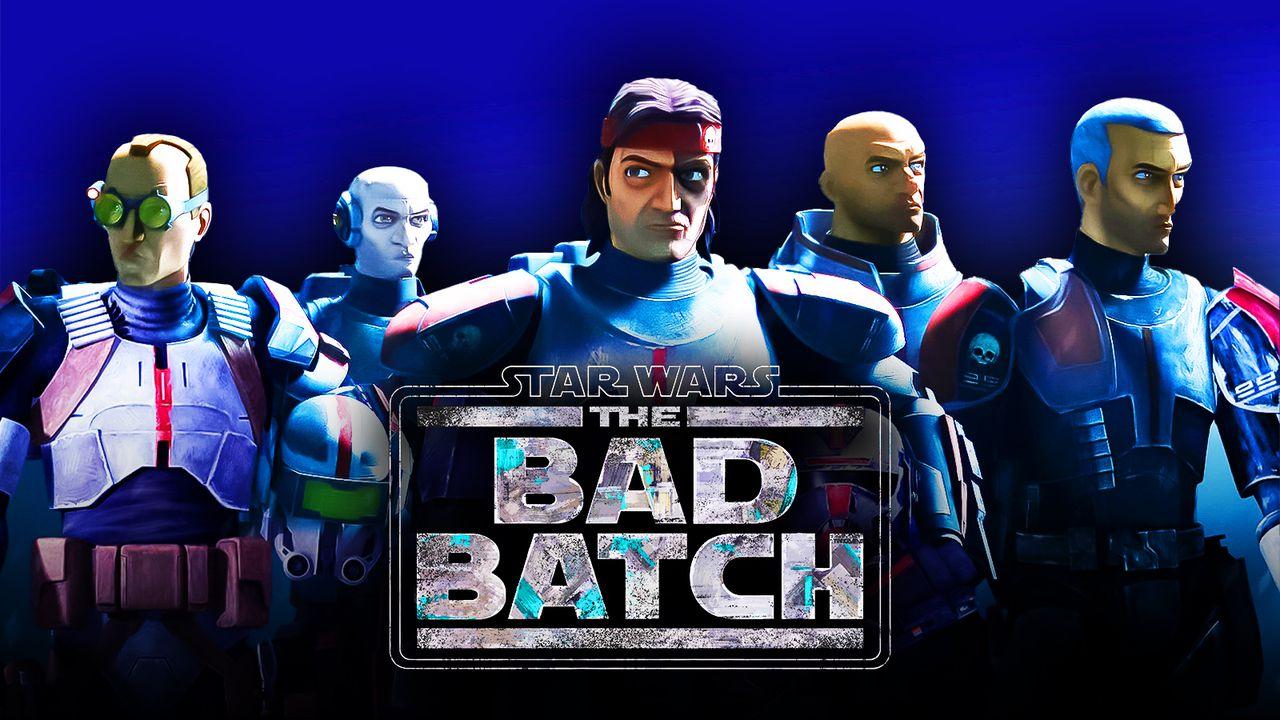 The Bad Batch is coming back to Disney+ for Season 3, so here's everything we know so far about its release, story, and cast.
Star Wars has had a computer-animated series on the go since The Clone Wars premiered in 2008. The show was succeeded by four seasons of Rebels before returning for Season 7 and later having its place taken by The Bad Batch.
The latest of the three stars Dee Bradley Baker as Clone Force 99, a group of troopers with unique genetic mutations who were able to resist Order 66. The story takes place in the period between Revenge of the Sith and A New Hope.
When Will The Bad Batch Season 3 Release?
The Bad Batch was renewed for Season 3 in April 2023, with Lucasfilm confirming at Star Wars Celebration the animated show will return for its final season in 2024 and treating the crowd to a privately-shown teaser trailer.
It's unclear whether The Bad Batch had wrapped recording by the time the actors' strike began in July, but the showing of a teaser at Celebration would suggest the scripts were likely done, therefore minimizing the impact of the writers' strike.
Additionally, in June, before the actors' strike, Omega actress Michelle Ang revealed a gift she received from Lucasfilm which was marked "For Your Service In The Bad Batch." So it would seem that Season 3 may have wrapped up vocal recording, at least on some characters, before the strike.
Many were concerned the shutdown of Lucasfilm's Singapore VFX and Animation studio would impact the release of The Bad Batch. Still, the series' director of cinematography was clear that the team at Lucasfilm Animated Ltd. is not affected and continues to be "ferociously busy" with Season 3:
"Just to be clear, we're not affected by this closure. LAL is not in Singapore :) we've always been at either the ranch or where we are now in SF (or working from home!). We are still ferociously busy working with Cgcg to bring you all s3 of 'The Bad Batch' and 'Tales of the Jedi.'"
Lucasfilm has yet to confirm exactly when The Bad Batch will be back for its third season next year, but as Season 2 premiered in early January and the show's strike impact appears minimal, it might find itself coming right at the start of 2024.
As with the last two seasons, The Bad Batch will once again likely be back with a 16-episode third season, which may well include several multi-episode weeks based on the three two-episode releases included across Season 2.
Who Will Return in The Bad Batch Season 3?
Dee Bradley Baker will continue to lead The Bad Batch going into Season 3, serving as the voice of Clone Force 99 and every other clone trooper, as usual.
Hunter, Wrecker, Crosshair, and Echo will all be back. However, Tech may, unfortunately, not return as he seemingly fell to his death into a clouded abyss during the Season 2 finale to ensure the escape of his fellow clones.
The Clone Wars star will voice three other troopers appearing in Season 3: Gregor, Captain Rex, and Commander Wolffe. It's currently unclear whether he will also appear as Commander Cody after Season 2 saw him abandon the Empire.
Michelle Ang will also continue on as Omega, and she ought to be set for an interesting time in Season 3 following the surprise debut of her sister Emerie Karr (Keisha Castle-Hughes) - another female clone of Jango Fett.
Beyond that, the trailer featured several other major Star Wars characters, including Kaminoan scientist Nala Se, Ming-Na Wen's Fennec Shand, and Ian McDiarmid's Emperor Palpatine.
Empire cloning doctor Royce Hemlock will appear again after his role in the latter episodes of Season 2, with Emperor Palpatine heard addressing him in the trailer to ensure Imperial cloning facility Mount Tantiss "[remains] secure."
The full cast of Season 3 as confirmed so far can be seen below:
Dee Bradley Baker - Clone Force 99 (Hunter, Wrecker, Crosshair, and Echo), Gregor, Commander Wolffe, and Captain Rex
Michelle Ang - Omega
Keisha Castle-Hughes - Emerie Karr
Gwendoline Yeo - Nala Se
Jimmi Simpson - Doctor Royce Hemlock
Ian McDiarmid - Emperor Palpatine
Ming-Na Wen - Fennec Shand
What Will Happen in The Bad Batch Season 3?
After the Season 2 finale saw the death of Clone Force 99 member Tech, the team endured another tragedy as Omega was captured by Doctor Royce Hemlock. 
The young clone was taken to Nala Se at the cloning facility of Mount Tantiss where she would meet her sister, the Imperial scientist Emerie Karr - who is bound to have her backstory explored thoroughly in Season 3.
Following Omega's capture, the Bad Batch swore to get her back by any means necessary, setting up her rescue to be a major plot point in Season 3 as the group goes toe-to-toe with their next big bad, Doctor Hemlock.
Omega appears to be important to the dark cloning research Hemlock is conducting for Emperor Palpatine, which fans will know ultimately leads toward his resurrection in The Rise of Skywalker and Moff Gideon's work in The Mandalorian.
The fates of Clone Force 99 are certainly bound to be a hot topic in Season 3 as it will close out The Bad Batch and presumably their Star Wars tales for good. As no corpse ever appeared, many still believe Tech could have survived his fall in the second season, setting up a surprise return in Season 3.
One also has to wonder what will become of Crosshair, who previously defected from Clone Force 99 to join the Empire. But after he warned the Bad Batch the Empire was looking for them toward the end of Season 2, perhaps he may defect back or even make the ultimate sacrifice for his former brothers in arms.
---
The first two seasons of The Bad Batch are streaming now on Disney+.
---
Actors
Dee Bradley Baker
Michelle Ang