Star Wars just shared the first official look at Jack Black, who just made a surprise guest appearance in the most recent chapter of The Mandalorian.
Chapter 22 of The Mandalorian set Din Djarin and Bo-Katan Kryze on a journey to seek out other Mandalorians to bring back to their home, although the episode then took a wild turn thanks to a number of unexpected big guest stars.
Jack Black embodied the eccentric Captain Bombardier, the leader of the Outer Rim planet Plazir-15, with him and Lizzo's Duchess asking the Mandalorians for help with a problem that came up with their droids malfunctioning and going haywire.
Black even celebrated his time joining Disney+'s Star Wars universe on social media, commenting on how it was "so fun working with Lizzo" in their roles as he became the latest huge name to join the galaxy far, far away.
Star Wars Highlights Jack Black in New Poster
Star Wars' Twitter page posted two new character posters featuring a couple of the biggest guest stars from Chapter 22 of The Mandalorian.
Musician/star actor Jack Black takes the spotlight as Captain Bombardier, holding his closed hands on his hips as his new Star Wars hero is highlighted in this poster.
Grammy-winning musician Lizzo also gets her own poster highlighting her character, The Duchess, who leads the planet Plazir-15 alongside her husband.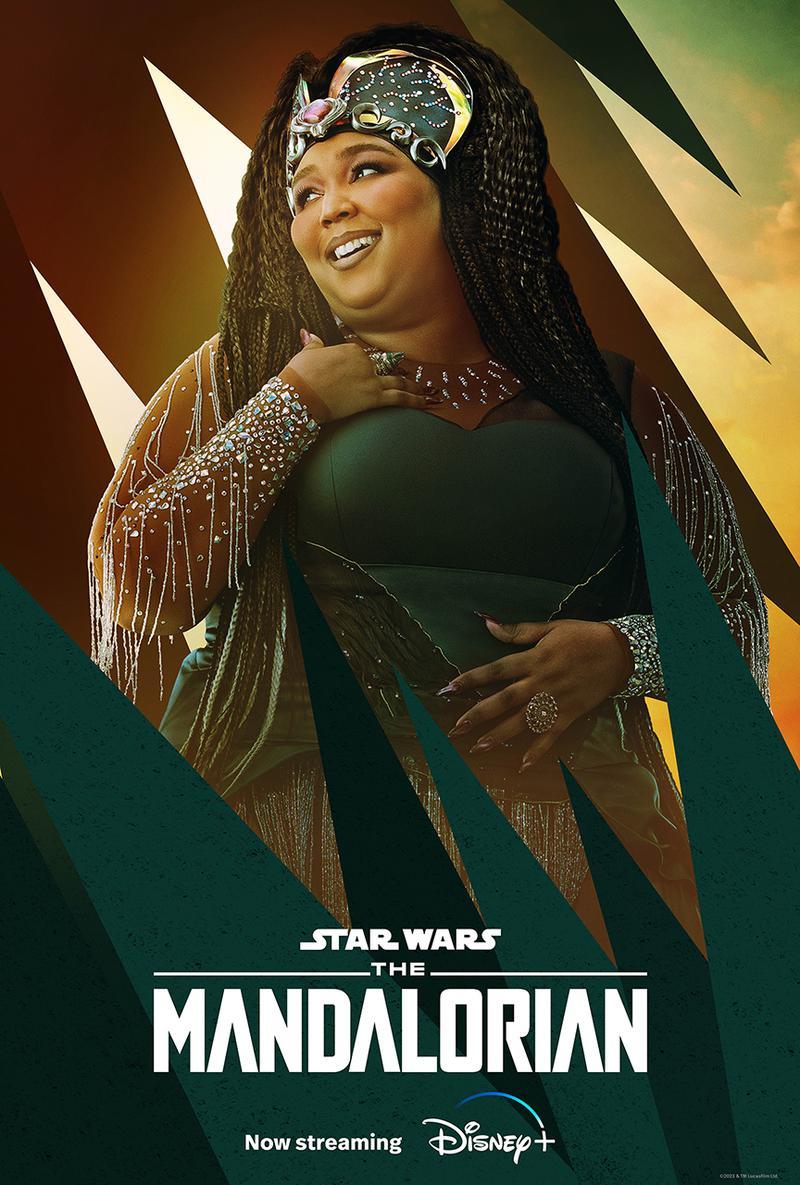 Disney+'s Twitter page also shared images of Black and Lizzo straight from the new episode, highlighting Lizzo's Duchess as she sits at the table in her huge dining room enjoying the company of her guests.
Lizzo and Black are featured in another picture from that same scene as they share information about their planet with Din Djarin and Bo-Katan Kryze.
Black and Lizzo weren't even the only guest stars to shine in this chapter, as the plot also featured Back to the Future legend Christopher Lloyd as the eventual villain, head of security Commissioner Helgait.
Guest Stars Shine in The Mandalorian's New Chapter
Star Wars has a long-standing history of bringing in Hollywood's biggest names for guest roles on Disney+, as stars like The Red Hot Chili Peppers' Flea take on roles in projects like Obi-Wan Kenobi.
This only continues the trend with Jack Black and Lizzo, which is especially exciting for Black considering this chapter was released on the very same day as his next big theatrical project, The Super Mario Bros. Movie. Bringing his talents to Bowser alongside another all-star list of cast members, these two projects released on the same day only proved how much star power Black still boasts.
Even taking into account how many negative reviews this chapter got, seeing Black and Lizzo together was something that nobody could have expected, with even Christopher Lloyd celebrating his inclusion as part of the adventure.
Now, with only two more weeks remaining in this third season, fans look forward to seeing who else may pop out of the woodwork, especially with other classic Star Wars characters finally joining the live-action story as well.
Chapter 22 of The Mandalorian is now streaming on Disney+.