After two seasons of The Mandalorian on Disney+, Lucasfilm is set to revisit the galaxy's original bounty hunter in a new series titled The Book of Boba Fett starring Temuera Morrison.
Following his sarlacc comeback in Mando's sophomore season, the series looks to explore the events following his takeover of Jabba's Palace in The Mandalorian's Season 2 finale's post-credits scene. 
Fans have already seen the series' first trailer, which highlighted Fett's role as Tatooine's new Kingpin; and now, as marketing ramps up ahead of the show's debut, fans are getting another look at the iconic character and his new look. 
New Book of Boba Fett Covers Revealed
Just ahead of Lucasfilm's The Book of Boba Fett's arrival on Disney+, Empire has released two new covers featuring the galaxy's most dangerous, and iconic, bounty hunter. 
The first cover, illustrated by Max Löffler, shows Boba facing Jabba's Palace from Return of the Jedi with a Luke Skywalker-inspired binary sunset in the distance: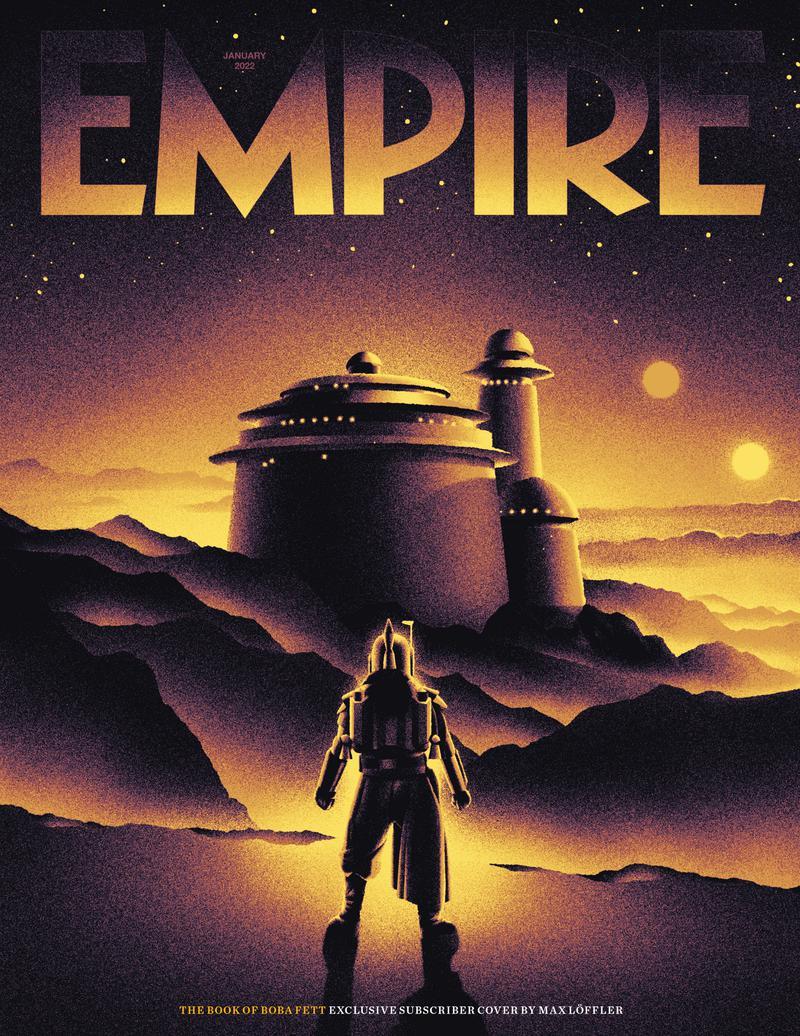 The second cover also shows Boba Fett on Tatooine but offers one of the best looks fans have seen yet of his slightly updated armor for the series. 
 In addition, his newly named signature ship, which is now being referred to as Firespray, can be seen in the background. 
Boba Fett's New Chapter on Disney+
When it comes to Star Wars storytelling, everything old is new again, and that certainly applies to The Book of Boba Fett.
In addition to his refurbished armor which, according to canon, is still the same that belonged to his father, The Book of Boba Fett looks to make the locations and story beats from Return of the Jedi new again, particularly that of Jabba's Palace. 
Also, it's worth noting that the second magazine cover features a Tatooine dwelling that may look familiar to Star Wars fans. While it's hard to say, could it be Obi-Wan's abode from A New Hope and his own upcoming series for Disney+?
While The Book of Boba Fett is Lucasfilm's second live-action series for Disney+, it's far from its last. The studio has plans to release Obi-Wan Kenobi, Andor, and Season 3 of The Mandalorian in 2022, followed by Ahsoka, starring Rosario Dawson, in 2023. 
Due to the newfound uncertainty surrounding Star Wars' return to the big screen, this Disney+ lineup is all the more important as the future of that galaxy far, far away appears to be in streaming for the time being. 
Therefore, all eyes will be on Boba Fett's next chapter later this year and into 2022 to see how Lucasfilm handles this original trilogy character and whether its success on Disney+ can continue with another bounty hunter in the spotlight.
The Book of Boba Fett arrives on Disney+ on December 29, 2021.