Spider-Man: No Way Home is quickly approaching, and many fans are eagerly analyzing new interviews and TV spots in hopes of a glimpse or two of shots from the movie that have not yet been seen. Fortunately for them, since promotional material has been ramping up as the Tom Holland-led threequel draws closer, there are more of these little sneak peeks to discover than ever.
While most of the mini-previews Spider-Man fans have discovered have been either still images or shots from the movie, occasionally they will come in other forms, such as behind-the-scenes footage from the making of the film.
Now, such footage has arrived in the form of a new interview with the Spider-Man sequel's main star. 
Behind-the-Scenes of Spider-Man: No Way Home
MCU Spider-Man actor Tom Holland was recently interviewed by The Project, and the video contains a few new behind-the-scenes clips from Spider-Man: No Way Home.
One of the interesting moments from the featurette is Zendaya's MJ as a waitress. Peter's girlfriend can be seen inside a coffee shop: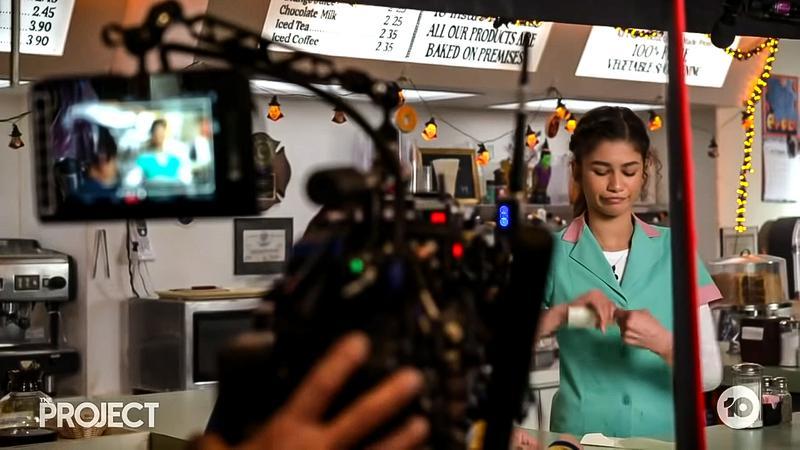 Another look at the restaurant scene shows Jacob Batalon's Ned alongside Zendaya's MJ. Back in January, No Way Home set photos of MJ as a waitress first emerged online, and they also showed a nervous Peter approaching the coffee shop. 
The first shot from the film's set includes Holland as Peter Parker, Benedict Cumberbatch as Doctor Strange, and Alfred Molina as Doc Ock.
The second shows Holland in a motion capture suit being pinned to a pole while upside down, which is followed up by the completed shot from the film itself of Peter Parker wearing the Iron Spider suit as one of Doc Ock's robotic tentacles smashes him into the pole.
The next is an action shot featuring Spider-Man jumping off a car onto a street.
Viewers can also see Holland's Spider-Man and Zendaya's MJ swinging together in the air: 
The full interview can be seen below:
A Glimpse at New Spider-Man: No Way Home Scenes
Some of the clips shown during the interview were from scenes that had already been shown in Spider-Man: No Way Home trailers and TV spots. However, a couple of them had not been seen before, or at least added new perspectives to previous footage, like providing a new angle to the scene with Peter Parker, Doctor Strange, and Doc Ock all together.
The one scene which has not been shown in promotional footage at all is the one of MJ at her cafe job. This may seem like a minor scene given all the web-slinging action and Multiversal drama the film promises to focus on, but Spider-Man: No Way Home will surely still be about Peter Parker's growth at its core, and this scene will likely allow for a moment in which viewers are able to see the human side of how his identity as Spider-Man affects those around him.
Spider-Man: No Way Home hits theaters on December 17, 2021.