The Marvel Cinematic Universe continues to expand on its rookie class in just under a month. Following fellow freshman Marc Spector is Kamala Khan, the lead character of the upcoming Ms. Marvel. Star Iman Vellani's MCU debut will span six episodes, spotlighting the Captain Marvel super-fan as she navigates high school with enhanced abilities.
Those abilities differ from the comics, as Khan's stretchy limbs have been substituted for more cosmic-based energy blasts. Even though her power set has been altered, Khan's tendency to get herself into trouble is consistent with the page.
In both the comics and the recent Marvel's Avengers video game, Ms. Marvel gets on big bads' radars in a big way. As revealed in an updated cast listing, it looks like Khan will be running into an organization that previously targeted Tom Holland's Peter Parker.
Ms. Marvel's Spider-Man: No Way Home Crossover
Is Damage Control coming to Jersey City?
According to the official project profile for Ms. Marvel, Arian Moayed is listed among the cast.
Iman Vellani, Matt Lintz, Yasmeen Fletcher, Zenobia Shroff, Mohan Kapur, Saagar Shaikh, Rish Shah, Fawad Khan, Laurel Marsden, Arian Moayed, Adaku Ononogbo, Alysia Reiner, Azhar Usman, Laith Nakli, Nimra Bucha, Travina Springer, with Aramis Knight
Moayed previously appeared in December's Spider-Man: No Way Home, portraying Agent P. Cleary of the Department of Damage Control.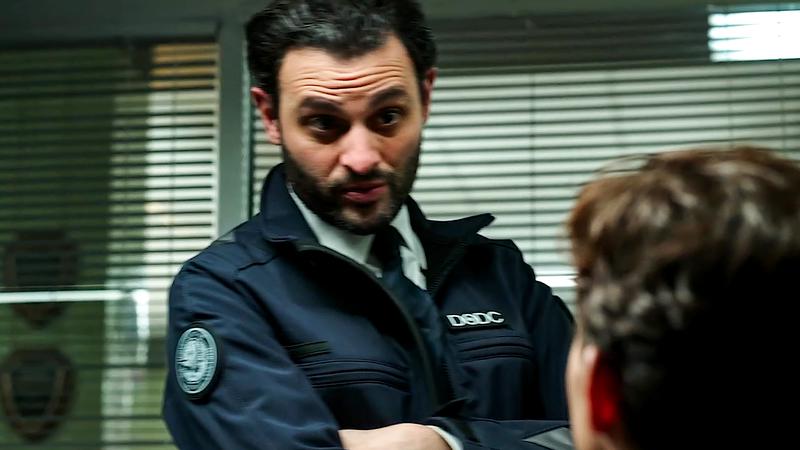 If Moayed is reprising his No Way Home role rather than taking on a new character in the upcoming Marvel Studios Disney+ series, it wouldn't be the first Spider-Man connection to the series. Previous set photos indicated Spider-Man: Far From Home's EDITH drones would play a part in the six-episode adventure.
Damage Control's Role in Ms. Marvel
While it's likely Moayed will be back as Agent Cleary, Marvel Studios has been more lenient when it comes to actors doubling up on roles in recent years. Captain Marvel star Gemma Chan just recently suited up as Sersi in Eternals, a completely different character from the blue-skinned Minn-Erva she portrayed in March 2019. Considering Moayed's Spider-Man role is relatively small, he may have taken on a larger and completely different character for this upcoming series.
That said, his current character fits seamlessly into Ms. Marvel. As the mouthpiece for Damage Control in No Way Home, Agent Cleary has been tapped as the defacto leader of the controversial department. The DODC's MCU appearances have been limited since they were introduced in 2017's Spider-Man: Homecoming, but their resurfacing in December's Spider-Man: No Way Home reminded fans that they are very much a lurking presence.
Following the aftermath of Avengers: Endgame, the department is not exactly strapped for work. Even if Damage Control is only concerned with web-slinging-related incidents, previous Ms. Marvel set pictures indicate there are many more Peter Parker fingerprints on this series than any MCU Disney+ project has seen before.
The DODC only became hyper-focused on Parker due to the destruction he allegedly caused with the EDITH drones overseas. If the Mysterio machines are back in business next month, it makes sense that Damage Control wouldn't be far behind.
Ms. Marvel begins streaming on June 8, exclusively on Disney+.