The MCU was known to switch around actors in its early days. Terrence Howard was originally cast as James Rhodes in Iron Man in 2008 before Don Cheadle took over the role two years later in Iron Man 2 . Edward Norton took on the mantle of Bruce Banner A.K.A. The Incredible Hulk only for Mark Ruffalo to take his place in 2012's The Avengers . However, we have yet to see an already-established MCU actor take on an entirely different role—the key word being "yet."
2019's breakthrough hit Captain Marvel introduced fans to another gang of cosmic characters alongside Carol Danvers, with one of them being actress Gemma Chan's Minn-Erva, a fellow member of the Starforce. Though Minn-Erva had a fairly minor role in the movie, and was killed off in its final act, no one expected Chan to somehow return to the franchise.
Soon after Captain Marvel hits theaters, Eternals , another upcoming cosmic addition to the MCU's ever-expanding cinematic arsenal, announced its cast. In it, Chan was confirmed to be taking on the role of Sersi, one of many extraterrestrial beings of immense power.
No one knows how Marvel Studios will explain this switch, but it'll be intriguing nonetheless to see if they will at all.
No matter, as Eternals approaches its release date of February 12, 2021, a member of the Visual Development team at Marvel Studios has shared an unseen look of Chan's first MCU role...
NEWS
On Twitter, Ian Joyner, Supervisor of Visual Delveopment at Marvel Studios, gave the world a look at a new piece of concept art of Minn-Erva (or, in referring to her true, comic title, Dr. Minerva).
In the tweet, Joyner told his followers to "Be safe and wear a mask!" Dr. Minerva herself is shown to be decked out in what appears to be a dark blue neck gaiter, as seen below: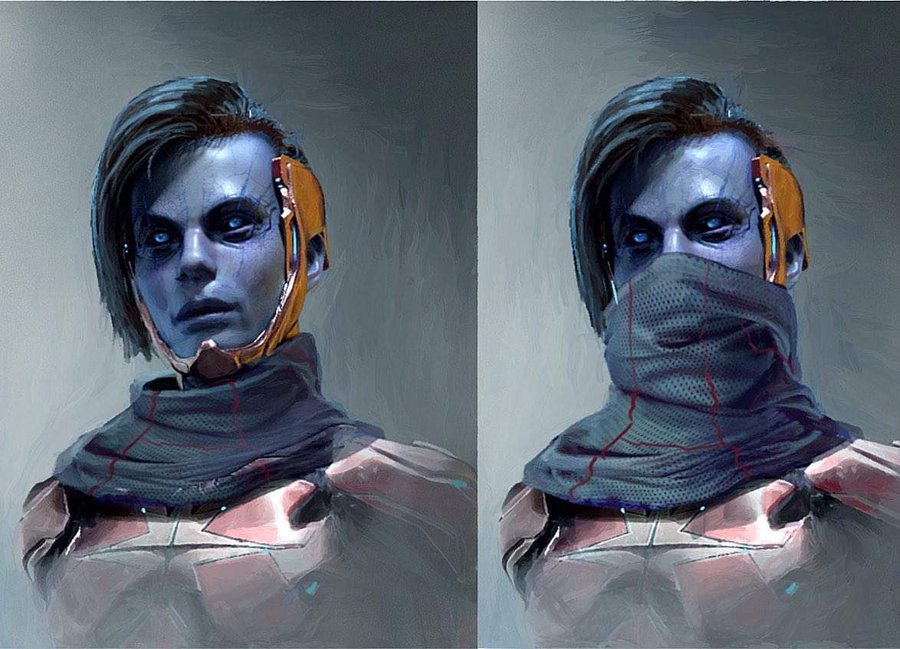 What's also interesting to note is that Dr. Minerva is donning a red Starforce suit rather than the finalized teal one that she and her fellow Starforce members were seen wearing in Captain Marvel . It just goes to show how much can really change between initial drafting on paper to getting the actors/actresses in actual suits for filming.
Recently, never-before-seen concept art has become the new wave of MCU news during a time in which productions are still stalled due to the ongoing COVID-19 pandemic. On top of this piece, another of an unused fight scene between Carol and Jude Law's Yon-Rogg was shared by Andy Park , Marvel Studios' Director of Visual Development.
Though this concept is, as mentioned, providing some fresh content in a MCU drought, it's also doing its due diligence by promoting a safety practice that will hopefully aid in Marvel Studios getting their Phase 4 lineup back on track.
Fans can see Gemma Chan back in action in the MCU as Sersi when Eternals hits theaters February 12, 2021.