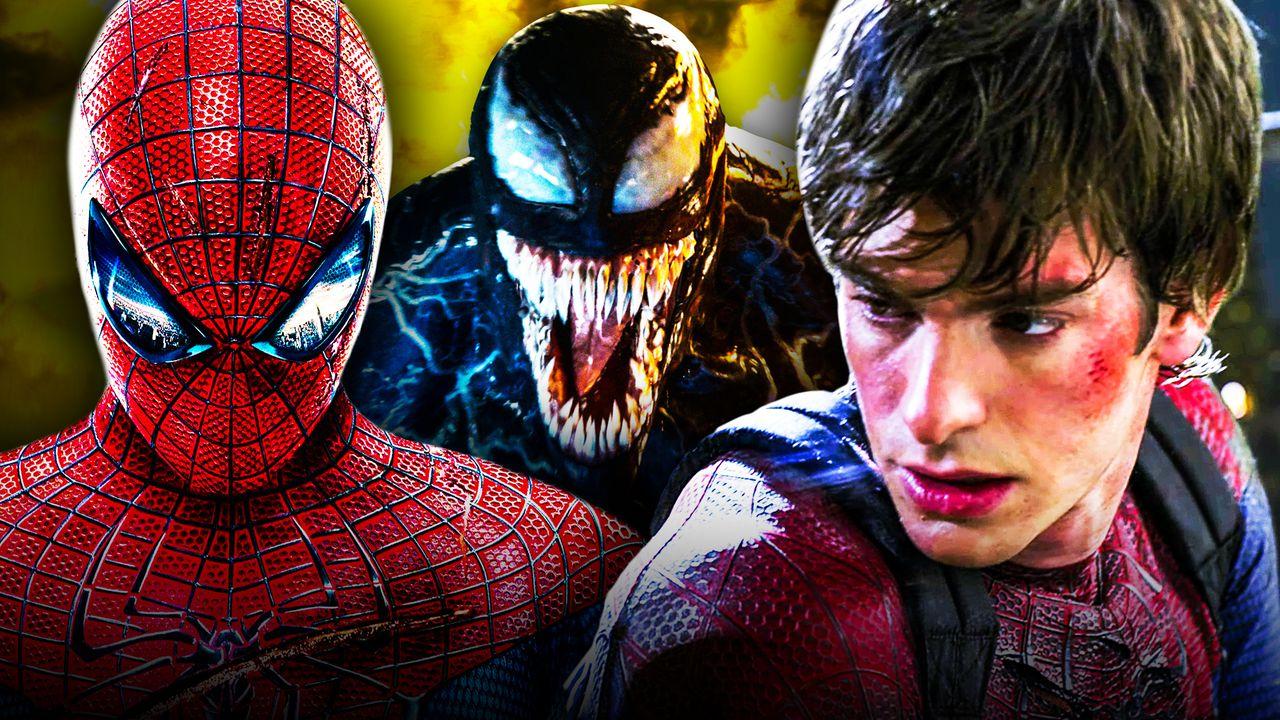 Out of the three different live-action Peter Parker franchises, Andrew Garfield's The Amazing Spider-Man films are surprisingly the most grounded. Garfield's Spidey battled unbelievable enemies, including a massive lizard and an overpowered electrician, but all of his adversaries were birthed out of his world. Rhys Ifans' Dr. Curt Conners and Jamie Foxx's Max Dillon were simply Oscorp employees before they received their sinister makeovers.
WARNING - The rest of this article contains spoilers from Spider-Man: No Way Home.
This lack of extraterrestrial threats from Garfield's world is directly addressed in Spider-Man: No Way Home, as both Tobey Maguire and Tom Holland's Peter Parkers share stories of the enemies they squared off against. Maguire's Peter mentions how he fought a "black ball of alien goo" before, while Holland's Peter makes note of his battle with an alien in space.
This inevitably makes Garfield's Peter feel a bit left out, as his stories only extend to antagonists from Manhattan. While this amazing Spider-Man has yet to face foes from outside his terrain, a key line of dialogue hints that that could be changing soon.
Andrew Garfield's Spider-Man Future
Ahead of Spider-Man: No Way Home's final battle, the three generations of Peter Parker share stories of their past battles. Both Tobey Maguire and Tom Holland mention their extraterrestrial stand-offs, leading Andrew Garfield to wish he was in on the fun.
"I want to fight an alien."
The Amazing Spider-Man 3?
While Garfield's response can be interpreted as a throwaway line, there's reason to believe it is a tease of what's to come.
The movement behind The Amazing Spider-Man 3 has been active since 2014, but the campaign picked up significant steam this past weekend. The canceled threequel trended on Twitter immediately following Spider-Man: No Way Home's release, as fans relentlessly begged for Andrew Garfield's Peter Parker to get the chance to finish his trilogy. Fortunately for theTASM faithful, recent reports suggest those wishes may be granted in a big way.
If Garfield's Peter is to get another solo run, he'll have a tenured enemy lying in wait.
Amazing Spider-Man vs. Venom?
Tom Hardy's Venom has long been rumored to clash with Spider-Man in due time, with many expecting that to come in the form of Holland's Peter Parker. As evident by No Way Home's post-credits scene, Hardy's MCU run was cut short, as he dipped before he could meet Holland's Spidey face to face.
That said, he may have another Spidey waiting for him on his homeworld.
Sony Pictures has deliberately confused fans with their tangled web of Spidey franchises. Early trailers of Morbius revealed Jared Leto walking past a poster of Tobey Maguire's Spider-Man, while later footage showcased a building with the same Oscorp logo as seen in The Amazing Spider-Man.
That Morbius trailer also makes reference to Eddie Brock's iconic "I am Venom" line, hinting that the Venom franchise exists within Morbius.
If that Oscorp building is any indication, Venom and Morbius exist within The Amazing Spider-Man's world. Considering Garfield's Spidey has yet to clash with a symbiote, the groundwork is already laid for seamless integration of his web-slinger into Sony's spin-off universe.
Regardless of where Garfield's Peter Parker goes next, he has no shortage of adversary opportunities.
Spider-Man: No Way Home is now in theaters.