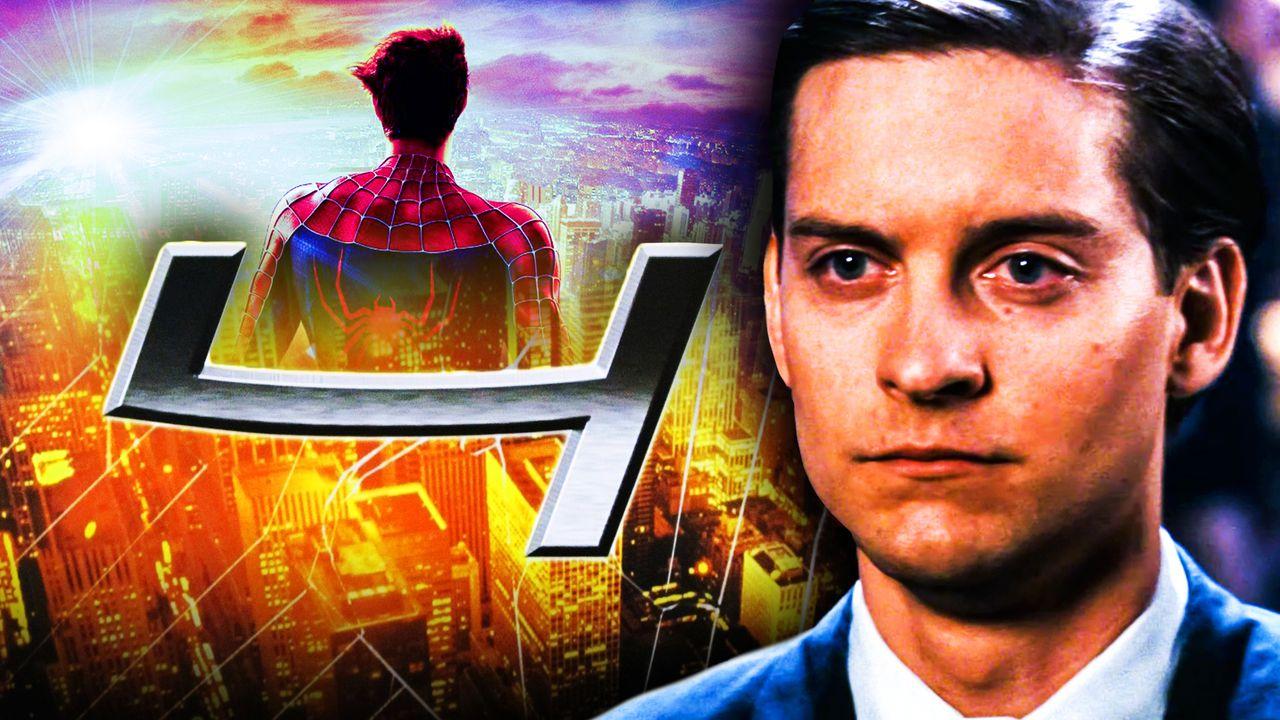 Many thought Avengers: Endgame was going to be a once-in-a-lifetime cinematic event—but then Spider-Man: No Way Home came around. The movie was the biggest live-action Spidey story to ever be told on the big screen, one that brought together three generations of storytelling. Not only did Marvel Studios successfully round up nearly half-a-dozen previous villains, but it also secured Tobey Maguire and Andrew Garfield to fight alongside Tom Holland.
Now, with that film having come and gone, many are wondering where they'll see those two Spider-Men next.
Plenty of people have been vouching for The Amazing Spider-Man 3 to be put into development or for Garfield's Spidey to lead Sony's Cinematic Universe. After all, the actor himself seems perfectly up for returning as the iconic hero.
But what about Maguire? Where will he pop up next?
Well, according to original Spider-Man director Sam Raimi, he'd be more than open to continuing the abandoned plans for the unmade fourth film.
Sam Raimi Addresses Tobey Maguire's Future
In an interview with Fandango, Doctor Strange in the Multiverse of Madness director Sam Raimi was asked if there was any chance he would once again team up with Tobey Maguire for more Spider-Man movies in the future, like in a potential fourth movie.
Raimi shared that he'd be open to the idea of a Spidey return, admitting that he has come to realize "anything is possible" and how "[he'd] love to work with Tobey again," even if it wasn't for a Spider-Man project:
"I've come to realize after making Doctor Strange that anything is possible, really anything in the Marvel universe, any team-ups. I love Tobey. I love Kirsten Dunst. I think all things are possible. I don't really have a story or a plan. I don't know if Marvel would be interested in that right now. I don't know what their thoughts are about that. I haven't really pursued that. But it sounds beautiful. Even if it wasn't a Spider-Man movie, I'd love to work with Tobey again, in a different role."
The Possibilities of Spider-Man
Many fans are likely pleased to hear how open director Sam Raimi is to the idea of continuing his Peter Parker's story. What makes it even better is this isn't his first time expressing the same sentiments; so it could truly be something he wants to do if the situation ever arises.
If Spider-Man 4 had been made, the villain would have ended up being the Vulture. So if Raimi and Maguire were to team up for a continuation, it's unlikely they'd stick with the same script idea—especially after Michael Keaton's take on the character in Marvel Studios' Spider-Man: Homecoming.
So who would have been the focus? An easy answer would be Curt Connor's Lizard. While the villain has already been done, there's plenty of room for a vastly different take on the scaly bad guy, especially if the movie utilized the real-life time jump.
Raimi could creatively use that gap of time to include many world-building elements. Mentions of previously defeated villains offscreen would be fun for fans and could even lead to easier ways of introducing new faces.
Black Cat was once reported to be a part of a fourth Raimi-directed Spidey adventure, so maybe that's a thread that could be picked up easily. Though, given where Tom Holland's MCU hero is on an emotional level, Felicia Hardy seems like the perfect fit for his story.
Doctor Strange in the Multiverse of Madness hits theaters on May 6.