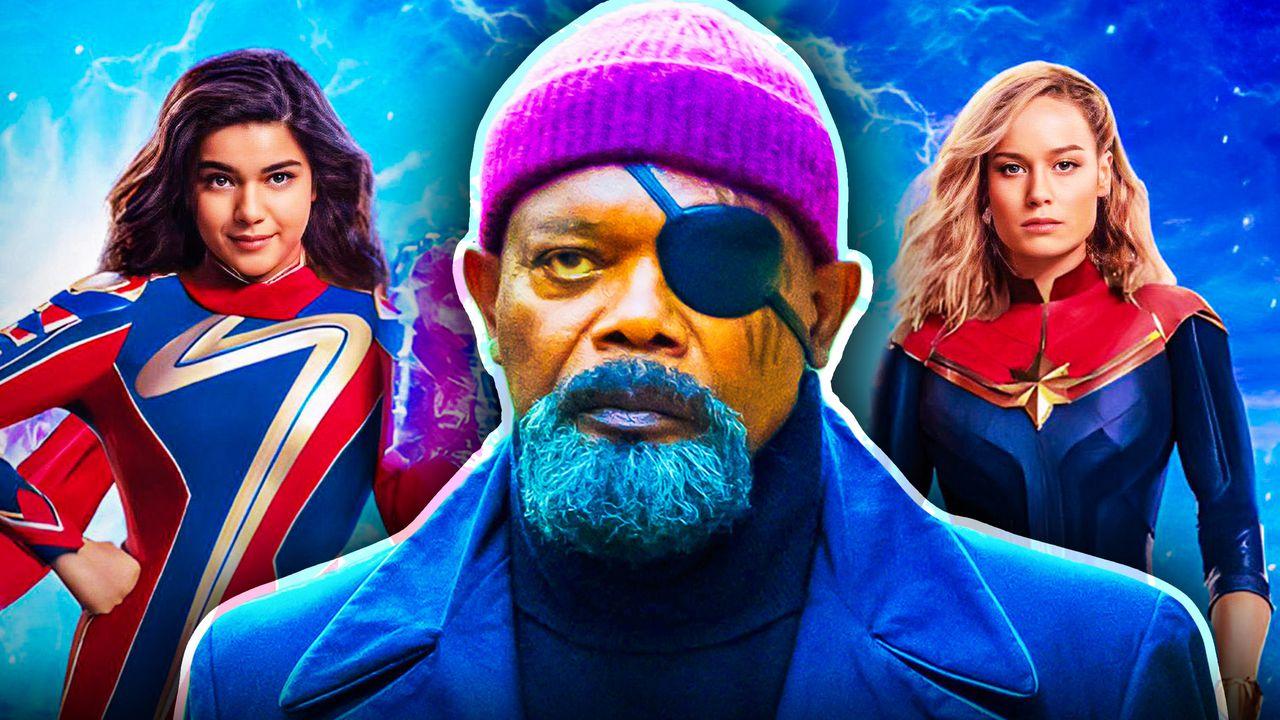 Director Ali Selim believes Secret Invasion changed Nick Fury for the better ahead of The Marvels.
While the latest Disney+ series featured an ensemble of MCU characters both old and new, Nick Fury was its leading hero and one whose personal life was tied to the Skrull invasion. 
But in addition to showing how past MCU events affected the former SHIELD director, the events of Secret Invasion's supposedly built a better Fury ahead of Captain Marvel 2. 
The Marvels' "Stronger" Nick Fury
In talking with Marvel, director Ali Selim explained how Secret Invasion shaped "the new Nick Fury" ahead of his big-screen return in The Marvels. 
Selim began by describing the series as "a big love story," not only in terms of Fury's relationship with his Skrull wife, Priscilla, but also in him "exploring his love for a lot of people:"
"I don't think it's a little bit of a love story. I think it's a big love story. And I think it's Nick exploring his love for a lot of people. The most challenging one is the fact that he fell in love and married a Skrull and battling his sense of other, living as a Black man in America and living as an aging man in a more fit world. I think he's constantly exploring that sense of other and dealing with this love story that he's never quite reconciled."
Selim also revealed that Nick Fury's marriage was, to him, "the story:"
"That, to me, was the story. He had to reconcile that love story, either by leaving her, as he almost does in Episode 6 when he picks up the broken vase, or reuniting with her, confronting it all, and kissing the Skrull, not the woman, or the human."
The director also shared how this series' events resulted in a "new" Nick Fury who "can do stronger and greater things":
"I thought that was very important for him to come to that point where he understands where he is in the world now and what he needs to be to continue to be the new Nick Fury and to send him off a little sense of: 'I've reconciled that. Now I can do stronger and greater things.'"
Of course, the next thing, and possibly the "stronger and greater" thing is Captain Marvel 2 where Fury won't only be reuniting with Carol Danvers, but also establishing ties with Monica Rambeau and Ms. Marvel's Kamala Khan. 
Apart from Spider-Man: Far From Home's post-credits scene, The Marvels marks Samuel L. Jackson's first live-action return to an MCU movie since Avengers: Endgame. 
In regards to Jackson, Selim opened up about his discussions with the actor about a post-snap Nick Fury, saying, "Sam and I talked a lot about aging" and "living through the blip:"
"Sam and I talked a lot about aging and worrying that you're losing your step or being told. And he has many points in this show that he's losing his step, living through the blip, which, in many ways, was very much like the pandemic for a lot of us, where we just disappeared and came back different and disoriented. We had a lot of conversations about Sam's life, how he felt as an aging man, and as a man who grew up in the very volatile times that he grew up, and how that informed Nick Fury."
The actor and director also discussed just what Fury's story is, and if it's about "getting his mojo back" or "finding his new strength:"
"And is it a story about him getting his mojo back? Or is it a story about him finding purpose at this point in his life and finding his new strength at this point in his life? I think it's a little bit of both."
According to Selim, he believes those conversations "helped Sam through this process:"
"Sam and I had good conversations about having lived through all of that stuff. I think, in many ways, that helped Sam through this process."
Did Secret Invasion Actually Change Nick Fury?
While Secret Invasion may have served as a personal reset for Nick Fury, the importance of that arc in The Marvels remains to be seen. 
First of all, unless the November film features Priscilla or revisits key events from the series, will audiences who skipped Secret Invasion even know Nick Fury lost his way or was even married? 
Yes, Disney+ viewers may realize he's back and ready for "stronger and greater things." However, for general audiences who only watch Marvel movies, Fury's back in space and right where they left him in Far From Home. 
This possibility was somewhat alluded to in a prior interview with Ali Selim where he explained communicating with The Marvels team about Fury's set-up was simply, "'Where do you need him? You need him here? Great.' And then we write into that."  
If this question of "Where do you need him" is location alone, it's possible that his Secret Invasion growth won't even be referenced. 
However, the same can't be said for Teyonah Parris' Monica Rambeau and Iman Vellani's Ms. Marvel as Captain Marvel 2 will have to reference their Disney+ origin stories as the two are relative MCU newcomers and two of the film's three leads. 
For now, the question of whether The Marvels' presents a "stronger" Nick Fury - and one who noticeably differs from his pre-Endgame self - remains to be seen. 
But for the sake of a "stronger" MCU, hopefully, the Captain Marvel sequel will pay homage to all of its contributing Disney+ narratives. 
All episodes of Secret Invasion are streaming now on Disney+; The Marvels arrives in theaters on Friday, November 10.