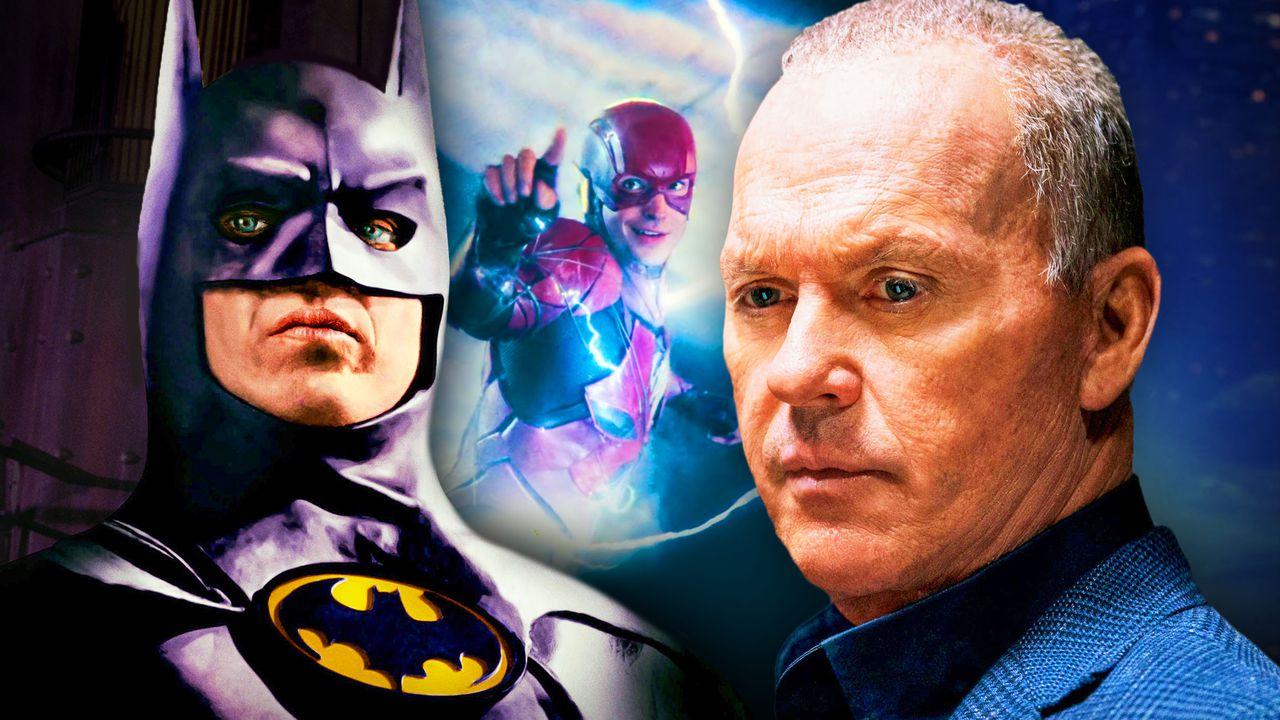 Thanks to some new merchandise, fresh plot details regarding Michael Keaton's Batman in The Flash surfaced.
One of the earliest details of Andy Muschietti's upcoming DCEU film was that Ezra Miller's titular hero would be joined by not just one Batman but two, both Ben Affleck and Michael Keaton's versions of the character.
The last time the iconic actor, who most recently portrayed Vulture in Spider-Man: Homecoming, donned the cape and cowl was in 1992. Over 20 years later, he's back in action.
Fans got a thrilling glimpse of Keaton's legendary Caped crusader thanks to the recent trailer that debuted on Super Bowl day. He's even got his own poster now.
New Plot Details for Michael Keaton's Batman
Thanks to McFarlane Toys and DC Studios, via Toyark, new plot details regarding Michael Keaton's role as Batman in The Flash were revealed.
For an upcoming 12-inch statue of Keaton's Dark Knight, the product's description revealed that his hero is "older" and "long-retired." 
Additionally, thanks to Barry Allen's arrival and "a global threat on the horizon," the grizzled hero has to "decide whether he can become Batman once more:"
"When Barry Allen arrives in an alternate 2013, he urgently seeks out the expertise of his friend and mentor Bruce Wayne – but the one he finds in the Multiverse is different on all fronts: older, long-retired from service as Gotham City's protector and somehow even more hardened than the billionaire superhero Barry has grown to know. With a global threat on the horizon, Bruce Wayne must decide whether he can become Batman once more."
The previously revealed official synopsis of the upcoming blockbuster also mentioned how Barry will need to "coax a very different Batman out of retirement:"
"Worlds collide in 'The Flash' when Barry Allen uses his superpowers to travel back in time in order to change the events of the past. But when his attempt to save his family inadvertently alters the future, Barry becomes trapped in a reality in which General Zod has returned, threatening annihilation, and there are no Super Heroes to turn to. That is, unless Barry can coax a very different Batman out of retirement and rescue an imprisoned Kryptonian... albeit not the one he's looking for. Ultimately, to save the world that he is in and return to the future that he knows, Barry's only hope is to race for his life. But will making the ultimate sacrifice be enough to reset the universe?"
More Keaton Going Forward in the DCU?
This take on Batman will certainly be unique, as fans really haven't seen what a retired Batman would look like on the big screen. The closest fans have come to that was Kevin Conroy's Bruce Wayne in CW's Crisis on Infinite Earths—though, there, he was a secret bad guy, and the final result was mixed.
At one point and time, Michael Keaton's role in the upcoming film was only just the start of his return. The actor filmed key scenes for the now-canceled Batgirl and, at one point, was even set to become the DCEU's main Batman.
With James Gunn and Peter Safran's upcoming DCU reboot in place, however, Keaton's Dark Knight doesn't look like he'll have a future past this June.
Gunn recently confirmed that when The Brave and the Bold hits theaters in a few years, the DCU will be led by a new actor in the role of Bruce Wayne and his alter ego. As for who that might be, it is anyone's guess.
Though, for those looking for more nostalgic Batman content, recent rumors indicate that another big-time actor is set to make their own brief return as well: George Clooney.
The Flash hits theaters on June 16, 2023.