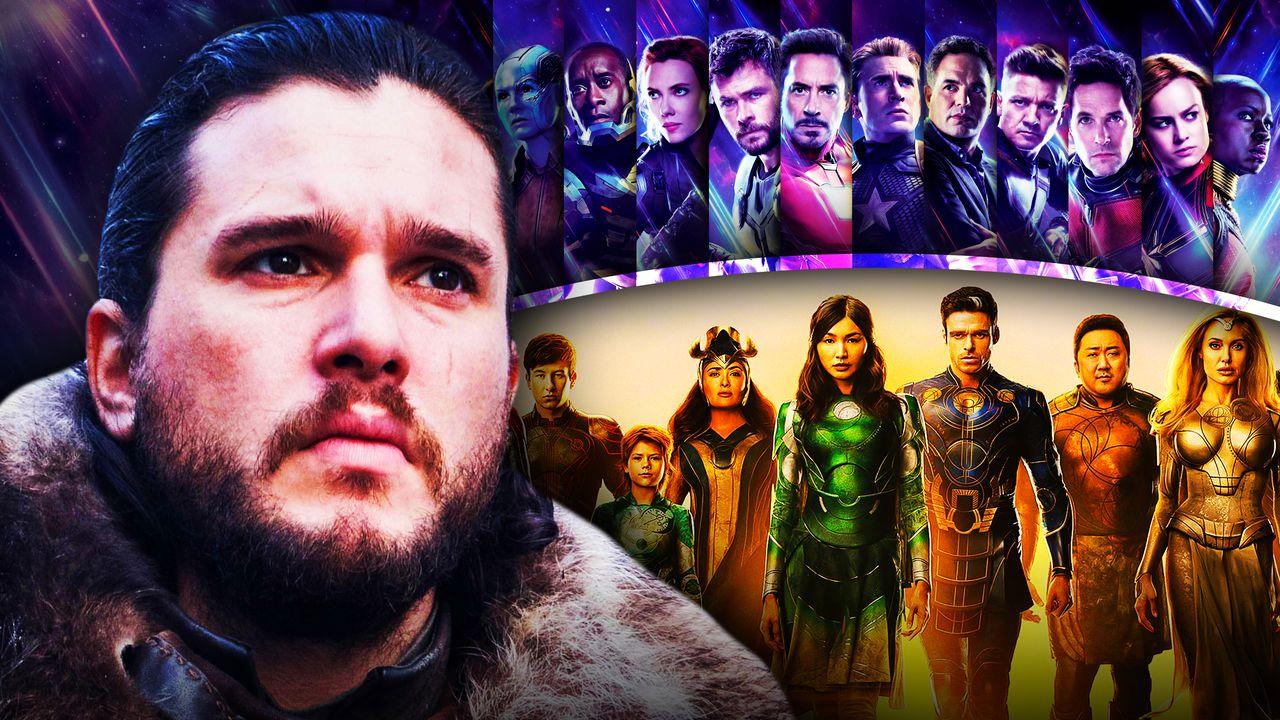 Eternals is the next film in the MCU's fourth phase. The movie has quite the act to follow, seeing as Shang-Chi and the Legend of the Ten Rings is hitting all the right notes for a lot of people.
The two films, however, couldn't be more different, aside from being a part of the Marvel Cinematic Universe. Eternals takes place on a far grander scale, introducing the world to the race of the Eternals, who have been around for 7,000 years, if not more.
Not only that, but fans will finally meet those celestials Guardians of the Galaxy teased all the way back in 2014.
One of the more unknown elements of Eternals is Kit Harrington's Dane Whitman, a character who goes on to become Black Knight in the comics –– a potential member of the Avengers no less.
But what will the character's future be past his debut film?
Kit Harington's MCU Future
Kit Harington was able to speak with Total Film, where he addressed the "special connection" between Sersi and his character Dane Whitman.
When it came down to the supposed love triangle, Harrington said that "a lot of it is[n't] accurate:"
"I think there's been a few things said about that in the press... I wouldn't say that a lot of it is accurate. But he has a connection with Sersi, as does Richard's character."
Dane Whitman remains a big mystery of the film, with Harrington saying that he's "the human character of the story:"
"As for Dane himself, Harington sums him up as "the human character of the story. He's not an Eternal. He's a character who works with the Natural History Museum in London. But he's not an Eternal – that's the main takeaway!"
As for whether or not Kit Harrington has a future following Eternals, all he could say is that "there's a possibility for a longer trajectory [for his character]:"
"I've got no idea whether my character goes on or not... I had read up on who he could be, or might be. So there's the possibility for a longer trajectory. And hopefully, I think this is the tip of the iceberg for my character. I hope. But I just don't know, you know? I'm as in the dark as anyone else. And I try not to live too far ahead in the future with anything. Even when I was in Game of Thrones, even on the sixth season, I presumed the seventh season wasn't going to happen!"
The Future of Black Knight
Kit Harrington is no stranger to big franchises, having previously been a part of Game of Thrones. So, despite his coyness, it's likely that the actor is a little more aware of what his future in the MCU might look like. He certainly would have signed a contract for more than one movie –– a process which can happen if the character doesn't even make it past their debut project.
It would be quite a waste of potential to see Dane Whitman get introduced in the Eternals film, and then just simply never amount to anything more. Then again, Marvel did kill off Ulysses Klaue in Black Panther, a move which arguably may be one of the Studios' biggest crimes to date.
Fans will have to wait until later this year to find out for sure when Eternals hits theaters on November 5. Hopefully, it's able to live up to all the expectations. After all, many believe that this film could be an Oscar contender.
---