Hawkeye is nearing its endgame, but the surprises keep on coming. The MCU series explores the aftermath of Clint Barton's Ronin life from Avengers: Endgame alongside the superhero debut of Hailee Steinfeld's Kate Bishop. So far, the bow-wielding duo shares an interesting dynamic as partners in crime, but it has been consistently challenged by the arrival of Maya Lopez and her Tracksuit Mafia syndicate. 
So far, the Disney+ series established the fact that Clint is dedicated to stopping Echo from her Ronin-related outburst while still trying to preserve his secret. 
Meanwhile, Kate has a mission of her own to try to unwrap Jack Duquesne's secret, but the continued meddling of her mother, Eleanor, makes it harder. 
Clint's past as Ronin has long been teased as the crux of the Disney+ series, and the fourth episode appears to tease how it all ties together. In celebration of the latest episode, the first batch of stills has arrived. 
Hawkeye Images Show Hailee Steinfeld, Jeremy Renner & More
Warning - This section contains spoilers for Hawkeye Episode 4. 
Disney officially unveiled 10 new stills from Hawkeye's fourth episode, entitled "Partners, Am I Right?", giving fans a deeper look at the show's latest storyline. 
Hailee Steinfeld's Kate Bishop and Jeremy Renner's Clint Barton are questioned by Eleanor Bishop in this new still from the episode. 
A tension-filled family meeting is ongoing in the Bishop residence in this official image: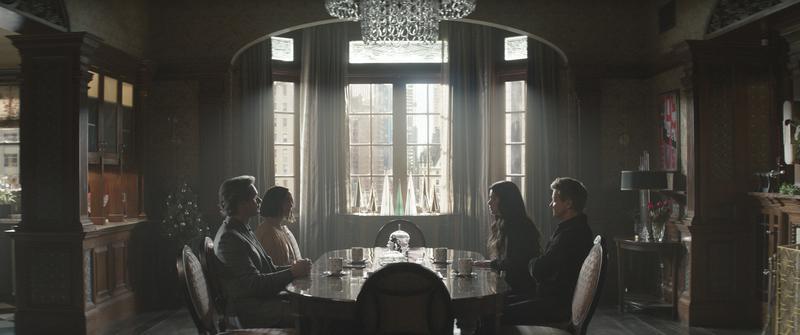 Laura Barton is keeping her kids safe on their farm while Clint tries to uncover the Ronin madness in New York: 
Kate and Lucky the Pizza Dog observe New York's LARPers as they practice their performance:
Kate makes a deal with the LARPers to obtain Clint's trick arrows from the NYPD: 
Clint takes a break from fighting by tending to his wounds in this new image: 
Kate tries to cheer up Clint in the days leading up to Christmas: 
Kate and Clint take a short Christmas hiatus amidst the Ronin chaos in this official still:
Lucky the Pizza Dog looks adorable in this official Hawkeye image: 
Clint tries to make the most out of his situation with Kate before eventually facing his enemies:
Hawkeye Episode 4 Sets Up Game-Changing Final Installments 
As Hawkeye enters its stretch run, there are still mysteries that have yet to be uncovered. The latest episode managed to tease the looming threat above Eleanor Bishop while also cementing the importance of a vintage Rolex watch that was first seen during the debut installment. 
The bond between Kate and Clint continues to shine throughout the episode, but the ending appears to set up a tragic downfall. Despite that, there is still footage from marketing that proves that an upcoming reunion will happen between the pair. 
On a separate note, the mystery surrounding Eleanor is still sparking theories among Marvel fans. Fans have theorized that Kate's mother is the show's big bad, while other viewers think that she is working for someone bigger in the crime world, like Wilson Fisk aka Kingpin.  
Tony Dalton's Jack is also a prime candidate to be the powerful threat, but many would agree that it would be obvious if it is indeed him. 
The New York LARPers' return is a welcome sight, especially after their memorable introduction during Episode 2. It's only fitting that Kate is the one who interacts with them this time around, giving off a more positive vibe than Clint's first encounter. 
Yelena Belova's absence in the first batch of images is understandable since her return is a major moment in the episode. The Black Widow character's jump from the movies to the small screen should inspire theories from fans online. It will also be interesting to find out how she fits in Hawkeye's grand scheme of things. 
The first four episodes of Hawkeye are now streaming on Disney+. 
---