Marvel Studios is officially two episodes away from the end of Hawkeye Season 1 on Disney+. Episode 4 pushed Jeremy Renner's hero to face new challenges in his solo adventure series. Fans are deep into the MCU's fifth streaming project of the year as Clint Barton and Kate Bishop work through their new partnership and attempt to figure out who's behind the rising danger that lies in front of them.
Of course, directly in front of this archer duo at the moment is Alaqua Cox's Echo, Fra Fee's Kazi Kazimierczak, and the Tracksuit Mafia as they peddle in stolen artifacts from the Avengers Compound post-Avengers: Endgame. While there are surely bigger players waiting in the wings, potentially as big as Vincent D'Onofrio's Kingpin, there is still the mystery of what the endgame really is in this show.
Additionally, fans have been on the edge of their seats waiting for Florence Pugh's Yelena Belova to make her arrival following the post-credits scene in 2021's Black Widow. In a recent interview, one of Hawkeye's directors teased some of what fans should look forward to between the Black Widow assassin and the MCU's newest master archer, Kate Bishop.
Hawkeye Director Teases Kate Bishop and Yelena Belova
WARNING: The rest of this article contains spoilers from Episode 4 of Hawkeye.
Speaking with Entertainment Tonight, Hawkeye directing team Bert & Bertie explored the relationship between Hailee Steinfeld's Kate Bishop and Florence Pugh's Yelena Belova following Yelena's first appearance in Episode 4.
Specifically, the directors touched on the intent behind the fight scene at the very end of the episode, in which Bert pointed out that everyone involved "were all after something else" before engaging in battle with each other. Featuring Kate and Yelena alongside Jeremy Renner's Clint Barton and Alaqua Cox's Echo, Bert shared how she feels scenes like that work better with a story that "(runs) through it" as well:
"We always believe a fight scene is so much stronger when there's a story running through it,"
Bertie followed up by explaining how the scene was focused on "being in the moment with the characters" in regards to the choreography and camera work used to show both fights. This also served to put Clint Barton's perspective on the situation front and center by pushing "that confusion from Clint's point of view" front and center.
Bertie also praised the acting team in this fight scene for being "so capable" and open to bringing the "physicality" required in that scene to their work. Due to their efforts, the director was able to shoot for longer periods of time, making it easier to complete everything needed to film:
"Having actors that are so able and so capable and so willing to be part of the physicality of it means that we can keep my cameras on them for longer and keep the audience in the action for longer. So, it was a gift to us."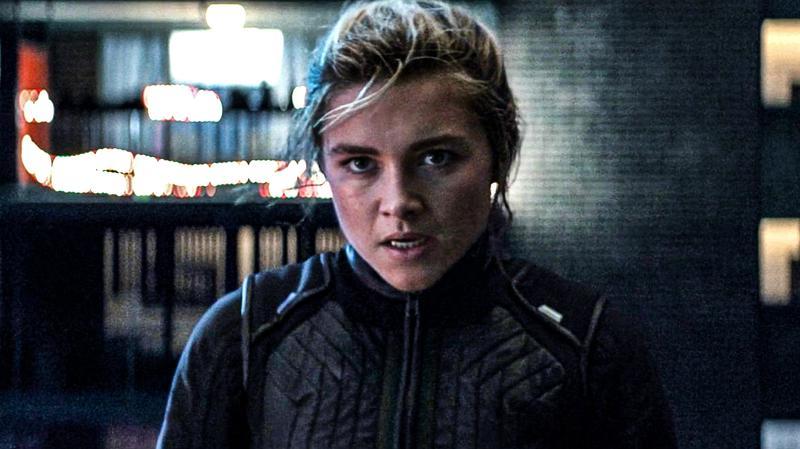 As the fight ends, there's a pause for a few seconds between Yelena and Kate before Yelena uses her gadgets to escape down the side of the building. This came after Kate prepared to shoot an arrow right at Yelena, although Yelena shot her a stern and disapproving look, which Bertie explained as being a "look of warning, like, 'Don't mess with me.'"
Although that ended their conflict in the moment, Bertie concluded by teasing that there was more to both that look from Yelena and the story that's coming for her and Kate:
"But also, there's something a little bit deeper where you feel like this isn't the end of their story together."
Black Widow vs. Kate Bishop - Round 2 Incoming?
Ever since Pugh's Yelena Belova first joined the cast of Hawkeye, fans have waited anxiously to see how she and Clint Barton would interact after the Black Widow post-credits scene. After Episode 4, the connection between Yelena and Kate Bishop may now be what has intrigue growing as the wait continues for the season's last two episodes.
Pugh's anti-hero found a way to make her impact felt on the Hawkeye series without uttering a single word, making it known that she's here in a big way simply by looking at Kate Bishop and stopping her from releasing her arrow. Although Yelena likely has an idea of who Kate is and what she's doing alongside Barton, the young Avenger is clearly not Yelena's primary target.
As the hunt for Natasha's supposed murderer continues, the relationship between Kate and Yelena will be something to keep a close eye on in the season's final two entries.
The first four episodes of Hawkeye are now available to stream on Disney+.