Black Adam is a promising entry for the DCEU for 2022. The film has been in development for years, but it will finally arrive after almost a decade of waiting. Black Adam will feature Dwayne "The Rock" Johnson as the titular anti-hero, and it will be directed by Jaume Collet-Serra. Alongside Johnson, the film showcases a stellar cast that includes Pierce Brosnan, Noah Centineo, Aldis Hodge, and Sarah Shahi. 
Johnson has been the key figure in Black Adam's marketing ever since he was attached to the project nearly a decade ago. During the two iterations of DC FanDome, the former WWE Champion led the charge in hyping up the film by showing concept art, teasers, and the movie's first official clip. 
Plot details are still shrouded in secrecy, but it has been confirmed that Black Adam will duke it out against the Justice Society of America. In addition, it is also expected that Black Adam will explore the origin story of Teth Adam, meaning that his past as an Egyptian slave and his relationship with the ancient wizard Shazam may be included in the narrative. 
Now, an interesting behind-the-scenes tidbit from Black Adam has been revealed on the technical side of production.
Dwayne Johnson Shares Fresh Look at Black Adam
Black Adam star Dwayne Johnson took to Instagram to share a new batch of behind-the-scenes photos from Black Adam, showcasing a fresh look at the VFX production of the upcoming DCEU film. 
The WWE Legend showed an image of him sitting in "the egg," a form of motion capture that allows the crew to shoot the actor's eye movement, head, and shoulders: 
Johnson revealed that this latest VFX work is dedicated to Black Adam's slave sequences, where the titular hero starts off as Teth Adam of Kahndaq: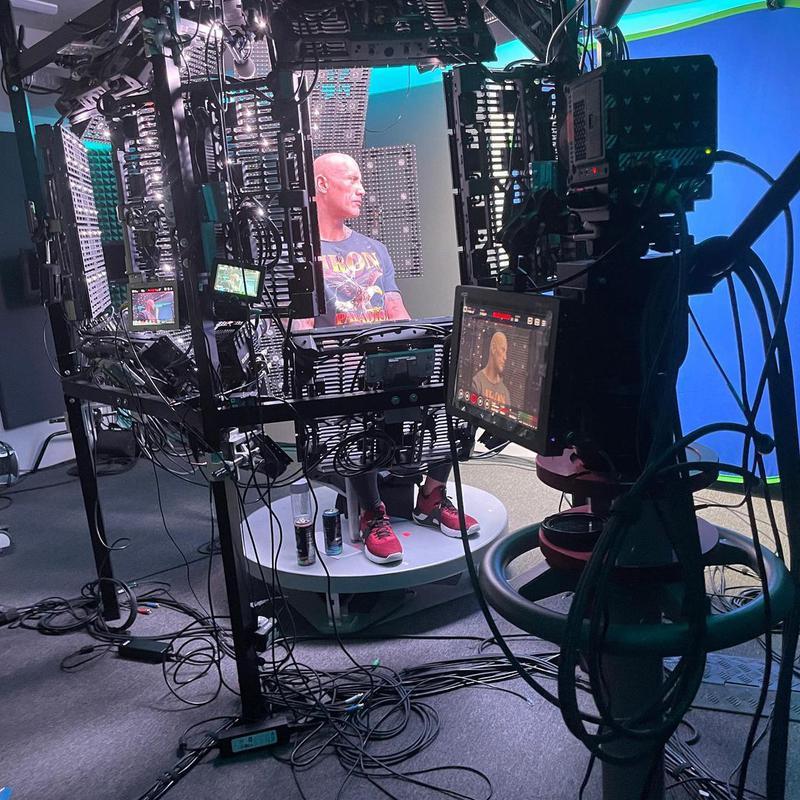 Johnson unveiled that he was sitting for "10 hours" in the VFX lighting rig, teasing that he filmed "extremely complicated sequences:"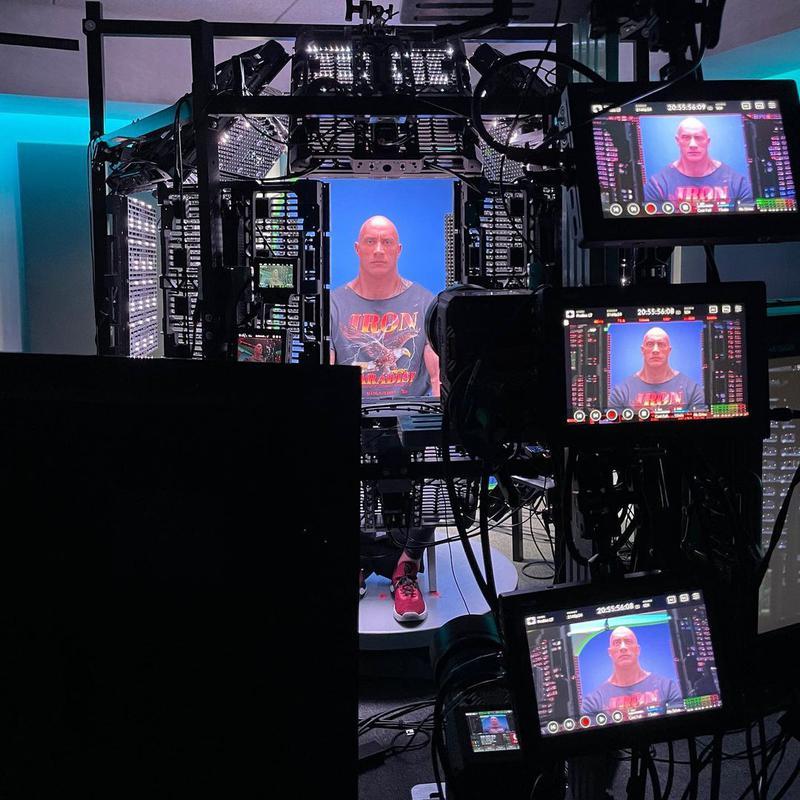 Johnson's full caption can be seen below: 
"Very long workday, but very productive for our VFX production of BLACK ADAM⚡️

10 hours of sitting in "the egg" shooting extremely complicated sequences where I can only move my eyes, head & shoulders focusing on marks no bigger than a quarter - all while performing as #BlackAdam. 

In the mythology, TETH ADAM (his original name before his soul is darkened to BLACK), starts off as a slave in his birthplace of Kahndaq. 
These slave sequences are super intricate and complex. 

Requires a real TEAM EFFORT to get the job done. 

A huge THANK YOU to/
our director, Jaume Collet Serra
our Black Adam VFX Supervisor, Bill Westenhofer
our entire A+ post-production crew
and the brilliant LOLA Visual Effects Team. 
Thank you all for your time and incredible talents and I can't wait for the world to finally see THE MAN IN BLACK⚡️"

#vfx 
#mythologycomestolife
#blackadam⚡️
Teth Adam's Origin Story
Johnson's passion and love for Black Adam have been apparent throughout the film's marketing, and this latest batch of photos further cement that claim. 
This filming technology dubbed "the egg" has been a common staple for superhero movies since it creates a smooth transition for post-production. This behind-the-scenes tidbit could also suggest that Black Adam is amid post-production, meaning that a teaser trailer could be on its way soon. 
Given that Johnson spent a good chunk of time in the VFX lighting rig, this could hint that Black Adam will spend more time exploring Teth Adam's origin before obtaining his powers. 
In the pages of DC Comics, Teth Adam has a complicated origin story. The character served as a slave in Kahndaq, a place where almost the entirety of his family was killed. While escaping the underground prisons with his nephew Aman, the wizard Shazam magically transported them into the Rock of Eternity. 
It's possible that a more extensive backstory for Teth Adam will be revealed in the movie, thus allowing the viewers to do a deep dive into the character. It would also give a sense of sympathy for the anti-hero since knowing his backstory would further elevate him in the narrative. 
All in all, Black Adam has the potential to showcase a complex character, and the added boost in the VFX department would make it more compelling.
Black Adam is set to premiere in theaters on July 29, 2022.