Since Marvel Studios' infamous Phase 4 slate announcement at San Diego Comic-Con 2019, Doctor Strange in the Multiverse of Madness has been the film everyone has had their eyes laser-focused on. Up until then, the "Multiverse" buzzword had only been mentioned in passing, and the concept had been shut down by Mysterio's trickery just weeks earlier in Spider-Man: Far From Home. Not only did the Doctor Strange 2 subtitle confirm that alternate realities were real, but it also geared viewers up for an in-depth exploration of this new concept.
Multiverse of Madness would hit the same pandemic road bumps all Hollywood productions experience over the course of 2020 and 2021 but was able to lock in its May 2022 release date by last fall. Rumblings surrounding the plot also flirted with Spider-Man: No Way Home levels of rumors, as characters from 20th Century Fox's Marvel films to Variants of existing Marvel Cinematic Universe heroes all were speculated to be involved in the narrative.
If that wasn't enough, fans were treated to a nine-episode WandaVision tie-in over a year before Doctor Strange 2 would hit theaters.
This may have been a day the protector of our reality has been dreading, but Doctor Strange in the Multiverse of Madness has arrived. While it's far from a perfect MCU installment, this sinister sequel has plenty of elite-tier moments to warrant a priority viewing.
Sam Raimi Unleashed
First and foremost, Doctor Strange in the Multiverse of Madness is a Sam Raimi film.
The godfather of comic book movies puts his signature stamp on every frame of this picture and doesn't look back. The same way Iron Man 3 is a Shane Black adventure and Eternals is a Chloe Zhao epic, Doctor Strange 2 is championed by Sam Raimi's blend of horror, mesmerizing camera work, and second-to-none transitions, making it Marvel like you've never seen before.
That said, the style will be jarring for some. MCU films have a certain vibe to them, and Doctor Strange 2 comes off as more MCU-adjacent. It obviously fits in the realm of Marvel canon, but the way it's shot and some of the stylistic choices may take viewers unfamiliar with Raimi's flavor out of it.
Going in to enjoy it as a Raimi film first will leave audiences incredibly satisfied. The visuals are hit or miss at times, as apparent reshoots likely left a couple of scenes with smaller post-production windows, but the ones that land are sensational. 
Danny Elfman's Joyous Marvel Return
Marvel's Phase 4 productions have crushed every single score, and Multiverse of Madness is no exception.
Danny Elfman brings a diverse palette to every scene, appropriately bouncing between epic hero beats and uncomfortably spine-tingling horror chords. Just like his long-time director partner effortlessly segues between scenes, Elfman blends significantly different audio cues like silk. There's one particular scene unlike anything the MCU has ever done with its score before, and Elfman's DNA is directly intertwined in every frame.
The Anchor of the MCU
Earlier this year, Marvel President Kevin Feige made the bold proclamation that Benedict Cumberbatch was now the "anchor of the Marvel Cinematic Universe," filling the void left behind by Robert Downey Jr. and Chris Evans. If that statement was ever in doubt, Doctor Strange 2 shuts down all concerns.
From the opening scene, Cumberbatch feels like a team captain. Reception to his character following 2016's Doctor Strange was positive, but Avengers: Infinity War bumped up his popularity significantly. Cumberbatch takes that good doctor's momentum he's been riding comfortably since 2018, which just recently peaked again this past December, and brings it to another new high.
Despite his best efforts, Strange is a bonafide leader. He may not be crazy about the responsibilities he's inherited, but he comes off as a natural frontman both as a character and as an actor. From the film's opening battle to the closing frame, it's evident that the Marvel Cinematic Universe has its new leading man.
Supporting Standouts
What else is there to say about Elizabeth Olsen at this point?
The veteran Marvel actress turned in the performance of her career in 2021's WandaVision, resulting in award nominations and feverish fan support. Olsen dials up the Scarlet Witch to an 11 for this entire film and turns in another unbelievably engaging performance. She's sweet yet terrifying. She's compassionate yet sinister.
Xochitl Gomez's America Chavez also deserves all the recognition.
The young actress stands toe-to-toe with the Academy Award-nominated Benedict Cumberbatch and holds her own in every scene. Her unique power set makes her feel like an immediately welcome addition, and her Multiverse-inspired abilities will keep audiences glued to her every move. Beyond that, she's simply a charming character.
Benedict Wong's Wong continues to dominate the MCU, turning in his third performance as the Sorcerer Supreme within the past eight months. His banter opposite Cumberbatch is as strong as ever, as these two have developed a bond akin to famed MCU friendships like Tony Stark and James Rhodes or Sam Wilson and Bucky Barnes. 
Marvel Moments Within a Jumbled Script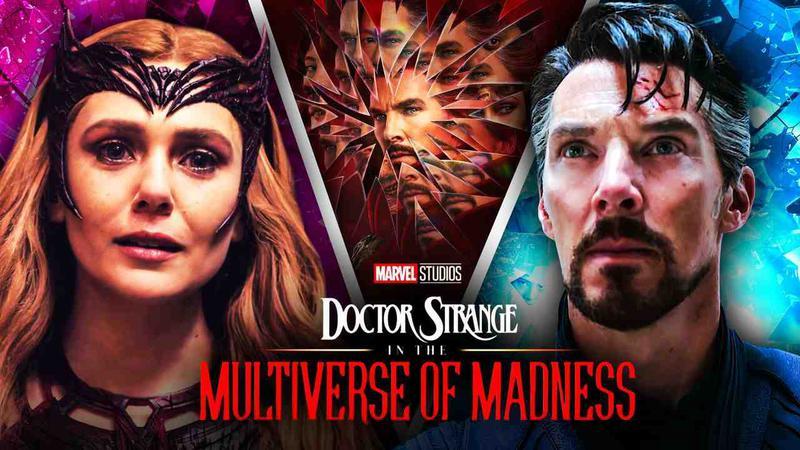 Rest assured, this film gives plenty of signature MCU moments. It's impossible to say what or why without going into spoilers, but be confident that more than one scene will leave your jaw on the floor.
That said, they do come at the cost of the narrative. The story is surprisingly simple, which will make it accessible for even the most casual Marvel fan. That said, the simplistic nature of the plot does make it come off as goofy at times, and certain moments feel unearned because of how they're being forced to work within the narrative rather than naturally fitting in.
Most of that is due to the film's MacGuffins. Only so many new "things" can be introduced in a single film before they all consequently lose weight. Resurrecting the Darkhold from WandaVision was a fantastic choice, but bringing in other mystical objects to play as large of a role watered down the surrounding pieces.
These new pieces also lead to an awkward sense of pacing by Marvel standards. Projects like Avengers: Infinity War and Loki expertly kept viewers engaged for their lengthy narratives. While it's no chore to be locked in on Strange's story here, there are lulls between action setpieces and intriguing Multiversal moments that might leave audiences impatient to get back to the more gripping elements.
Keeping Expectations in Check
While the Multiverse of Madness title implies this is a culminating crossover event, it is a Doctor Strange movie at its core. The same way Captain America: Civil War zones in on its title character, Steve Rogers, Doctor Strange 2 is a Stephen Strange movie through and through. At the end of the day, this is a solo movie. Sequels like Civil War and Spider-Man: No Way Home have spoiled fans with their impressive ensembles ravaging through a cataclysmic event. Doctor Strange 2 gives fans a taste of those aforementioned Avengers-lite movies but stays true to its title character for the full 126 minutes.
For that reason, do not go in expecting an Avengers 5. This is very much a soft launch into the Multiverse, and based on recent quotes from Feige, this is far from the last time Marvel Studios explores the vast unknown. With a concept this imaginative, Doctor Strange 2 only scratching the surface makes sense in the long run. The lack of deep diving will leave some disappointed, but it should ultimately make fans that much hungrier for the next one.
Doctor Strange in the Multiverse of Madness hits theaters this Friday, May 6.