Dancing with the Stars Season 32 is airing every Tuesday night on ABC and Disney+ where the competition is heating up.
The high-profile dancing contest began with 14 celebrities and their professional partners but has now dwindled down to five of the top performers.
The full line-up (including those eliminated) for DWTS Season 32 can be seen below:
All Dancing With The Stars Season 32 Contestants and Pros
Xochitl Gomez
The youngest celebrity dancer in Season 32 is 17-year-old Xochitl Gomez, who is best known for her role in the MCU as America Chavez, first introduced in 2022's Doctor Strange in the Multiverse of Madness.
Gomez is teamed up with Val Chmerkovskiy, who started on DWTS in 2011's Season 13. He is a two-time winner, taking home the top prize in Season 20 with actress Rumer Willis and again in Season 23 with Olympic gold medalist Laurie Hernandez.
Gomez and Chmerkovskiy took on a Cha-cha-cha dance in week 1 to "Peanut Butter Jelly" by Galantis, scoring 18 points from the judges.
In week 2, their dance style was Salsa that they performed to Camila Cabello's "Don't Go Yet," tying for the top score of the week with an impressive 24-point total.
"My Guy" by Mary Wells was the soundtrack behind Gomez and Chmerkovskiy in week 3 as they danced the Foxtrot.
Heading into week 5 as one of the best dancing stars, Xochitl danced a Viennese waltz to "Until I Found You" by Stephen Sanchez and scored a 28, tied for the best score given by the judges this season.
During Music Video Night, Xochitl took a slight step down, earning two 8s and two 9s for her Jazz routine of  "Hollaback Girl" by Gwen Stefani. Nevertheless, she's safe moving into week 6.
Week 8 was a perfect night for Xochitl, earning the first perfect score from the judges following her Tango to the tune of "I Wanna Dance with Somebody (Who Loves Me)".
Xochitl has continued a dominant performance, performing a Quickstep routine to "Paper Rings" by Taylor Swift and earning a total judges score of 38.
Alyson Hannigan
Alyson Hannigan is arguably best known to fans for her role as Lily Aldrin in the hit TV sitcom How I Met Your Mother, which ran for 206 episodes between 2005 and 2014.
Hannigan will be paired up with Sasha Farber, who first joined as a pro in Season 17 and has been a series regular since Season 22. His best finishes came in Season 26 with figure skater Tonya Harding and in Season 28 with Fifth Harmony member Ally Brooke in Season 28, placing third both times.
Pink's "Never Gonna Not Dance Again" played as the music for Hannigan and Farber in week 1 as the pair scored 13 total points with their Salsa dance.
Hannigan and Farber's Tango to Shakira and Rihanna's "Can't Remember to Forget You" earned the pair 19 points from the judges in week 2.
The duo performed to "Ain't No Mountain High Enough" by Marvin Gaye and Tammi Terrell in week 3. While safe, the pair ended up in the bottom three, earning a meager 24 out of 40 possible judge points. 
Looking to bounce back, Alyson and Sasha danced a Viennese waltz to "Perfect" by Ed Sheeran and scored straight 7s, adding up to a 21-point total.
Alyson has come a long way in this season of DWTS. In week 7 she performed a Quickstep routine to "Candyman" by Christina Aguilera and earned some of her best judges scores yet and was safe from elimination.
In week 8 Alyson stayed consistent, earning the same judges score as week 7, this time performing a Contemporary dance to "The Greatest Love of All". She earned a spot moving forward as the competition continues to dwindle down.
Still alive in the competition, Alyson evaded another elimination after performing the Cha-cha-cha to "You Belong With Me" by Taylor Swift in week 9.
Charity Lawson
Charity Lawson continues her run in the reality TV sphere as a contestant on DWTS Season 32 after her time as the star of Season 20 of ABC's The Bachelorette.
Lawson dances alongside Artem Chigvintsev, who first joined Dancing with the Stars as a pro for Season 19. He won the competition in Season 29 with former The Bachelor and The Bachelorette star Kaitlyn Bristowe.
Lawson and Chigvintsev earned the top judges' score of Week 1 with an impressive 22 points, performing a Tango to Rihanna's "Only Girl (In the World)."
Unfortunately, Chigvintsev couldn't perform in week 2 after a positive COVID-19 test, with Lawson teaming up with substitute pro, Ezra Sosa. They had Ricky Martin's "She Bangs" playing as they danced a Cha-cha-cha, winning over the judges and scoring 21 points.
To Lawson's relief, as well as the fans, Chigvintsev came into week 3 with a clean bill of health as he and Lawson danced the Foxtrot to The Temptation's "My Girl."
The former Bachelorette brought it in week 5, earning a season-high 28 score from the judges. She and her partner Artem showcased a striking Contemporary dance to "Lose You to Love Me" by Selena Gomez.
Charity took a step down in week 7, earning straight 8s from her Jazz routine of "All for You" by Janet Jackson. She's still one of the show's frontrunners and did great during the group dance, solidifying her place moving forward.
Taking on a Viennese waltz to "I Will Always Love You" on Whitney Houston Night, Charity earned straight 9s from the judges and secured her spot on next week's episode.
During week 9 Charity put on a good performance, earning a total score of 38 after dancing an Argentine tango to "Look What You Made Me Do" by Taylor Swift.
Ariana Madix
Ariana Madix hopes to continue her legacy in reality TV with a Dancing With the Stars Season 32 win. Madix is best known for her place as a cast member of Bravo TV's The Vanderpump Rules.
Madix works with Pasha Pashkov, who is making his second DWTS appearance after first starring as a pro in Season 28. That season saw him dance with The Office star Kate Flannery, finishing in seventh place.
Madix and Pashkov performed a Tango over Hailee Steinfeld's "Performed to Love Myself (Riddler Remix)," tying for the second-best score in week 1 with 21 points from the judges.
The pair danced the Samba in week 2 with Bad Bunny and Chencho Corleone's "Me Porto Bonito" playing behind them, coming close to their week 1 score with a solid 20 points.
In week 3, Madix and Pashkov took on a Quickstep-style dance with The Supremes' "You Can't Hurry Love" serving as their background music and shined, earning the top score of the week with 34 points.
Next week, she and Pasha performed a Viennese waltz to "Happier Than Ever" by Billie Eilish. They earned a total score of 24 from the judges and solidified a spot for next week.
In week 7, Ariana proved she's the leading star with the most potential to win this season. After an eye-catching performance of the Cha-cha-cha to "I'm a Slave 4 U" by Britney Spears she earned a total 37-point judges score, the highest of the night.
Ariana was so close to a perfect score in week 8, earning three 10s and one 9 from Carrie Ann Inaba. She secured her spot in week 9 following her Paso double routine to "Queen of the Night".
Another excellent performance was made in week 9, earning a total score of 37 from the judges following a Rumba routine to "Cruel Summer" by Taylor Swift.
Jason Mraz
Season 32 brought in talent from the wide world of music by featuring singer, songwriter, and guitar player Jason Mraz, most well-known for winning two Grammy Awards in 2010.
Mraz moved to the dance floor with partner Daniella Karagach, who first became a DWTS pro in Season 29. She earned early success in the arena, winning the competition in Season 30 with former NBA player Iman Shumpert (the only NBA player to win DWTS).
Mraz and Karagach utilized Mraz's own musical library for their Cha-cha-cha in week 1, scoring 21 points as they danced to his song "I Feel Like Dancing."
"Quizás, Quizás, Quizás" by Andrea Bocelli, featuring Jennifer Lopez, served as the music for the duo's Rumba in week 2, in which they tied the Gomez/Chmerkovskiy duo for a week-high 24 points.
Mraz and Karagash danced to The Contours' "Do You Love Me" in week 3, performing a Jive.
Making the transition from singing to dancing look easy, Jason and Daniella performed a delightful Quickstep to "On the Road Again" by Willie Nelson in week 5. They earned straight 9s from the judges and secured a spot for next week.
Given a mixed reaction from the judges, Jason earned two 8s, a 9, and a resounding 10 from guest judge Paula Abdul in week 7. He performed a Jazz routine to "Take On Me" by A-ha and was ultimately safe from going home.
After earning a 10 last week, Jason had a slightly down week only drawing three 8s and one 9 on Whitney Houston Night. He was in danger of going how after losing his dance-off to Barry, but ultimately secured a spot moving forward.
Week 9 was Jason's best week yet, earning a perfect score of 40 total points from the judges after performing an Argentine tango to "Don't Blame Me" by Taylor Swift.
Harry Jowsey (Eliminated in Week 9)
Australian reality TV star Harry Jowsey competed for the Mirrorball Trophy in Dancing with the Stars Season 32. He made his name as a fan-favorite on the Netflix show Too Hot To Handle in 2020.
Jowsey will work with DWTS newcomer Rylee Arnold, whose older sister, Lindsey, is a veteran and former winner on the show.
Jowsey and Arnold scored only 12 points (tied for the low mark of Week 1) for their Cha-cha-cha dance to Justin Timberlake's "Rock Your Body."
The pair recovered with a Salsa, performed to "Arranca" by Becky G, featuring Omega in week 2, improving on their week 1 score with a total of 15 points.
In week 3, Jowsey and Arnold performed a Foxtrot over the sound of "Easy" by the Commodores, which landed him in the bottom three for the week. 
Week 5 was a forgettable week for Harry. He and Rylee performed a Contemporary routine to "Keep Your Head Up" by Andy Grammer and were (seemingly) saved by fan votes after earning the lowest score from the judges that week.
He finally broke out of his shell during the group dance to "Gangnam Style" and was ultimately safe from going how despite earning the lowest individual score from the judges.
It's clear that Harry had massive support from fan votes as he received the lowest judges scores (again) in week 8 but was revealed to be safe for week 9.
In the end, it was finally time for Harry to go home in week 9. Harry and Rylee danced a Rumba to "August" by Taylor Swift but it wasn't enough to keep up with the competition.
Barry Williams (Eliminated in Week 8)
A classic era of TV was represented in Dancing With the Stars in Season 32 with Barry Williams, who fans will remember as Greg Brady, the oldest son on the iconic TV series The Brady Bunch.
Williams had a DTWS veteran at his side in Peta Murgatroyd, who has enjoyed time as a regular professional since Season 13. She has two wins to her name as well, one in Season 14 with NFL wide receiver Donald Driver and the other in Season 22 with America's Next Top Model winner Nyle DiMarco.
Williams went back to his TV days with Murgatroyd for week 1, performing a Foxtrot to The Brady Bunch's "It's a Sunshine Day" and earning 16 points from the judges.
They came back in week 2 with a Cha-cha-cha set to Tito Puente's "Oye Cómo Va," earning a slightly lower score with only 15 points from the judges.
In week 3, Williams and Murgatroyd embraced Motown with a Tango performed to "Get Ready" by The Temptations.
In week 5, Barry and Peta performed a Paso Doble to "Born to Be Wild" by Steppenwolf. The 69-year-old earned a 24 total score from the judges, a major improvement from his previous dance.
Barry didn't have a great night in week 7 but still remained in the competition. He performed a Quickstep routine to "I'm Still Standing" by Elton John which earned him straight 7s from the judges.
Sadly, week 8 was the end of Barry after his Rumba routine to "Didn't We Almost Have It All" and a promiscuous dance-off against Jason Mraz.
Lele Pons (Eliminated in Week 7)
Season 32 of DWTS dipped into the internet star pool with Lele Pons, a Venezuelan YouTuber/actress who boasts more than 18 million subscribers on her YouTube page.
Pons partnered with Brandon Armstrong, who first joined DWTS as a pro dancer in Season 27. He has two ninth-place finishes, one with TV host Jennie Mai in Season 29 and another with American Idol winner Jordin Sparks in Season 31.
Pons and Armstrong scored 19 points with their Tango performance in week 1, set to "El Tango de Roxanne" from the 2001 movie Moulin Rouge!
Daddy Yankee's "Gasolina" played behind the pair in week 2 as they showed off their skills with a Samba, scoring two more points this time around with a 21-point performance.
Rick James' classic "Super Freak" blasted on the speakers behind Pons and Armstrong in week 3 as they performed a Cha-cha-cha.
In week 5, Lele and Brandon showcased a Contemporary dance to "I'll Stand by You" by The Pretenders, earning a 24 total score from the judges.
In a shocking result, Lele was sent home in week 7 following her Salsa dance to "Whenever, Wherever" by Shakira. Despite having a strong total score from the judges, she didn't draw enough fan votes to remain in the competition. 
Mauricio Umansky (Eliminated in Week 6)
Reality TV got another representative on DWTS in Mauricio Umansky, who appears regularly on The Real Housewives of Beverly Hills along with his now-estranged wife, Kyle Richards.
Umansky partnered up with Emma Slater, a regular DWTS professional dancer ever since Season 17. She came out on top of the pack by winning Season 24 with former NFL running back Rashad Jennings.
Umansky and Slater scored 15 points with their Jive dance performed to "I Ain't Worried" by One Republic, the hit song featured in Top Gun: Maverick, although they narrowly avoided elimination after ranking in the Bottom Two in the first week.
They didn't have a much better showing in week 2 as they performed a Salsa dance to "Quimbara," underwhelming fans with 12 points for their dance.
Umansky and Slater bounced back strong in week 3 for "Motown Week" as they learned the Foxtrot set to The Spinners' "Working My Way Back to You."
Mauricio and Emma performed a Contemporary routine in week 5 to the tune of "Rise Up" by Andra Day. It was a notable improvement for Mauricio, earning a 24 (straight 8s) from the judges.
Mauricio was sent home in week 6 following his Argentine tango to the tune of "Somebody's Watching Me" by Rockwell.
Mira Sorvino (Elminated in Week 5)
Oscar-winner Mira Sorvino took on the dancing challenge in Season 32, most recognizable for her work in 1995's Mighty Aphrodite, where she won the Academy Award for Best Supporting Actress.
Sorvino danced with Gleb Savchenko, who starred in Season 10 before starting a consistent DWTS run in Season 23, where he placed fourth with One Tree Hill's Jana Rae Kramer. Savchenko placed fourth on two other occasions with singer Lauren Alaina (Season 28) and drag queen Shangela (Season 31).
The Sorvino/Savachenko pairing earned a 17-point score with their week 1 Cha-cha-cha dance, performed to "Kiss" by Prince & The Revolution.
They embarked on a Salsa challenge for week 2 as they performed to Enrique Iglesias' "Bailando," winning over the judges further as they earned 18 points for their dance.
In week 3, Sorvino and Savachenko performed a Rumba to Marvin Gaye's "Let's Get It On."
In week 5, Mira and Gleb danced a Contemporary routine to "Time After Time" by Cyndi Lauper but were unfortunately eliminated from the competition.
Adrian Peterson (Eliminated in Week 4)
The National Football League sent its 24th player to Dancing with the Stars for Season 32 with former running back Adrian Peterson, who played professional football for 14 years (11 with the Minnesota Vikings).
Peterson transitioned from the turf to the dance floor with partner Britt Stewart, who's worked as a DWTS pro since Season 29. Her best finish was a fifth-place ranking in Season 31 alongside deaf SAG award-winner Daniel Durant.
Peterson and Stewart earned 18 points from the judges in week 1 after their Salsa, performed to Usher's "Yeah!"
In week 2, they put on a Samba performance to "Taki Taki" by DJ Snake feat Selena Gomez, Ozuna & Cardi B, only scoring 15 points and finding themselves in the Bottom Two Teams.
Peterson and Stewart returned in week 3 with a Quickstep to The Jackson 5's "I Want You Back," heard on Guardians of the Galaxy's Awesome Mix Vol. 1.
In week 4, Adrian and Britt performed a Viennese Waltz to "Baby Mine" from the movie Dumbo. The couple scored a 21 from this dance, with each of the 3 judges giving them a 7. Despite this score being an improvement from previous weeks, Adrian and Britt were eliminated.
Tyson Beckford (Eliminated in Week 3)
Tyson Beckford is regarded as one of the most successful Black male supermodels in history, having served as the host of the Bravo TV series Make Me a Supermodel that aired in 2008.
Beckford partnered with Jenna Johnson, who started as a Dancing With the Stars pro in Season 23 in 2016. She won the competition in Season 26 alongside Olympic bronze-medalist figure skater Adam Rippon.
In week 1, Beckford and Johnson danced a Cha-cha-cha style performance to Luther Vandross' "Never Too Much," earning only 12 points out of a possible 30 from the judges and tying for the week's lowest score.
Week 2 saw the duo dancing a Salsa to "Aguanilé" by Willie Colón and Héctor Lavoe, improving from their week 1 score by earning 18 total points from the judges.
Beckford and Johnson took on a Foxtrot for week 3, performing to "Master Blaster (Jammin')" by Stevie Wonder, coming as a part of Dancing with the Stars' "Motown Week." Tyson was ultimately eliminated as his latest dance was not his best. 
Jamie Lynn Spears (Eliminated in Week 2)
Singer and actress Jamie Lynn Spears took her talents to the dance floor, with fans recognizing her for her work in Crossroads and Zoey 101.
The younger sister of embattled singer Britney Spears, Jamie Lynn also has three albums to her name, the last one ("Follow Me") having been released in 2020.
Spears danced with Alan Bersten, who's been a regular part of the show since Season 25. He's also a former Dancing with the Stars winner, taking home the victory in Season 28 with Miss USA and The Bachelorette star Hannah Brown.
Spears and Bernstein danced their way to 15 points in week 1 with "Don't Call Me Up (Zac Samuel Remix)" by Mabel serving as their music.
"Shake Señora" by Pitbull, featuring T-Pain and Sean Paul, was this duo's music for week 2 as they danced a Cha-cha-cha, although they only scored 16 total points from the judges.
This was a low enough score to place them in the bottom two, leading to Spears being the second celebrity of Season 32 to be eliminated.
13.) Matt Walsh (Eliminated in Week 1)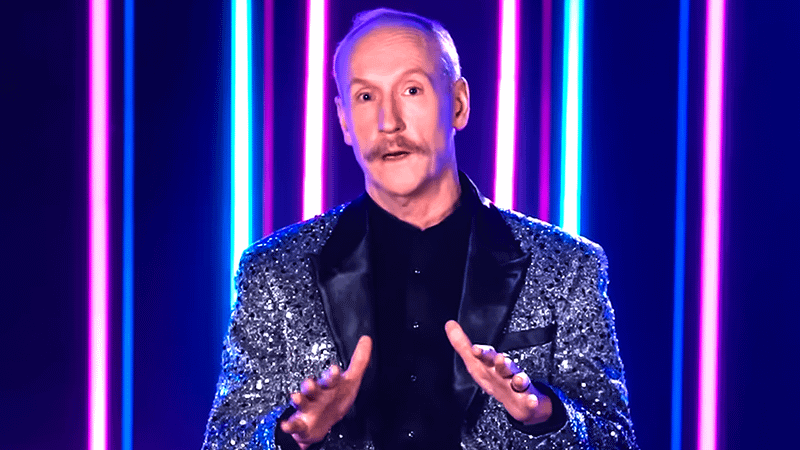 Matt Walsh almost dropped out of DWTS Season 32 before the WGA strike came to an end, but he suited up for the series as fans watched out for his comedic personality on the dance floor.
A veteran of TV and film, Walsh is best known for his comedy work in movies like The Hangover and Ted along with TV shows such as Brooklyn Nine-Nine and Veep.
Walsh took the dance floor with professional Koko Iwasaki, who is only in her second season as a DWTS pro after first hitting the scene in Season 31.
Walsh and Iwasaki tied for the lowest score of week 1 with only 12 points from the judges after their Cha-cha-cha to "Poison" by Bell Biv DeVoe.
Unfortunately, Walsh became the first celebrity casualty of Dancing with the Stars Season 32, with the judges eliminating him and Iwasaki and sending them home.
---
Dancing With the Stars Season 32 airs simultaneously on ABC and on Disney+ Tuesdays at 5 p.m. PT/8 p.m. ET.