More than 30 years after the first film's release, Beetlejuice 2 is finally on the way. 
The first full-fledged sequel to director Tim Burton's 1988 classic stars Michael Keaton as the titular ghoul while several other members of the original cast are set to reprise their roles as well. 
This all comes after years of development on Beetlejuice 2, with the first whispers of the film dating back to the late '80s. 
So, with Beetlejuice 2 on the way, here is everything we know about the spirit-filled comedy. 
When Will Beetlejuice 2 Release?
Beetlejuice 2 is currently set to release in theaters on September 6, 2024 (per Deadline). 
Production on the project kicked off in May 2023, but it was halted two months later (via The Wrap) due to the ongoing SAG-AFTRA strike. 
Ideas for a Beetlejuice sequel have been floating around since the first film's initial release, with a second movie in the series initially planned for release in the late '80s. That project was ultimately abandoned with whispers of another Beetlejuice reemerging in the early 2010s. 
In 2011, Warner Bros. tapped screenwriter Seth Grahame-Smith to pen the script, with Grahame-Smith telling Aint It Cool News at the time that he was excited to do "a story that is worthy of [them] actually doing this for real:"
"A story that is worthy of us actually doing this for real, something that is not just about cashing in, is not just about forcing a remake or a reboot down someone's throat."
The director of the first film, Tim Burton, has remained adamant over the years as well that a sequel would only happen if things were "right" (via Collider):
"It's something that I really would like to do in the right circumstances, but it's one of those films where it has to be right. It's not a kind of a movie that cries out [for a sequel], it's not the 'Beetlejuice' trilogy. So it's something that if the elements are right—because I do love the character and Michael's amazing as that character, so yeah we'll see. But there's nothing concrete yet."
Then, in 2015, Grahame-Smith revealed he had completed a script with filming intended to get underway later that year. That would not happen though, as Mike Vukadinovich was brought on in 2017 to completely rewrite the script.
The project was then shelved by Warner Bros. in 2019, before being picked back up again in February 2022. 
As of now, with cameras having started rolling (at least a bit), that September 2024 release date feels pretty firm, but given the uncertainty of the entertainment industry amid the ongoing actors' and writers' strikes, that date could ultimately be pushed. 
Is Tim Burton Involved in Beetlejuice 2?
While Tim Butron had directed movies before the first Beetlejuice, it was the Halloween-themed romp that would make the filmmaker a household name. 
So it makes sense that he would return to direct the upcoming sequel. 
This movie is something that Burton has "[wanted to do] for 20 years," according to former Beetlejuice 2 screenwriter Seth Grahame-Smith:
"It's a priority for Tim. [He's] been wanting to do it for 20 years and he'll talk to anybody about it who will listen."
While the director played coy about his involvement previously, saying he would only "do it if it's interesting" (via New Zealand Herald), the renowned auteur could not be held back from joining in on the Beetlejuice fun again:
"[I'll do it] if it was interesting. Although, I don't know if I would ever know a good script if it bit me in the face. But, I know what I like, so we'll see."
Burton will not just direct the movie, he is also set to produce, with his production company Tim Burton Productions involved in Beetlejuice 2 as well. 
Is Jenna Ortega in Beetlejuice 2?
For months Jenna Ortega was rumored to be joining the Beetlejuice sequel. It has since been confirmed she is joining the film with fans even getting a brief look at the actress on set during what looks to be a wedding scene. 
The Wednesday star previously worked with Tim Burton on the hit Addams Family spin-off, seemingly impressing the director enough to get the call-up for Beetlejuice 2. 
Ortega will play the daughter of Winona Ryder's character from the first film, Lydia Deetz.
While Ryder played the angsty step-daughter of Catherine O'Hara's Delia, Ortega looks to be slotting into a similar role for the sequel, tracking after her mother. 
What Ortega's character's name is and who is her father remain a mystery, but surely these will be addressed in the upcoming sequel. 
Beetlejuice 2 Cast: Who Will Return?
While the full cast of Beetlejuice 2 has not yet been confirmed, there are a few names fans know will appear in the sequel. 
Micheal Keaton - Betelgeuse (aka Beetlejuice)
Of course, no Beetlejuice movie would be complete without Michael Keaton's titular spirit. Betelgeuse (aka Beetlejuice) is a rude, crude, and womanizing ghost stuck in the Neitherrealm, where spirits go when they have unfinished business. Keaton has been enthusiastic about the idea of reprising his Beetlejuice role for years, and will finally get the chance in the upcoming second film. 
Winona Ryder - Lydia Deetz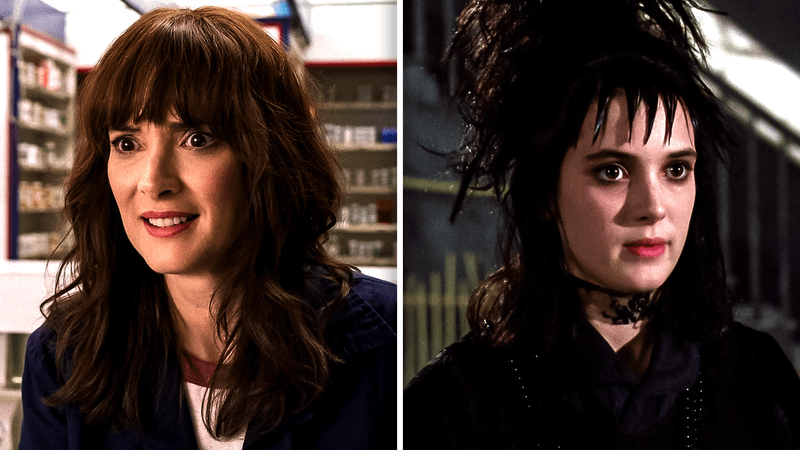 Another returning name from the first Beetlejuice is Winona Ryder as Lydia Deetz. The last fans saw Lydia, she was just a teenager going toe-to-toe with Keaton's Betelgeuse and the rest of the spirit world. Now she will be all grown up with a daughter played by Jenna Ortega.
Catherine O'Hara - Delia Deetz
Back as the uptight stepmother of Lydia is Catherine O'Hara as Delia Deetz. The Schitt's Creek and Home Alone star was long rumored to return to the role after the announcement of the sequel, officially being confirmed in October 2022. After coming to grips with living amongst the paranormal, it will be fascinating to see just what coexisting with ghosts and ghouls has done to Delia. 
Monica Bellucci - Betelgeuse's Wife
In the more than 30 years since the first Beetlejuice, it seems as though Keaton's foul-mouthed phantom has found love. Set to debut in Beetlejuice 2 as Betelgeuse's wife is The Matrix actress Monica Bellucci. Nothing is known about Bellucci's character other than the fact that she is married to Betelgeuse.
Justin Theroux - Unknown
Also joining the cast for his Beetlejuice franchise debut is Justin Theroux. Details on who the Leftovers star will be playing in the sequel, but some have speculated he could be the romantic partner of Winona Ryder's Lydia Deetz.
Willem Dafoe - Unknown
Spider-Man actor Willem Dafoe will bring his talents to the star-studded cast of Beetlejuice 2. Dafoe's exact role in the film remains unknown, but upon the announcement he had joined the sequel, The Hollywood Reporter revealed "Dafoe is playing a law enforcement officer in the afterlife."
Will Johnny Depp be in Beetlejuice 2?
Given Tim Burton's propensity to work with actor Johnny Depp some had speculated the actor could appear in Beetlejuice 2. 
Burton and Depp have worked on many film projects over the years, dating back to 1990's Edward Scissorhands. But it remains unclear if the actor will pop up in the filmmaker's latest blockbuster. 
These Depp-Beetlejuice rumors date back to the film's initial announcement, and the casting sheet for the horror-comedy on Google showing the actor in the cast alongside Michael Keaton (via JoBlo).
Yet, no official confirmation of his involvement has been made public in the time since then. His headshot has since been removed from the Google listing, but it has still left some fans hoping the Pirates of the Caribbean star is, in fact, a part of Beetlejuice 2. 
What Will Happen in Beetlejuice 2?
Exact plot specifics for Beetlejuice 2 are being kept under wraps by Warner Bros. 
Just looking at the cast assembled, the film will likely follow Winona Ryder's Lydia and her daughter (played by Jenna Ortega) as they come face-to-face with Michael Keaton's Beetlejuice and the World of the Dead. 
At one point, it was revealed by writer Seth Grahame-Smith that the film takes place "26 or 27 years" later, picking up on the events of the first film (via Collider):
"This will be a true 26 or 27 years later sequel. What's great is that for Beetlejuice, time means nothing in the afterlife, but the world outside is a different story."
However, things could have changed, as Grahame-Smith's script was rewritten in 2017 before the project was put on ice by Warner Bros. for several years.
The sequel could potentially see the Deetz family having now lived with the world of the paranormal at their doorstep for decades, as Lydia, her daughter, and the rest of the Deetz clan ushered into the Neitherrealm, rather than ghosts and ghouls invading the real world like in the first film. 
The last time fans saw Keaton's Betelgeuse he was nine millionth in line in the afterlife, after being banished from the real world. So, given that he will still be around in the sequel, it looks as though he has not gotten any closer to getting out of the great in-between. 
Or maybe he abandoned this effort to move forward from the Neitherrealm, coming back to torment the Deetz family once again, this time with Willem Dafoe's "law enforcement officer [of] the afterlife" hot on his tail. 
Is a Beetlejuice 2 Trailer Out Yet?
A Beetlejuice 2 trailer is yet to make an appearance, but one is surely coming. 
Given the film is set to release in September 2024, it should not be too long before fans get a first glimpse of the film. 
Production on the project has been halted due to the SAG-AFTRA strike in Hollywood, but it would not be surprising if there was enough footage already in the bank for a trailer to be completed. 
If Warner Bros. (WB) wanted to time a Beetlejuice 2 trailer drop with one of its upcoming tentpole titles, there are a couple of candidates that feel like natural fits for the first look to debut alongside.
While possibly a little early, WB's Wonka film, coming into theaters in December, is the first spot fans should be on the watch for a Beetlejuice trailer.
Burton has a history with the Wonka name, having previously directed Charlie and the Chocolate Factory, so this could be a fun bit of brand synergy if the studio wanted to get the Beetlejuice marketing cycle started. 
The other - more likely - spots would be with the release of either Godzilla x Kong: The New Empire on March 15, 2024 (just under six months before Beetlejuice 2's release date, or Furiosa on May 24, 2024. 
---
Beetlejuice 2 is set to hit theaters on September 6, 2024.