Marvel Studios and Disney released a new 30-second teaser for their upcoming MCU movie Ant-Man and the Wasp: Quantumania, and it showcases far more Ant-Men than one might expect.
While the first two films for Scott Lang were considered "palette-cleansers" and generally played around with smaller stakes, that is not the case this time around. According to the movie's writer, the titular hero "accidentally [finds himself] in an Avengers movie by himself."
The villain at the center is none other than Jonathan Majors' Kang the Conqueror, who actually made his debut at the end of Loki's first season.
From the looks of it, the big bad isn't going to make Ant-Man's life any easier.
Ant-Man 3 Will Feature Tons of Paul Rudd Heroes
Marvel Studios released new footage from Ant-Man and the Wasp: Quantumania, and it gives several looks at the titular hero in action—several hundred of them, in fact.
Towards the beginning of the teaser, an awesome new shot of Paul Rudd's Scott Lang can be seen growing in size and catching a burning projectile as it comes hurtling toward him and his daughter.
There's a new shot of Kang, who stands in from of something bright burning behind him. It's easy to assume it's probably nothing good.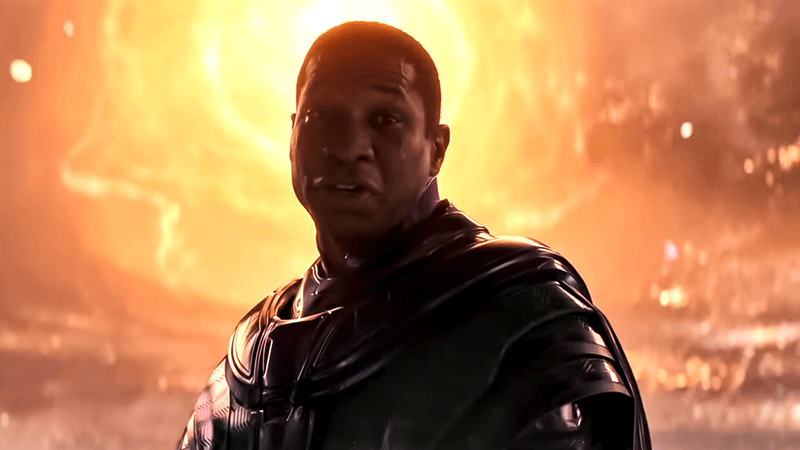 Here, it looks like Kang is kidnapping Kathryn Newton's Cassie Lang. This probably happens not too long before the terrifying villain asks Ant-Man if he's ever killed him.
Most intriguing of all is this brief glimpse of hundreds of Ant-Men falling—a sequence that is likely part of the previous footage of a Giant-Man disintegrating in front of Scott Lang.
The full footage can be seen below:
Why Are There So Many Ant-Men In Quantumania?
An Illusion, Maybe a Dream?
When it comes to those many Ant-Men, what exactly could be going on? Perhaps, it's all an illusion for Scott.
Maybe there's some connection there between Loki, the Multiverse, and the TVA to play on. Though, that could be a bit much for Quantumania to juggle all at once.
However, there is also the possibility that fans are seeing a dream. It could even be one of the first scenes of the movie—just like Doctor Strange in the Multiverse of Madness.
This would immediately harken back to that film's idea of dreams being windows into other realities. It sounds like the perfect Multiverse connection to make in the movie all about the Quantum Realm and Kang the Conqueror himself.
Is it Variants?
Digging deeper into the Multiverse angle, the most likely answer to what fans are seeing is that it's Earth-616's Scott Lang among hundreds and hundreds of Variants.
But how would such a situation come to pass?
Well, Janet does say in the new trailer that Kang can shatter timelines. So perhaps that's precisely what's being pictured.
What if in Scott Lang's big final battle with Jonathan Majors' villain, multiple timelines end up being shattered, which ends up spilling Variants all throughout their clash in the Quantum Realm? Odds are Kang gets his fancy time-traveling chair up and running, and it doesn't result in anything good.
It's certainly gonna hard for Ant-Man to move past seeing hundreds of himself killed in front of his own eyes.
Maybe Clones?
For the sake of theorizing, why not consider another option, cloning?
The MCU hasn't quite hit upon the topic just yet, and it's something MODOK (who's played by Corey Stoll in the film) has a history with. A "Superior" version of the villain was created as a formerly hidden clone brain of the original, one that eventually went on to consider himself the better—he ended up (likely) dead in an explosion.
However, when it comes to cloning, maybe it's best for the MCU to save that for either Mister Sinister's arrival alongside the X-Men or if they get around to adapting the infamous Spider-Man Clone Saga.
As for figuring out what's happening in this new Ant-Man footage, thankfully, fans won't have to wait long until it hits theaters on February 17.