A new video revealed an action-packed deleted fight scene from Marvel Studios' WandaVision featuring the villainous Agatha Harkness. 
The magical Marvel series just celebrated its second birthday, as the Disney+ era of the MCU marches along with a packed slate for 2023. 
However, it is nice to look back on the project that started it all. The Elizabeth Olsen and Paul Bettany-led ode to sitcom history was a resounding success with The Direct's Matt Roembke calling it in his review a "profound and in-depth [look at] grief, depression, and loss."
But despite its packed nine-episode run, it turns out there was plenty of cut content, including an action sequence or two. 
Agatha's Extra WandaVision Fight Scene
A new video from WandaVision stunt double Whitney Coleman revealed a deleted fight scene with series villain Agatha Harkness. 
Shared by Scarlet Witch News on Twitter, the short video sees Coleman as Agatha (played by Kathryn Hahn in the series), flipping about on a sound stage with first-pass VFX done to showcase the character's purple chaos magic. 
The sequence is a lot more dynamic and visceral than anything audiences saw in the streaming series with a level of acrobatics that was not present in the final product.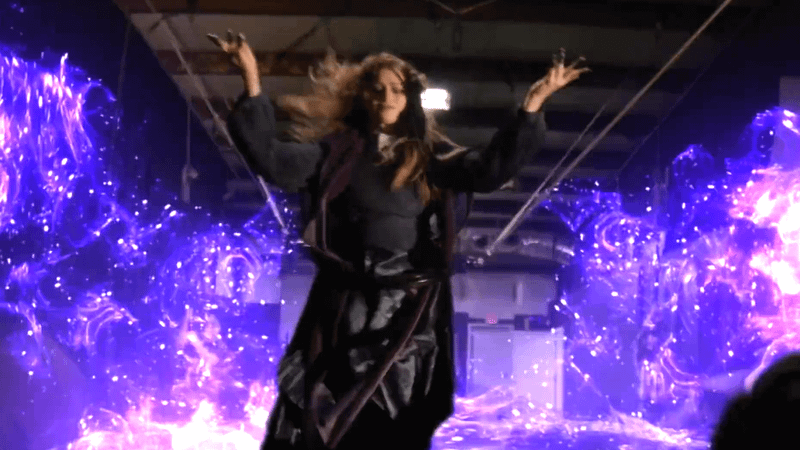 It is unknown who Agatha is fighting, with Coleman taking on what looks to be a couple of stand-ins, and there is no telling when this would have taken place in the series. 
The full video can be seen below:
Why Was This WandaVision Fight Cut?
While Kathryn Hahn's Agatha had plenty to do over WandaVision's eight-week run, it is interesting that this action scene never made it in the final cut. 
From the short snippet, it seems to be exciting, dynamic, and - some might say - a little more interesting than what audiences ultimately got with Agatha and Wanda's final confrontation. 
Just looking at the attire the Agatha stunt double is wearing, this likely would have been in the series finale at some point, perhaps having the evil witch go toe-to-toe with the residents of Westview. 
However, there surely was some sort of good reason for it not making it. Cut action sequences are nothing new for Marvel Studios. Despite how awesome they may seem on paper, the MCU brass usually has some sort of rationale for making the decision they make. 
As an example, Doctor Strange in the Multiverse of Madness had a similar fight sequence that was ultimately cut because it could have potentially put the film into R-rated territory. 
While this WandaVision sequence does not look like it would have breached any mature content barriers, the creative team behind the series must have had some good reason.  
All episodes of WandaVision are now streaming on Disney+.