WandaVision 's marketing efforts have been in full swing for weeks, with multiple trailers/TV spots and posters making their way online both before and during the run of the MCU's debut Disney+ show.
So far, much of the attention has been on Wanda Maximoff, Vision, nosy neighbor Agnes, and S.W.O.R.D. Captain Monica Rambeau . However, the latest episode of WandaVision, "We Interrupt This Program," has shifted this focus.
Now, audiences are getting a taste of the real world beyond Wanda's fabricated reality inside Westview. And, with it, the inhabitants that are desperately trying to figure out what exactly's going on, much like WandaVision viewers.
"We Interrupt This Program" brought back two familiar MCU faces to serve as these real-world inhabitants: Astrophysics Doctor Darcy Lewis and FBI Agent Jimmy Woo. Lewis was last seen in 2013's Thor: The Dark World and Woo in 2018's Ant-Man and The Wasp . Now, the two find themselves working together to save a town that's seemingly under Wanda's control.
As such, Marvel Studios has released two new posters to celebrate the return of these two characters to the MCU frontier...
DARCY LEWIS AND JIMMY WOO TAKE THE SPOTLIGHT
In a new tweet , Marvel Studios unveiled two new posters for WandaVision highlighting the return of two MCU characters: Darcy Lewis from the Thor franchise and Agent Jimmy Woo from the Ant-Man franchise.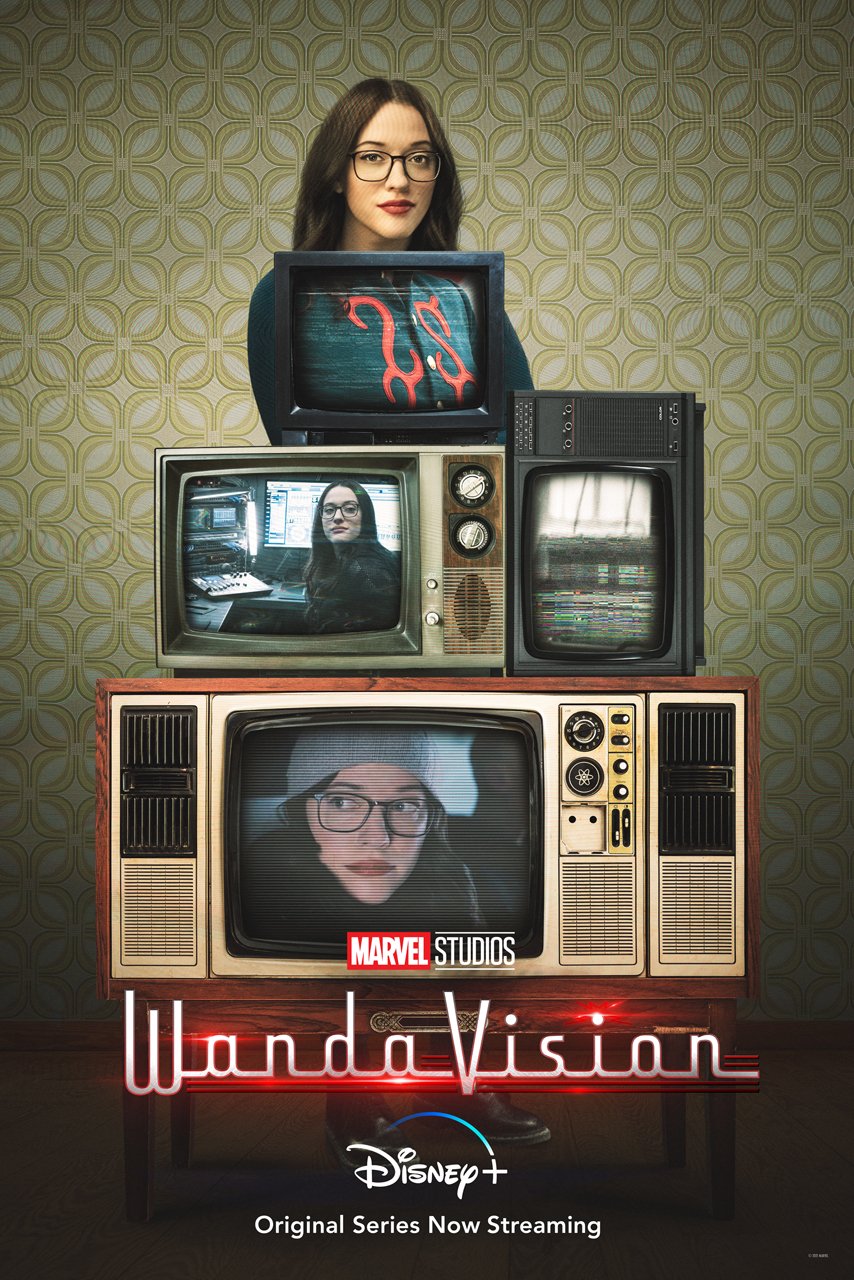 Dr. Darcy Lewis is back after appearances in Thor and Thor: The Dark World .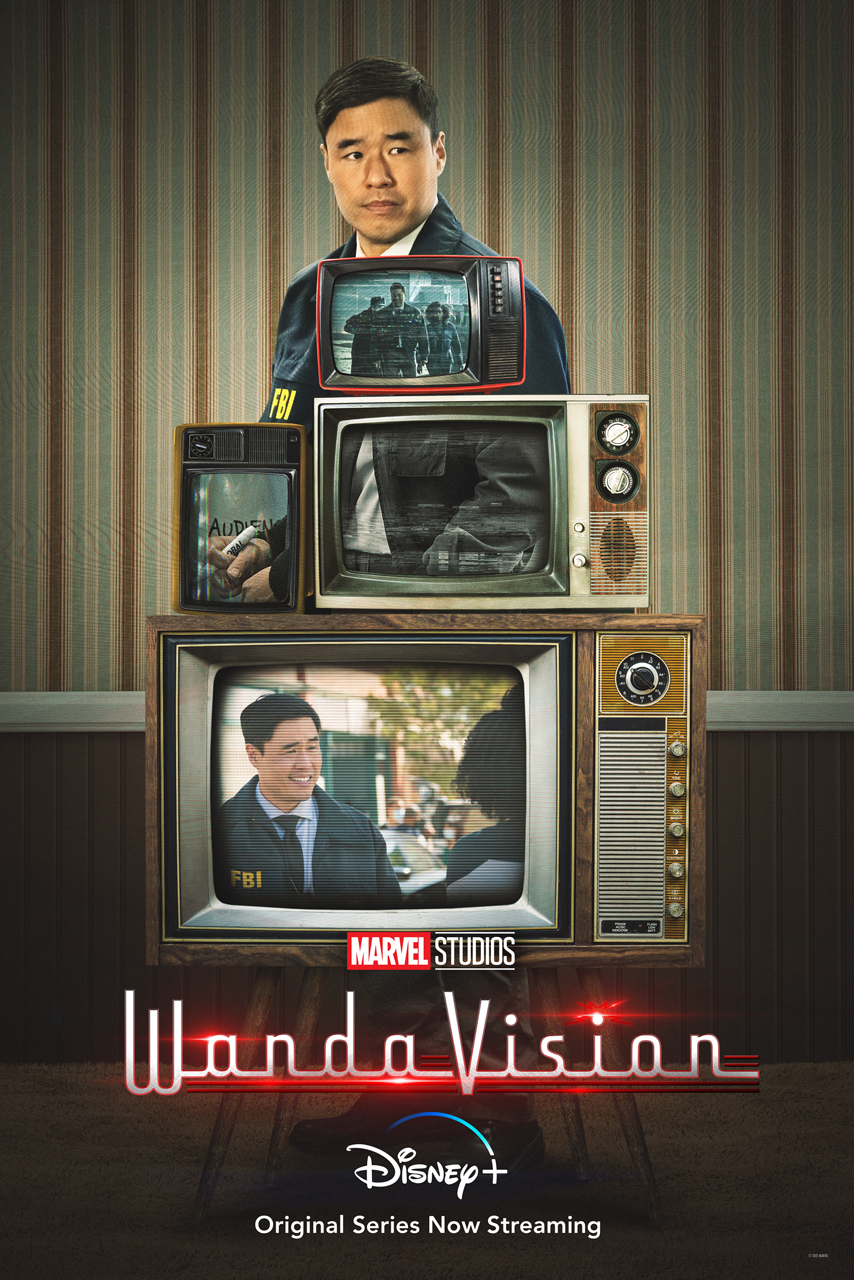 FBI Agent Jimmy Woo makes his second MCU showing following 2018's Ant-Man and the Wasp .
Darcy Lewis actress Kat Dennings coyly responded to the reveal with a simple eye emoji on Twitter:
DARCY AND JIMMY ARE PLAYING BIGGER ROLES IN WANDAVISION
If there's one thing WandaVision 's proven thus far, it's that nothing is as it seems; these two new posters continue to prove that point regarding the projected storylines of Darcy and Jimmy.
In Darcy's poster, the most shocking revelation is that of what appears to be some new, satanic-looking attire for Dr. Lewis. Her chest bares red, mirrored S's, with protruding points that look almost like horns or blood.
Thus far, there's been speculation of Marvel Comics villain Mephisto making his MCU debut in WandaVision , and this new outfit for Darcy could prove such a point. Mephisto himself is Devil incarnate regarding Marvel Comics, and already in WandaVision, we've seen mentions of strange hexagonal shapes and the number '666.'
If Mephisto is truly to arise in this series, it may be likely that Darcy will become his pawn of the sorts, whether she does push past the static Westview barrier. If the FBI and S.W.O.R.D. continue to pry into whatever is going on past that barrier — and that's a given — then Mephisto may have to take drastic measures.
It's also worth noting that the rightmost TV box in Darcy's poster, well, doesn't have anything; it's just static and some sort of unidentifiable image. This could signify her (perhaps unwilling) turn to Hell.
As for Jimmy Woo's poster, a bit more insight is provided on the future of his, S.W.O.R.D., and Monica's presence in WandaVision .
In the topmost image of Jimmy's poster, we see him, Monica, and either an FBI or S.W.O.R.D. agent on the move. If anything, this shows that Woo and Monica are going to be as diligent as ever in figuring out the Westview mystery.
However, the bottom image of Jimmy's poster may give a bit more information. It appears as though Jimmy and Monica are conversing in some sort of suburban background; this could likely be Westview itself. Either way, it's definitely a change of scenery from the S.W.O.R.D. base setup outside the Westview barrier.
Maybe at some point, Jimmy and Monica manage to get past the barrier. It's long been rumored that Monica will adopt her comic book hero persona, Spectrum , and the dash of white we see on her uniform in this shot is a good indication of that (and that she might be the one to finally get past the barrier).
The bottom line is that Dr. Darcy Lewis and Agent Jimmy Woo certainly don't have minor roles in WandaVision . With five episodes still left on the show's slate, there's no telling how big they will become.