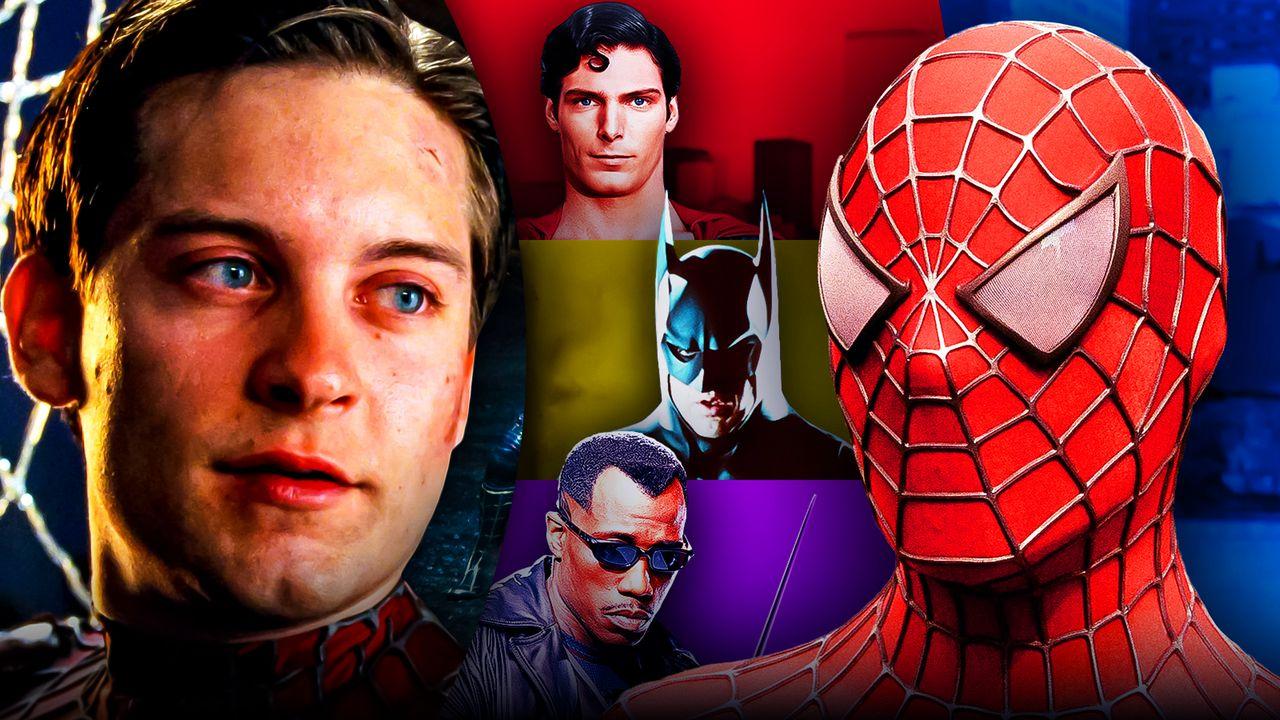 Amid criticism of older superhero movies for being "more erratic," Spider-Man actor Tobey Maguire paid tribute to them in a new interview.
Many would argue that the past decade was the golden age of superhero films due to the dominance of the Marvel Cinematic Universe, with other franchises bringing top-level movies into the genre as well.
However, before the MCU's triumph, Marvel was busy making films since before the turn of the millennium, with outings like Sam Raimi's Spider-Man trilogy and Fox's X-Men taking center stage. 
While many have considered Spider-Man and the X-Men movies successful, there is still no shortage of criticism toward other projects such as 2003's Daredevil, both Fantastic Four franchises, and 2007's Ghost Rider. 
Now, Maguire has opened up about the fan backlash from these films. 
Tobey Maguire Admires Older Superhero Movies
Speaking with Marvel, Spider-Man actor Tobey Maguire discussed the history of superhero movies while commenting on fan criticism of past films. 
When the interviewer pointed out that 2002's Spider-Man had a big influence on the superhero movies that followed, Maguire reflected on the genre and noted that "it kind of got more cohesive in time" despite being "more erratic:"
"I want to comment on the history of the genre. For me as a kid, I was watching Super Hero movies. In my experience there are plenty of terrific films and performers who take it seriously. It was maybe more erratic, and it kind of got more cohesive in time."
The veteran actor then defended what came before, saying that he has "so much love" and "respect" for those movies: 
"I've heard people talk about how our Sam Raimi movies were some kind of influential turning point in these movies, which is really sweet and feels like an honor. And not to take away from all the great work that everybody did there, but for me, I have so much love and respect for what came before. I just wanted to acknowledge that!"
During a Reddit Q&A last month, Maguire also reflected on his time working on Sam Raimi's Spider-Man trilogy, revealing that he had "a lot of memorable experiences with people" while making those early movies:
"I've had a lot of memorable experiences with people, and they've shared what the films have meant to them. I've had some funny and touching experiences from spontaneous encounters in public and someone being surprised to sharing how I've helped them through hard times. It's sweet, and I feel grateful. Especially with kids, it's almost like magic, it's amazing to see their eyes light up."
Why Tobey Maguire is Right to Defend Past Superhero Flicks
Tobey Maguire's praise toward superhero movies is quite fitting, especially considering his nearly unmatched contribution to the genre. 
The actor's portrayal of Spider-Man in the 2002 flick is beloved by many, and seeing him defend past flicks under the same umbrella shows how much he understands the genre. 
While being goofy and erratic may turn off some viewers, these movies having those qualities were used as a launchpad to improve the genre. This ultimately lead to the Spider-Man and X-Men movies that fans now adore, further leading to the MCU's continued run of excellence.
Maguire's admiration for superhero movies has led many to wonder if he will reprise his Spider-Man role one more time, especially after his impressive comeback in Spider-Man: No Way Home. 
The actor did tease that he's open to doing anything Spider-Man-related again in the future, saying that "it would be a 'yes!' Because why wouldn't I want to do that?"
Hopefully, Maguire will return to cement another incredible superhero performance on his resume.