Following director Taika Waititi's successful run on 2017's Thor: Ragnarok, the director reunited with Marvel Studios for a second round of storytelling in Thor: Love and Thunder. The sequel is already being teased as Ragnarok Part 2, allowing Waititi to go as wild as he wants with the God of Thunder. Featuring intergalactic monsters and the MCU's first true symbiote, there are no limits to how crazy this sequel can get.
Waititi has opened up recently about his experience making Thor: Love and Thunder, even about how he joined forces with Marvel in the first place. While lying may not work in most situations, he displayed confidence in himself for the team behind the MCU, and it's worked to his benefit for the last five years.
Becoming the latest MCU director to earn a sequel, Waititi looks to continue what he established in Ragnarok as Thor's story moves to new places after Avengers: Endgame.
In a recent interview, he even shared how much his second effort with the MCU is similar to his first from Phase 3.
Thor 4's Similarities to Thor 3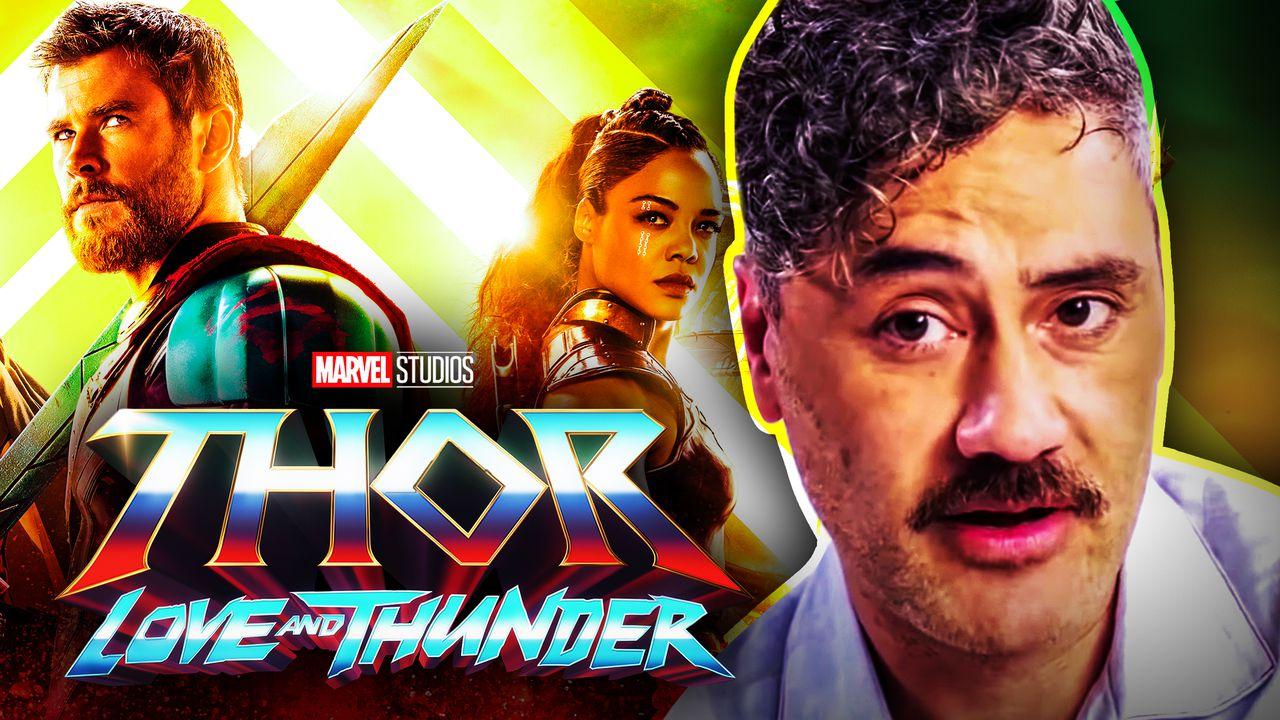 In an interview on The Playlist, Thor: Love and Thunder director Taika Waititi explained how his new MCU movie is similar in feel to 2017's Thor: Ragnarok.
Appearing with Our Flag Means Death co-star Rhys Darby, Waititi shared that Darby appearing in the next Thor movie is something that's been "on (his) list for a while."
Moving more specifically to the fourth Thor movie, Waititi admitted that there wasn't much of a difference between him directing this one from directing Ragnarok. Other than "a few different actors" coming into play, the scale and feel are all reminiscent of what he worked with the first time around:
"I don't think there's been any difference. I mean really, it's a similar size and everything's the same. There's a few different actors, but the energy and the intention is all still the same."
The podcast also teased how Darby could play a fun character like Korg's brother since Waititi plays Korg in the MCU. The director/actor even teased the name "Rock Guy" while admitting that there's potential for "a Disney+ show" or "a spinoff" that could tell more of Korg's story:
Interviewer: "All I'm saying is Rhys would make a great brother to Korg."

TW: "Rock Guy."

Interviewer: "A couple of New Zealand rock guys."

TW: "That's a pretty good idea… like a spinoff."

Interviewer: "Or a Disney+ show."
Ragnarok Comes Back to Life in Thor 4
Thor: Ragnarok remains one of the most beloved and well-reviewed films in MCU history after its debut in November 2017. Earning more than $850 million at the global box office, Taika Waititi was able to infuse a new sense of life and humor in Thor's solo journey as he fought his way through Sakaar and tried to save Asgard and his people.
Waititi has shared nothing but complimentary remarks about his time directing Ragnarok, where he was able to infuse his brand of comedy and action within the growing MCU.
Even though Love and Thunder is a new story with an evolved Thor, the director didn't see many differences in his time working on this movie compared to his first. Of course, he'll have new stars and characters to work with, like Christian Bale's Gorr the God Butcher and Russell Crowe's Zeus, but the general experience doesn't appear much different than it was in 2017.
In terms of story, it's still a mystery what exactly Waititi will add to the Asgaridian's journey in the MCU, especially with there being no signs for when the first trailer will debut. Regardless of what happens there, the process behind making the film seemed to put Waititi in a comfortable place as he lets more of his filmmaking style show in the MCU.
Thor: Love and Thunder will debut in theaters on July 8, 2022. Thor: Ragnarok is available to stream on Disney+.