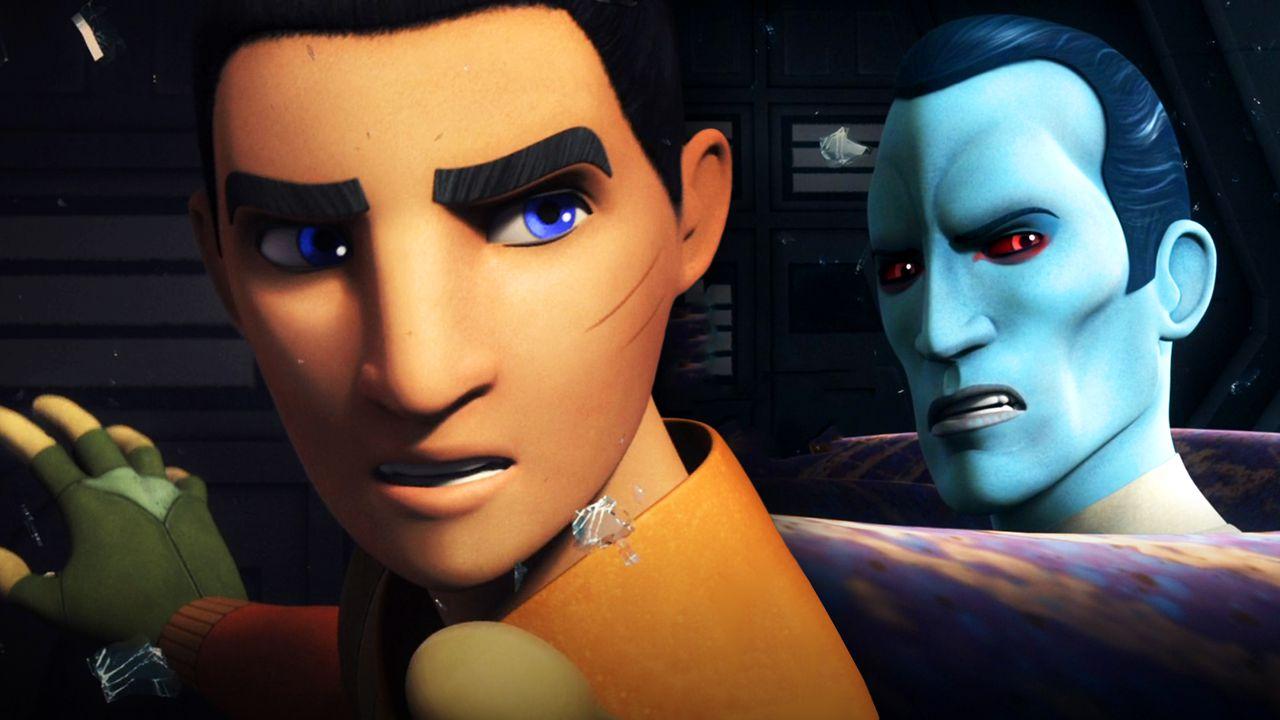 Star Wars is full of interesting characters and storylines that catapulte the franchise in sometimes unexpected directions. The extensive list of figures from the Star Wars mythos present an opportunity for the franchise to expand beyond the movies and have led to the birth of several animated shows that progressed the decade-spanning narrative of the galaxy, far, far away. 
One of those shows is Star Wars Rebels. Created by Dave Filoni, Rebels introduced a brand new set of characters while also creating more stories that moved the franchise forward. A young Jedi padawan in the form of Ezra Bridger was one of those characters that were integral to Rebels, but his fate was left unknown after the show's series finale. 
To recap, Ezra took Grand Admiral Thrawn to the Unknown Regions to save his home planet of Lothal. After that, the character wasn't seen again, and it was teased that Ahsoka Tano and Sabine Wren were on the verge of searching for their lost friend. Now, the character's fate has been addressed by one of the voice actors from the hit Star Wars show. 
NEWS
While speaking with Star Wars News Net, Taylor Gray, who voiced Ezra Bridger in Star Wars Rebels, addressed the character's fate after the hit animated show by saying that the Jedi Padawan "is out there" while admitting that he is "alive."
"Ezra is out there. Ezra is alive, which is nice – Dave confirmed that pretty quickly after the show was done. That was the question that remained with the finale. Thrawn is out there. Now we're seeing with 'The Mandalorian'… Everything in 'Star Wars' is tied together, everything is canon, which is cool."
 Gray also opened up about Ezra's encounter with Thrawn, revealing that the characters could've been "separated by now" after being thrown out into hyperspace. 
"I think they're separated by now. When they went off, they were together. Leading up to that episode, you can tell that Ezra had this plan to go off with him. Their relationship up to this point was incredibly contentious. I don't know if they can just, in a whim… That was a step under the selflessness of Kanan. Ezra kind of had to follow his footsteps and do a selfless action. I don't know if that then resulted in them becoming so close. But in 'Star Wars,' actions like that seem to transcend everything, so in the moment, that was in suspense – what was gonna happen between them. I just think that once they were off, they separated."
 The Rebels voice actor then pointed out that Ezra and Thrawn "would wreak some havoc on whatever they set their minds on" if the two characters "hadn't separated."
"They'd be so strong if they weren't at odds. Even if they weren't friends or teamed up. Ezra is a formidable jedi by the end of it, he's gone up against the strongest like Vader, and he's learned and has been around… even with Obi-Wan […] And to think that… say they hadn't separated. I mean, those two would wreak some havoc on… whatever they set their minds on. Thrawn is so calculating and smart and Ezra's thing is that he's a bit impulsive, yet he's incredibly strong in the Force."
WHAT THIS MEANS
Gray's confirmation that Ezra is alive should ease the worries of many Star Wars fans. More so, the actor's comment is also a pretty good indication that the character will be seen once again, and it seems that it will be in a live-action setting this time around.
Admittedly, Gray's remark about the two characters potentially wreaking some havoc while they are together is somehow concerning, but it's safe to say that it was pure speculation on the actor's part. 
The interconnected storytelling of Star Wars will be further established in The Mandalorian, and it looks like Ezra Bridger will benefit from that. It was previously announced that Ahsoka Tano will have her own spinoff show, and it's possible that one of the core storylines of that series is the search for the long lost Rebels character. 
Additionally, The Clone Wars creator Dave Filoni also hinted that Ahsoka's appearance in The Mandalorian could take place before the epilogue scene of Rebels. This means that Ahsoka has yet to team-up with Sabine Wren to find Ezra, and The Mandalorian seemingly set up the duo's journey to the Unknown Regions. 
Based on what's been revealed so far, there's a good chance that the much-anticipated "story event" from The Mandalorian and the newly announced spinoffs Ahsoka and Rangers of the New Republic could all end up in a climactic battle with Grand Admiral Thrawn, and Ezra will no doubt be pivotal to that storyline. 
LATEST NEWS
TRENDING