Sony Pictures is looking to expand heavily on its collection of Marvel-based movies, continuing with Jared Leto's Morbius in the immediate future. Included in that mix is Madame Web, which still has plenty of secrets left to be revealed. Under the direction of S.J. Clarkson and featuring Dakota Johnson in the lead role, this new film will bring yet another never-before-seen power player into the mix.
Madame Web has been in the works for the better part of two years while Sony builds an extensive cast of heroes anti-heroes from Spider-Man's extensive catalog. Johnson's take on the character will seemingly be vastly different from her comic counterpart, largely due to her younger age, although her powers will add a new level of excitement to this franchise.
Currently, Johnson is the film's only cast member, with rumors pointing to filming potentially starting sometime this year.
Now, that cast finds itself with a new member, who joins the fray after an exciting round of storytelling on TV.
Madame Web Gains New Cast Member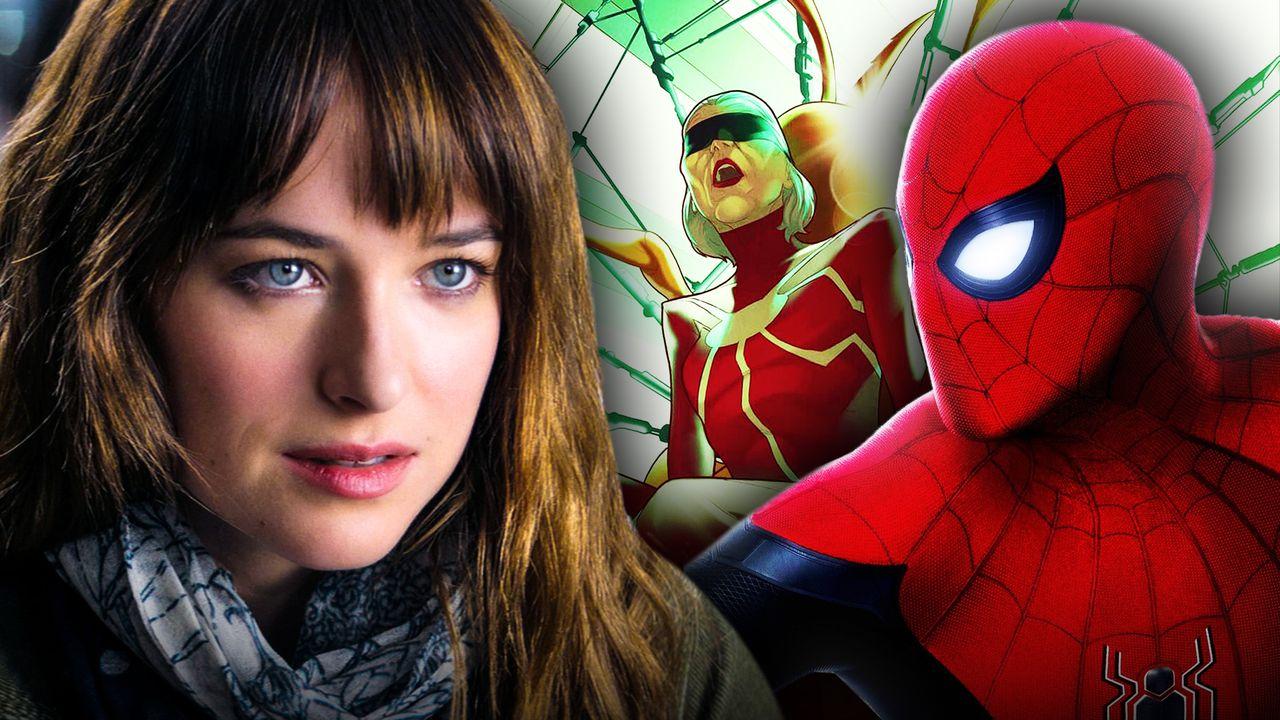 Deadline revealed that Syndey Sweeney is joining the cast of Sony Pictures' Madame Web and is set to be a new addition to Sony's Spider-Man Universe.
Appearing alongside leading actress Dakota Johnson, Sweeney's role is being kept under wraps for the time being.
Sources have also teased that the Madame Web project may turn into something bigger in the future, although no details were offered on that front.
Who Will Sweeny Play for Sony's Madame Web?
Sydney Sweeney is no stranger to major roles in highly-regarded projects, most recently having excelled in HBO's Euphoria alongside Spider-Man: No Way Home star Zendaya. Now, she'll have the opportunity to join her own Spider-centric story as Sony brings her into the fold on Madame Webb.
While her role will likely remain a mystery until Madame Web gets closer to starting production, fans have utilized Sweeney in fan-casts for a couple of classic Spider-Man characters.
One of those is Gwen Stacy, who most recently came to life behind Emma Stone's performance in Andrew Garfield's The Amazing Spider-Man movies. While she was rumored to reprise her role in Spider-Man: No Way Home for a time, Sweeney could wind up as the new version of the character in Sony's more interconnected universe.
Also in play is Felicia Hardy, also known as the Black Cat, one of Spider-Man's more complicated love interests in various media. The character hasn't come to life in any live-action movies to date, but should Sony want to bring the skilled fighter into play, Sweeney already has the appearance to pull Black Cat off.
Regardless of Sweeney's role in Madame Web, this new film seems to be gaining more clout as an important part of Sony's Spider-Man Universe. As more information comes out about production and its release date, fans will keep an eye on how Dakota Johnson and crew play into the Marvel universe as a whole.
---
Release Date
February 14, 2024
Platform
Theaters
Richard Nebens joined The Direct in March 2020, now serving as the site's Senior Writer and also working as an assistant editor and content creator. He started his journalism career as a hobby in 2019 and is passionate about sharing news and stories from the entertainment industry, especially comic book movies, comedy, and sci-fi. Richard looks to expand his knowledge about movies and TV every day, and he is eager to stay locked into the latest releases and breaking news at every opportunity.