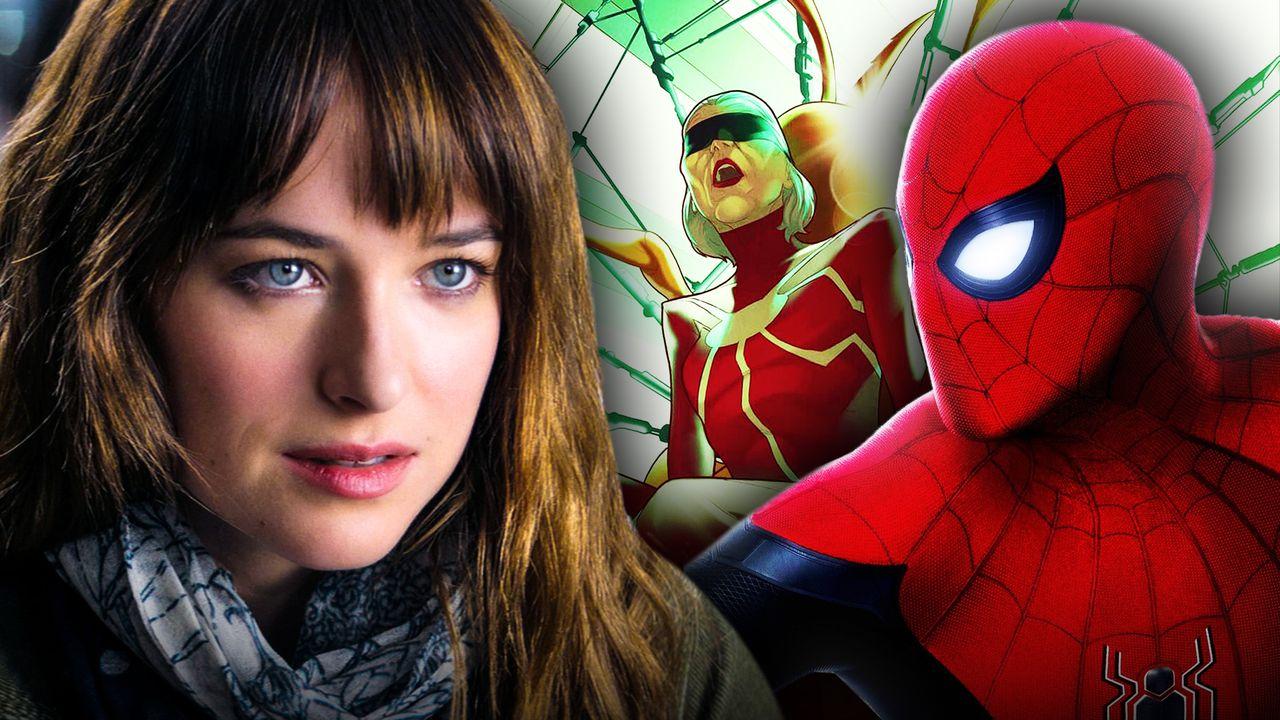 Rumors from 2019 indicated that Sony was working on a Spider-Man spin-off based on the character Madame Web. The following year, it was reported that Sony had hired TV director S.J. Clarkson for a "secret Marvel movie," later revealed to be the rumored Madame Web. All that remained was waiting to see who Sony would be eyeing to lead the spin-off.
Filming for the movie was rumored to begin this year, which pointed to news about casting not being too far behind. In the meantime, fans theorized that with the arrival of Madame Web, who is traditionally involved in Multiversal events, Sony might be delving even more into that same premise that was first explored in Spider-Man: No Way Home.
However, it seems like this casting news points to Madame Web being more directly involved instead of sitting it out in a fancy chair.
Sony Courting Their Madame Web
According to a new report from Deadline, actress Dakota Johnson, known for her roles in Fifty Shades of Grey and The Social Network, is the front-runner for the lead of S.J. Clarkson's Madame Web and is currently being courted by Sony. Johnson became the front-runner after Sony cut down their list of actresses following an extensive two-month search.
However, sources close to Deadline claimed "the project could turn into something else" due to Madame Web's advanced age and being blind, along with the character hardly fighting villains herself. Considering Johnson's age, it's doubtful that she will be playing the original Madame Web in the comics, Cassandra Webb, but rather Julia Carpenter, who is the current, younger, Madame Web.
Additionally, Matt Sazama and Burk Sharpless will pen the screenplay.
Two Madame Webs?
It's no surprise that Sony intends to cast the lead in their expensive tentpole movie with a younger actress so that the character can be involved in the necessary action scenes. This is a change from the comics, in which the original Madame Web was an old woman named Cassandra Web who often just helped the heroes and Spider-Man from her comfy chair in an empty void.
However, in the comics, Cassandra was killed by Kraven the Hunter. In her dying moments, she transferred her powers of telepathy, clairvoyance, and prescience to a woman named Julia Carpenter, formally known as Arachne and Spider-Woman.
So, could it be possible that Sony may cast another Madame Web alongside Dakota Johnson? One who dies and passes on her abilities to Johnson as an inexperienced hero tends to be in an origin movie? Heck, it's even possible that Sony could just be aging down Cassandra Web for simplicity's sake.