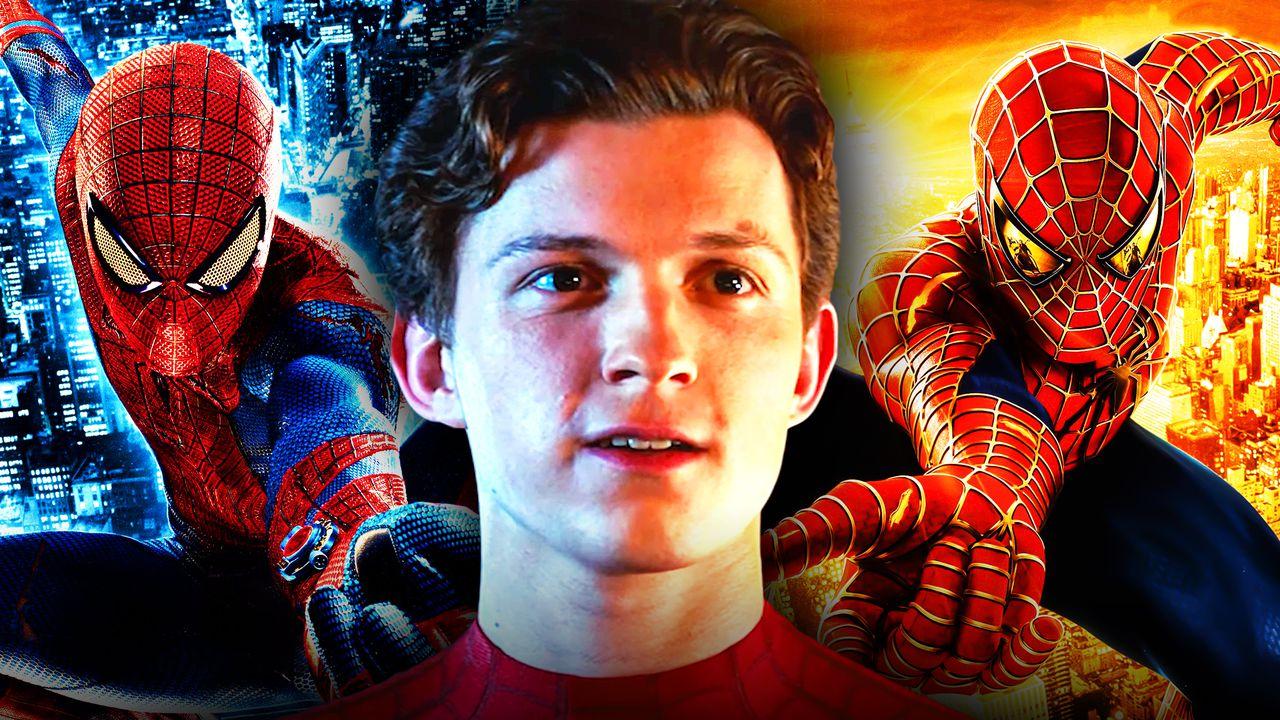 It's no secret that Spider-Man: No Way Home is a hotly anticipated Marvel project this year, especially after the barrage of multiverse-related rumors that surfaced in the past months. 
Directed by Jon Watts, the MCU threequel will showcase the return of Tom Holland's web-slinging hero alongside franchise mainstays like Zendaya's MJ, Jacob Batalon's Ned Leeds, Marisa Tomei's Aunt May, and Jon Favreau's Happy Hogan. 
No Way Home is expected to deal with the aftermath of the cliffhanger ending of Spider-Man: Far From Home, when Mysterio revealed Peter Parker's secret identity to the world. Very little is known on how the film will follow up on this game-changing ending, but all signs point to a multiverse-based (and magical) solution. 
Marketing for the upcoming film has been minimal, but rumors about previous versions of Spider-Man, namely Tobey Maguire and Andrew Garfield, have spread like wildfire. This is on top of the confirmation that Alfred Molina's Doctor Octopus from Sam Raimi's Spider-Man 2 will join the threequel alongside a resident MCU sorcerer in the form of Benedict Cumberbatch's Doctor Strange. 
Not much is known if these rumors will turn out to be true, but a report could cement the potential returns of Maguire and Garfield in the film. 
SPIDER-MAN: NO WAY HOME GETS AN ADDED VFX BOOST 
Murphy's Multiverse shared in a report that the VFX teams who worked on previous Spider-Man films starring Tobey Maguire (Sam Raimi's Spider-Man trilogy) and Andrew Garfield (The Amazing Spider-Man franchise) have joined the crew of Spider-Man: No Way Home. No additional details regarding the involvement of specific studios were shared.
MORE CONFIRMATION OF A SPIDER-MAN MULTIVERSE FILM? 
While fans can take this with a grain of salt, this development presents interesting possibilities for Spider-Man: No Way Home. 
The inclusion of previous VFX teams from Sam Raimi's Spider-Man trilogy and The Amazing Spider-Man franchise creates an opportunity for the MCU threequel to incorporate the worlds that were already established in the aforementioned films. This is necessary in order to remain consistent with the look and feel of the earlier Spider-Man movies. 
From a behind-the-scenes standpoint, the collaboration between the three VFX teams has the potential to transform No Way Home into an ultimate visual treat. The combination of the unique styles of all three Spider-Man franchises will definitely excite fans while also creating a sense of nostalgia along the way.
On a plot level, it looks like No Way Home will include multiverse-hopping sequences similar to what was seen in 2018's Spider-Man: Into the Spiderverse. This could hint that a montage or recap of the original trilogy and Marc Webb's two Spider-Man films is imminent, giving viewers a chance to catch up with what happened before seeing the comeback of Tobey Maguire and Andrew Garfield into the MCU narrative. 
Spider-Man: No Way Home is set to hit theaters on December 17, 2021.