A new video highlighted footage that still hasn't been seen ahead of the Season 2 finale of Marvel Studios' Loki on Disney+.
Episode 5 of Loki Season 2 gave fans plenty of footage with character development for many of the show's biggest names by including some origin stories on the Sacred Timeline.
With Tom Hiddleston's titular hero gaining new powers that allow him to jump through time at will, the stage is set for a wild conclusion to his second solo season as he tries to keep the Multiverse intact.
Loki Season 2 Finale Footage Not Yet Seen
Reddit user LEYW compiled all of the footage from Loki Season 2 that hasn't been seen yet into one video, including footage from the Season 2 finale set to air on Thursday, November 9.
With Victor Timely, Mobius, and Casey in the background, Loki discusses what he knows about the situation at hand with Ke Huy Quan's O.B., calling himself "a fast learner" and "a god."
An unknown character goes out into the time stream in order to fix the Temporal Loom, with Loki telling them through the communication system to "hit the green button."
Loki watches everything unfold alongside Hunter B-15, Sylvie, Casey, and O.B., noting that the button "can be a little sticky."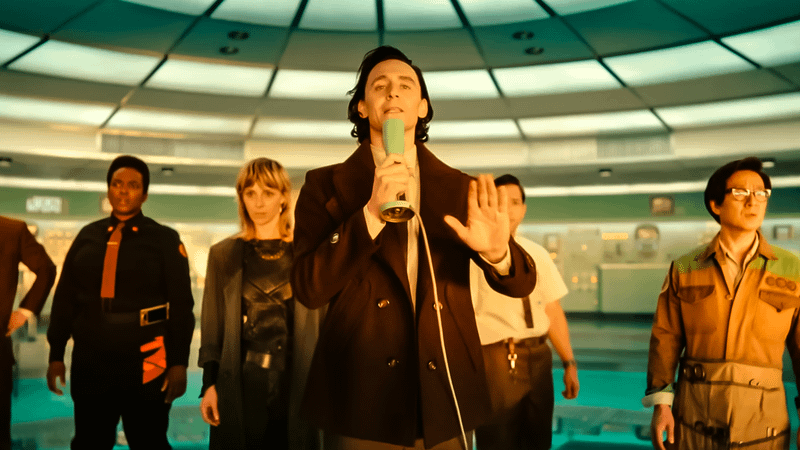 Loki is then seen in the TVA prisoner outfit and time collar that he wore as he was taken into custody in Loki's first episode from 2021, teasing a trip back to the show's opening moments.
Another blast to the past comes with a look at Loki and Sylvie's battle in the Citadel at the End of Time from Season 1, Episode 6, which could tease a return for He Who Remains as Loki sets the Sacred Timeline in order.
Sylvie is then seen unleashing her green-hued powers from her hands, with Loki presumingly on the other side of that attack.
A behind-the-scenes look at the Season 2 finale shows Owen Wilson standing next to Sophia Di Martino seemingly in front of Don's (Mobius) house fans saw in his backstory that was revealed in Episode 5.
Mobius and Loki shake hands with one another in the time theater, taking fans back to Loki's first interrogation with Wilson's TVA Agent early in the show's run.
Sylvie and Loki stand face-to-face with one another seemingly in Dr. A.D. Doug's (OB) basement, although it's unclear what's happening between them.
Even with his life on the line, Loki appears to go out into the time stream with no protection as he's blasted with temporal energy. 
While it's unknown if this is accomplished with his new powers, the God of Mischief gets his hero moment in this short clip.
Mobius and Sylvie seem to be watching Loki in the time stream from behind the blast door, with Sylvie yelling out as she worries about Loki's potentially impending doom.
Loki then asks O.B. "What could we have done differently?," indicating that the team will have to try a number of different tactics in order to accomplish their goal.
Also making an appearance in this video is Judge Ravonna Renslayer, who is on her knees in the middle of a field with a purple light shining on her. This is almost certainly teasing the return of The Void and possibly the massive monster Alioth, who hasn't been seen since the end of Season 1.
The full video can be seen below:
What Will Happen in Loki Season 2 Finale?
Even though Loki seems to have found a way to stop the TVA from evaporating into thin air, there's still the issue of stopping the inevitable Multiversal War that's been teased for a long time, even if it doesn't fully show up in Loki Season 2.
And with Loki proving that he's willing to do whatever it takes to keep all of reality from falling apart, even going so far as to prune himself, the God of Mischief is in for as eventful of an ending as he's ever seen in the MCU.
With fans hoping that Loki will finally be reunited with some of his closest friends and family in Episode 6, possibly even his brother Thor, the stakes for this character are sky-high as he hones his time-slipping abilities for the good of all humanity.
And even though the Season 2 finale has to share the spotlight on its release date with The Marvels, anticipation is building to see how one of the MCU's OG fan favorites will come out on top.
Episode 6 of Loki Season 2 will debut on Disney+ at 9 p.m. ET on Thursday, November 9.