Warning - this article contains spoilers for Episode 3 of Hawkeye.
Marvel Studios is currently airing its final Disney+ project of the year with Hawkeye. The show's third installment just hit the service and has so far seen Hailee Steinfeld's Kate Bishop and Jeremy Renner's Clint Barton dropped in the middle of quite the Christmas mess––putting them straight on a collision course with Alaqua Cox's Echo, who is set to get her own spinoff show in the next year (or two).
"Echoes" finally brought the Deaf Native American actress formally into the show, as she set her sights on the person she witnessed killing her father: Clint Barton's Ronin.
Not only that, but fans got to see Kate and Clint's dynamic evolve, Lucky the Pizza Dog get more of his favorite snack, and the tease of a certain Kingpin of crime. So, how did the episode fare?
The Echo of Vengeance
The introduction of Alaqua Cox's Echo was flawlessly done. She already has an intimidating presence, and her tragic backstory was concisely given to the audience, but not in a way that lost any of its luster or impact.
Hawkeye continues its habit of retroactively tying newly introduced characters tightly into the MCU mythos. First, they did so with Kate Bishop and the Battle of New York, and now with Echo and Ronin's rampage during The Blip.
Her action sequence against Clint in the warehouse was among the better fights that the Disney+ shows have seen and proves her as a formidable threat for Hawkeye.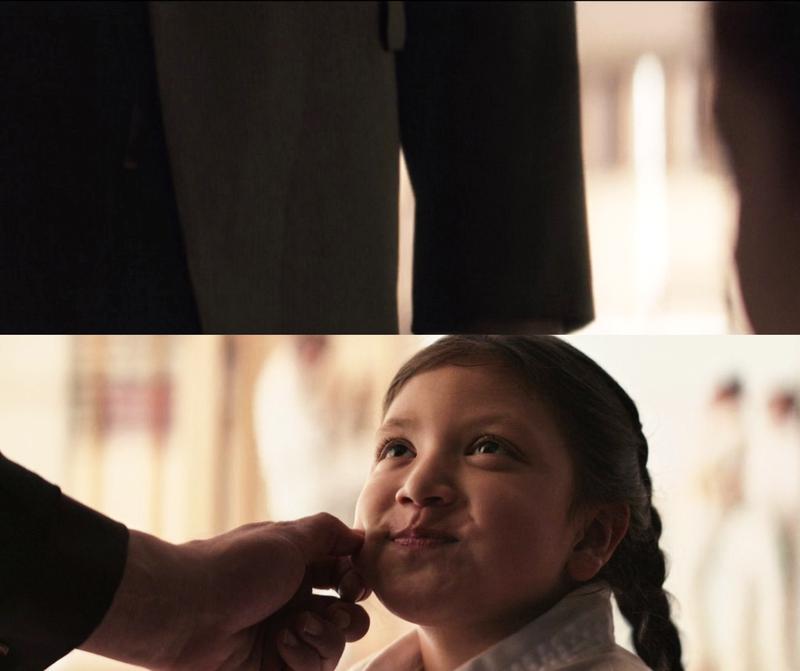 With all the rumors about Vincent D'Onofrio's return as Kingpin, it would be harder to believe if they aren't true after this episode. Not only are the teases so overt given the character's connection to Maya Lopez in the comics, but that hand and off-camera chuckle in the dojo was undeniably Fisk-esque.
The Hard-of-Hearing Avenger
What makes the show's angle of Echo even more interesting is how it poses a deaf antagonist against a hard-of-hearing protagonist.
It's easy to breeze over Clint so rapidly getting severe hearing loss because the story uses it so well. Jeremy Renner does a perfect job at bringing the complexities of the condition to life. Having to confront it head-on after his fight with Echo must have made it hit the former Avenger hard, seeing as he's simply shrugged it off for so long.
His scene with Bishop writing down his son's side of the conversation was heartbreaking, with Barton's lie about hearing his voice cutting deep. Even more than that, the moment was one of the purest and most significant moments in the relationship between the two master archers.
Yes, even more than the two getting in their biggest brawl to date, with an intense car chase sequence that involved plenty of perplexing arrows. For someone who isn't all that into branding, there sure was a lot of purple in some of those quirky sticks.
While the purple goo gag didn't land all that well, what did was the awesome use of Pym technology––even including a visual nod to his time alongside Ant-Man in Captain America: Civil War.
The Bishop Factor
Kate Bishop and Clint Barton's dynamic continues to be a standout element of the show, with the two of them bouncing off each other like experts. Their energy is not only hilarious but contagious, easily making up for any momentary shortcomings, such as questionable CGI here and there.
Steinfeld's portrayal of her character is just as excellent as it was in the first two episodes. What's becoming clear, however, is how significant she will be for Clint's journey.
Her conversation with him at the diner demonstrates that she's set to help him realize how he means a lot more to people than he thinks; showing he needs to embrace that if he hopes to continue helping people.
One can't help but think how Kate will react to the news that Ronin is actually her childhood idol. Will it break the foundation of their relationship or simply strengthen the unexpected connection which is being built between the two?
The Future Shows Swords, Assassins, and Uncles in Clint's Future
Given how the episode ended, the next installment probably won't be picking up too far after the moment with Barton coming face-to-face with his former Ronin sword, a confrontation that will surely be an intriguing scene to watch unfold.
Fans are now halfway through the season, and viewers still have not seen Florence Pugh's Yelena Belova, who was tasked with assassinating Clint Barton during the post-credits scene of Black Widow. So how will she play into this?
Well, what if Echo fails at bringing in the Ronin for her uncle, leaving him to hire someone else for the job; in this case, delegating the task out to an associate of his: Julia Louis-Dreyfus' Val.
That would be quite the unexpected twist.
Hawkeye streams weekly every Wednesday on Disney+.
LATEST NEWS
TRENDING