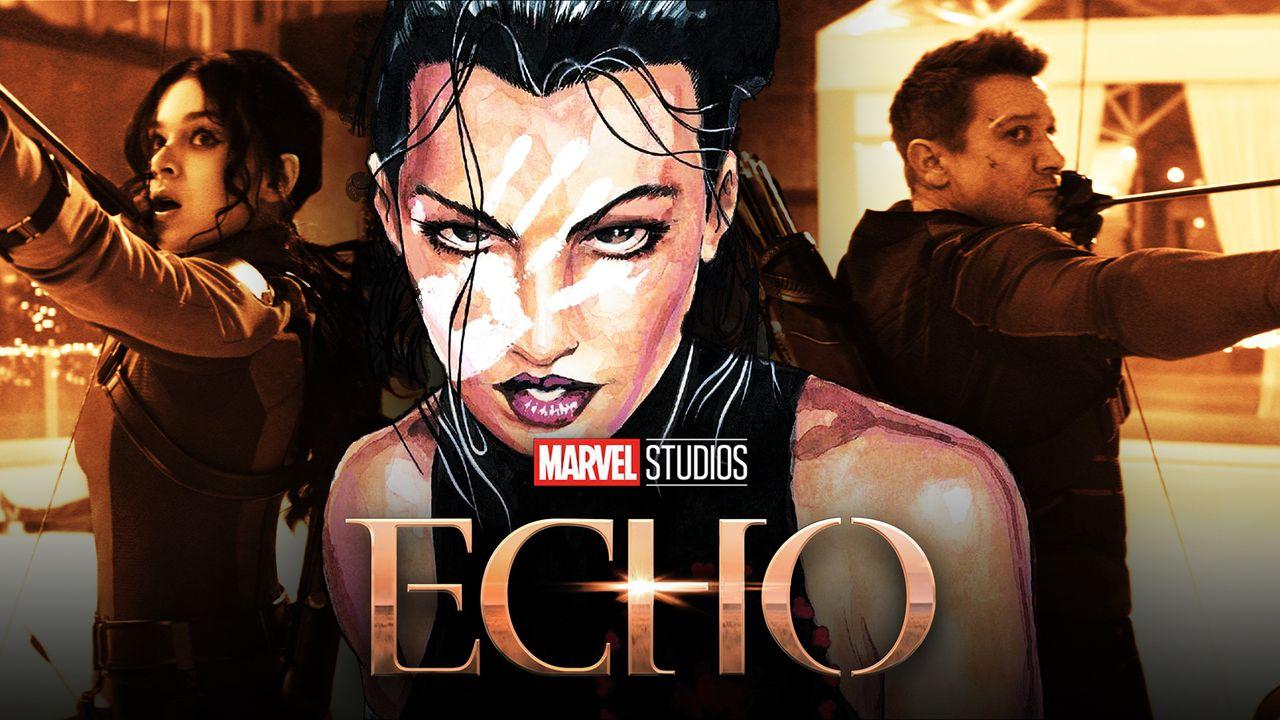 Disney+ Day was a whirlwind of announcements, first looks, and new logos across the Marvel Cinematic Universe. On a hybrid release on both Twitter and the Marvel Studios' Disney+ Day Special, sixteen upcoming Disney+ Marvel series were spotlighted. 
A few projects like Moon Knight, She-Hulk, and Ms. Marvel all received new footage and sneak peeks at some of the MCU's newest heroes. Other series like Agatha: House of Harkness, Marvel Zombies, and Spider-Man: Freshman Year were announced officially for the first time. 
Another series focuses on a character that is set to appear in the upcoming Hawkeye series, coming on November 24, 2021. Though fans have not met this character on screen yet, they can already start preparing for a spin-off run with Echo. 
Echo Is Coming to Disney+
A new logo and announcement for Echo have arrived. Echo is a Marvel Studios original series set around a character set to appear in Hawkeye. 
Played by Alaqua Cox, Echo is a hero with photogenic reflexes. The official logo can be seen below: 
Echo is a character that has comic book ties with a variety of street-level Marvel heroes. This is surely another building block on a new branch of back-alley crime-fighting in the MCU. 
Hawkeye & Echo Bringing the Streets to the MCU
The Marvel Cinematic Universe has reached a point in its success where it has the platform to give any and every hero in its catalog a chance to shine and reach new audiences.
So far, in the Disney+ era of the MCU, established supporting characters have received this treatment, with Wanda, Sam Wilson, and Loki all reaching new levels of popularity with their respective Disney+ series. This looks to continue with Hawkeye giving Clint Barton his much-deserved spotlight later this year. 
Another thing Marvel Studios has accomplished in Phase 4 is introducing new faces into the Marvel roster. The 2021 rookie class is full of names that went from deep-cut comic book references to household heroes. Names like Agatha Harkness, Yelena Belova, Sylvie, and Shang-Chi have all proven that any character with a Marvel story to tell can shine. 
Echo is a series that is looking to capitalize on that momentum. Maya Lopez is a deep-cut street-level Marvel character who has ties with names such as Kingpin, Daredevil, and Moon Knight. Maya Lopez, aka Echo, is deaf and relies purely on her sight to get by. Thankfully, she possesses photographic reflexes that allow her to mimic any physical fighting style upon seeing it. 
Lopez is set to be introduced in Hawkeye, which ties her in perfectly to the street-level MCU branch the MCU is building. Marvel Studios president Kevin Feige and the Marvel Studios team have already gone forward with a spinoff for a character yet to appear on screen, which means they believe they have something special.
The risks of WandaVision and Loki paying off as much as they did earlier this year would prove that fans should expect to crave more Echo in the MCU after her run on Hawkeye. 
Hawkeye will stream its first two episodes on Disney+ on November 24, 2021.