At the end of 2021, Marvel Studios introduced Hailee Steinfeld's Kate Bishop for her MCU debut in Jeremy Renner's Hawkeye series on Disney+. Bishop became one of the highlights of the show as she learned what it took to become a hero in a wold full of Earth's Mightiest. Safe to say, the 22-year old New York kid grew up in a hurry as she faced the biggest challenges of her life.
Bishop quickly became an important player within Clint Barton's story as she showcased her skills with a bow and arrow, even if it came with a couple of minor setbacks through her six-episodes of action. This all led to an epic one-on-one battle with Vincent D'Onofrio's Kingpin, as she had to figure out how to beat one of the most physically dominant villains in MCU history.
Due to Steinfeld's overwhelming popularity in the role, Kate Bishop became a big part of Hawkeye's merchandising campaign with Funko Pops! and other collectible items. Now, as has been done with other MCU characters in the past couple of years, the new heroine is getting her most realistic piece of collectible material to date.
Kate Bishop Gets Hot Toys Figure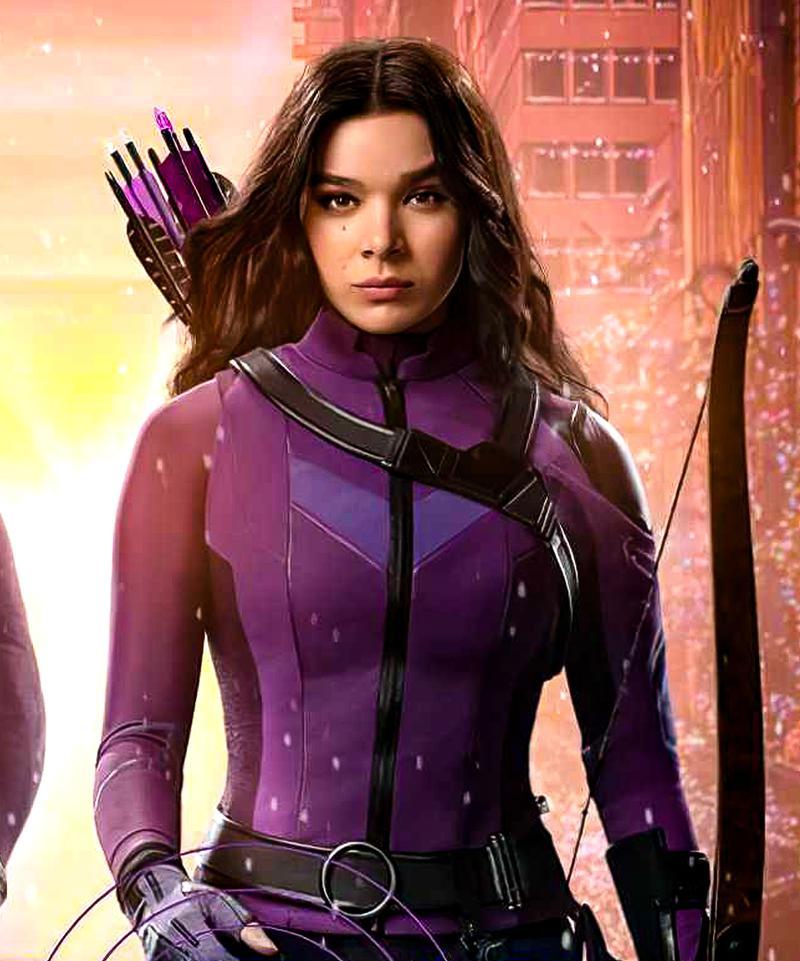 Hot Toys' Facebook page revealed images of the new 1/6th scale Kate Bishop collectible figurine, which is now available for pre-order.
The figurine comes with a stand so that Hailee Stenfeld's Kate can be posed jumping in the air, grabbing one of her arrows as seen in the promotional image:
Her Hot Toys collectible perfectly recreates her costume that she first wore in Episode 6 of Hawkeye. She boasts the purple top, black pants, and her utility belt with the arrow holder on her hip:
Kate Bishop's face is nearly identical to how Steinfeld looks in the series, complete with a bandage over a cut on her face and the bangs falling down the side:
The full set comes with multiple interchangeable hands, arrows, and a display stand. The bow can also be put in her hands or taken out:
Steinfeld Immortalized in Hot Toy Form
Hot Toys has spent a great deal of time in the spotlight over the past few weeks, particularly thanks to their efforts on Marvel characters like Richard E. Grant's Classic Loki and Oscar Isaac's Moon Knight. Now, Steinfeld gets that same impressive treatment as the company brings a fully realized Kate Bishop figurine into the game alongside her Marvel companions.
Although it's largely unknown when or where Steinfeld will reprise her role as the MCU's newest master archer, it's clear that she won't be out of the picture for too long. Her time alongside Hawkeye taught her some valuable lessons about being a hero in this universe, and there's still that inevitable Young Avengers project that she'll have to be involved with too.
For now, fans can enjoy all the fun that will come with this collectible item as the MCU's newest young hero is celebrated in this impressively detailed figure.
All six episodes of Hawkeye are now available to stream on Disney+.