Disney's Haunted Mansion reboot is headlined by an all-star cast, and here's every notable actor who will star in the upcoming movie based on the Disneyland ride. 
This isn't the first time the Haunted Mansion ride was adapted into a movie. The 2003 adaptation featured comedian Eddy Murphy as its lead, but fans and critics poorly received the film. 
Now, Disney is taking a chance again with the famous Haunted Mansion attraction by showcasing a brand-new supernatural comedy that revolves around a single mom who unknowingly moves into a ghost-infused mansion with her son in New Orleans. 
1.) Rosario Dawson - Gabbie
Rosario Dawson portrays Gabbie, a single mom who moves into the titular mansion without knowing that it is filled with ghosts and terror. 
Dawson is best known for her role as Ahsoka Tano in the Star Wars franchise as well as for playing Claire Temple in Marvel's Daredevil series on Netflix. 
2.) Chase W. Dillon - Travis
Chase Dillon plays Travis in the movie, who is the only son of Rosario Dawson's Gabbie. The film's teaser trailer showed that Travis was the first to encounter the ghosts of the mansion, prompting his mother to leave and call for help. 
Dillon is the voice of Hawthorn in Apple TV+'s Pinecone & Pony. The young actor also portrayed a young Nat (Jonathan Majors' character) in Netflix's The Harder They Fall. 
3.) LaKeith Stanfield - Ben Matthias 
LaKeith Stanfield plays Ben Matthias, a paranormal expert who is recruited by Owen Wilson's character to help out in fending off the ghosts in Haunted Mansion. 
Stanfield's most popular role is playing Darius alongside Donald Glover's Earn in FX's Atlanta comedy series. 
4.) Owen Wilson - Kent
Disney revealed that Owen Wilson plays a priest named Kent in Haunted Mansion. 
Not much is known about Wilson's role in the reboot, but the trailer appears to hint that he is not really a priest at all. Instead, he could just be pretending as a priest to collect the money. 
Wilson is known for his role as Mobius in Marvel Studios' Loki. The actor also portrayed popular characters in Wedding Crashers, Marry Me, and Secret Headquarters. 
5.) Tiffany Hadish - Harriet 
Tiffany Haddish plays Harriet, a psychic who is also recruited to help out with the ghosts in Haunted Mansion. The character only appeared briefly in the trailer, but there's a strong chance that she will have a significant role. 
Haddish's past movies include Night School, Easter Sunday, and Like a Boss. 
6.) Danny DeVito - Bruce
Danny DeVito plays Bruce, a college history professor who gets recruited by Rosario Dawson's Gabbie to help eliminate the ghosts in Haunted Mansion. 
DeVito is best known for playing Penguin in Batman Returns. The actor also played Frank Reynolds in It's Always Sunny in Philadelphia.
7.) Jamie Lee Curtis - Madame Leota  
Jamie Lee Curtis surprised everyone during D23 when she announced that she would be playing fan-favorite ride character, Madame Leota, in Haunted Mansion. 
Madame Leota is the head-in-a-crystal-ball in the famous Disney ride. Jennifer Tilly portrayed the character in the 2003 adaptation. 
Jamie Lee Curtis' past movies include the Halloween franchise, Everything Everywhere All at Once, and Knives Out. 
8.) Jared Leto - Alistair Crump/Hatbox Ghost
Jared Leto lends his voice to Alistair Crump aka Hatbox Ghost in Haunted Mansion. A past report revealed that Leto will give the character a "deeper voice than usual."
Leto previously portrayed Michael Morbius in Sony and Marvel's Morbius. 
9.) Winona Ryder 
It is unknown how Winona Ryder fits in Haunted Mansion, but some have theorized that she will only appear as a cameo. It's possible that she is one of the ghosts in the spooky mansion or even its real owner. 
Ryder is best known for portraying Joyce Byers in Netflix's Stranger Things. 
10.) Dan Levy
Similar to Winona Ryder, Dan Levy's role in Haunted Mansion is also unknown, but it's possible that he could also be one of the cameos in the upcoming reboot. 
Levy's most popular role is playing David Rose in CBC's Schitts Creek. 
11.) Hasan Minhaj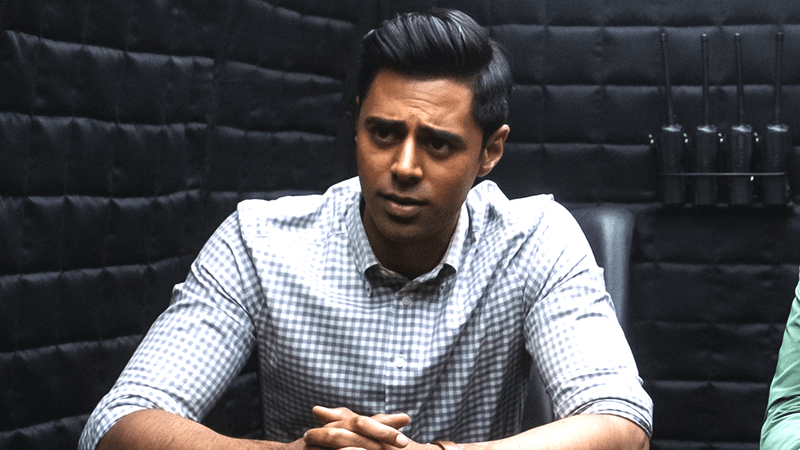 It remains to be seen how Hasan Minhaj fits in Haunted Mansion, but it's safe to assume that he could be portraying one of the ghosts as well in the titular location. 
Hasan Minhaj is known for The Morning Show, The Daily Show, and The Spy Who Dumped Me. 
---
Haunted Mansion is set to premiere in theaters on July 28.