Disney's Haunted Mansion reboot is headlined by an all-star cast, and here's every notable actor who will star in the upcoming movie based on the Disneyland ride. 
This isn't the first time the Haunted Mansion ride was adapted into a movie. The 2003 adaptation featured comedian Eddy Murphy as its lead, but fans and critics panned the film. 
Disney is taking a chance again with the famous Haunted Mansion attraction by showcasing a brand-new supernatural comedy that revolves around a single mom who unknowingly moves into a ghost-infused mansion with her son in New Orleans. 
1.) Rosario Dawson - Gabbie
Rosario Dawson portrays Gabbie, a single mom and physician who moves into the titular mansion in New Orleans without knowing that it is filled with ghosts and terror. 
Dawson is best known for her role as Ahsoka Tano in the Star Wars franchise, as well as playing Claire Temple in Marvel's Daredevil series on Netflix. 
2.) Chase W. Dillon - Travis
Chase Dillon plays Travis in the movie, who is the son of Rosario Dawson's Gabbie. 
In the movie, Travis was the first to encounter the ghosts of the haunted mansion, prompting his mother to leave and call for help. 
Dillon is the voice of Hawthorn in Apple TV+'s Pinecone & Pony. The young actor also portrayed a young Nat (Jonathan Majors' character) in Netflix's The Harder They Fall. 
3.) LaKeith Stanfield - Ben Matthias 
LaKeith Stanfield plays Ben Matthias, the film's main protagonist who is recruited by Owen Wilson's character to help out in fending off the ghosts in Haunted Mansion. 
Ben is a scientist who specializes in paranormal activities, and a character who has yet to recover from the death of his wife. 
Stanfield's most popular role is playing Darius alongside Donald Glover's Earn in FX's Atlanta. 
4.) Owen Wilson - Kent
Owen Wilson plays a priest named Kent in Haunted Mansion. 
Wilson's Father Kent is actually the first one who Gabbie turns to during her desperate cry for help to take out the ghosts in the mansion. 
However, it is eventually revealed that he is not really a priest at all. Kent does ultimately play a significant role in defeating the great evil in the mansion though.
Wilson is known for his role as Mobius in Marvel Studios' Loki. The actor also portrayed popular characters in Wedding Crashers, Marry Me, and Secret Headquarters. 
5.) Tiffany Hadish - Harriet 
Tiffany Haddish plays Harriet, a psychic who is also recruited to help out with the ghosts in Haunted Mansion. 
Throughout the movie, Harriet uncovers the fact that she has innate supernatural gifts thanks to the guidance of Madame Leota. 
Haddish's past movies include Night School, Easter Sunday, and Like a Boss. 
6.) Danny DeVito - Bruce
Danny DeVito plays Bruce, a college history professor who knows the history of the haunted mansion in New Orleans. 
Despite being initially abandoned by Ben and Kent due to the risk of his heart condition, Bruce eventually plays an integral role in unmasking the true evil in the mansion.
DeVito is best known for playing Frank Reynolds in It's Always Sunny in Philadelphia, in addition to playing Penguin in Batman Returns.
7.) Jamie Lee Curtis - Madame Leota  
Jamie Lee Curtis surprised everyone during D23 when she announced that she would be playing her fan-favorite ride character, Madame Leota, in Haunted Mansion. 
Madame Leota is the head-in-a-crystal-ball in the famous Disney ride. Jennifer Tilly portrayed the character in the 2003 adaptation. 
In the film, Madame Leota was trapped inside the crystal ball by the Hatbox ghost after failing to stop him in the past. However, she eventually helped Ben and the others in the present to try to stop the evil entity before it was too late.
Jamie Lee Curtis' past movies include the Halloween franchise, Everything Everywhere All at Once, and Knives Out. 
8.) Jared Leto - Alistair Crump/Hatbox Ghost
Jared Leto lends his voice to Alistair Crump aka Hatbox Ghost in Haunted Mansion. Leto's Crump is actually based on the same character that originally appeared in the theme park attraction. 
Alistair Crump is the movie's main villain, and his main goal is to trap the souls inside the mansion forever while also threatening the lives of its new human residents. 
Leto previously portrayed Michael Morbius in Sony and Marvel's Morbius. 
9.) Dan Levy - Vic 
Dan Levy plays Vic in Haunted Mansion, the new owner of Alistair Crump's mansion. In the movie, Vic turned Crump's mansion into a bed-and-breakfast complete with over-the-top theatrics. 
Levy's most popular role is playing David Rose in CBC's Schitts Creek. 
10.) Hasan Minhaj - Sketch Artist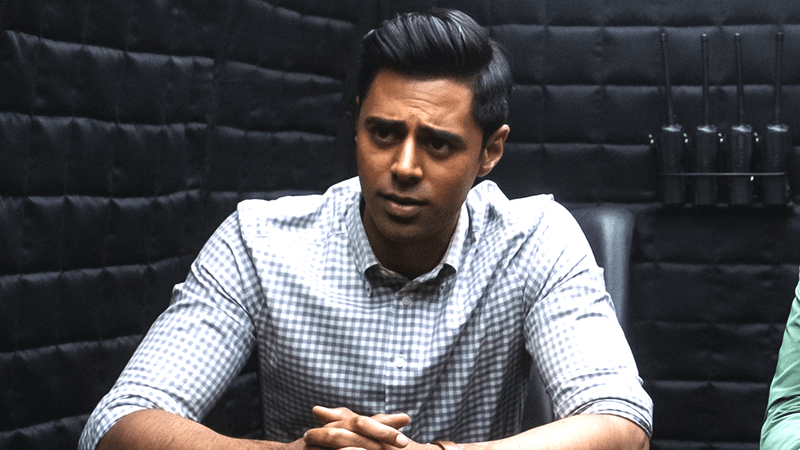 Hasan Minhaj plays the sketch artist in Haunted Mansion who helps Ben and Bruce to uncover the true face of Alistair Crump.
Hasan Minhaj is known for The Morning Show, The Daily Show, and The Spy Who Dumped Me. 
11.) J.R. Adduci - William Gracey
J.R. Adduci plays William Gracey, the original owner of the mansion who tries to connect with the spirit of his wife in the afterlife. 
As a result, he turns to Madame Leota for help, but they eventually summon Alistair Crump's evil spirit instead.
The actor is known for Fare and Copshop.
12.) Creek Wilson - Mariner Ghost
Creek Wilson plays the Mariner Ghost, the spirit who torments Ben after initially leaving the mansion. 
Wilson is known for Twisted Metal and Ma. 
13.) Charity Jordan - Alyssa
Charity Jordan plays Alyssa, Ben's wife who died from a car crash years before his involvement with the mansion. 
Despite her death, Alyssa plays a crucial role in Ben's evolution as a character, as it it perfectly shows how he has yet to move on with his grief. 
Jordan's past credits include The Wonder Years, American Refugee, and Selma. 
14.) Lindsay Lamb - The Bride
Lindsay Lamb plays the Bride, one of the ghosts of the mansion who is used by Alistair Crump to scare off the new residents. 
Lamb is known for Just Beyond and Lady of the Manor.
15.) Jo Koy - Daytime Bartender
In a surprise yet brief appearance, Jo Koy plays the Daytime bartender in the opening minutes of the movie, telling Ben to wake up for the tourists who are waiting for him outside. 
Jo Koy is a Filipino-American stand-up comedian who recently made his big-screen debut on Easter Sunday.
---
Haunted Mansion is now playing in theaters worldwide.
---
Aeron is a news/features writer and Content Lead for The Direct who has been working for the site since March 2020. From writing about the inter-connectivity of the Marvel Cinematic Universe to having an extended knowledge about DC TV's Arrowverse, Aeron's expertise has since expanded into the realm of reality TV, K-drama, animated, and live-action shows from Netflix,  Disney+, Prime Video, MGM+, Peacock, Paramount+, and Max. When he isn't writing and watching all things MCU, Aeron is heavily invested with the NBA (go Celtics!) and occasionally watches thrilling matches in the WWE.