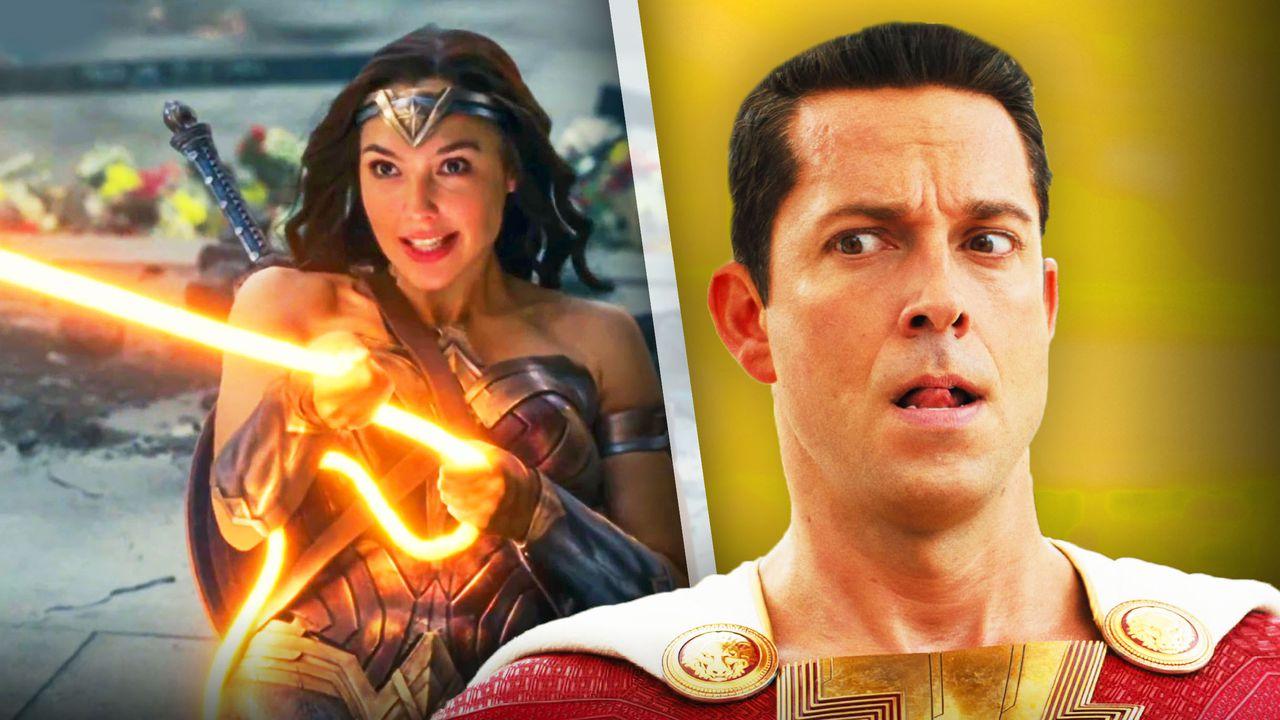 Gal Gadot's Wonder Woman was just spotted in footage from Shazam! Fury of the Gods.
The next installment of the DCU is set to hit theaters on March 17. It has been confirmed that the film will feature all of the Shazam family as they go up against Helen Mirren's Hespera and her two sisters.
Previous rumors have suggested that Gadot could make a cameo appearance in the upcoming movie, as Rachel Zegler stated in an interview that the two had met prior to playing in Snow White together. Shazam 2 is the most likely place for them to have had their first meeting, so Zegler's comments got the rumors going that Wonder Woman could make an appearance.
Now, as the film's release date creeps closer, new footage may have actually confirmed that the actress will have a role in the film, and it may even be bigger than a mere cameo.
Gal Gadot's Wonder Woman in Shazam 2 Footage
The official Twitter account for DC's Japanese branch recently posted a new spot for Shazam! Fury of the Gods.
At around the 49-second mark, it appears that Gal Gadot's Wonder Woman can be seen pushing some sort of object into the ground before a blast of lightning is emitted from it.
The character can clearly be seen wearing her Bracelets of Submission and her golden tiara can be seen in multiple frames.
One specific frame even showcases the red boots that Diana wears when in her Wonder Woman suit.
Even though the shot is from overhead and doesn't give a clear look at the character's face, the suit and the character's hair match up perfectly with Gadot's version of Wonder Woman.
However, there is a possibility that this footage may not be the true first look at Gadot in Shazam! Fury of the Gods. In a recent trailer for the film, a quick shot included the back upper half of a character that looked strikingly similar to Gadot in her Wonder Woman suit.
If the character from the trailer is her, then that would be the official first look at her in the film, but this most recent spot offers a much more conclusive look at her since it showcases her Bracelets of Submission, tiara, and red boots.
The full spot for Shazam! Fury of the Gods can be viewed below, with Wonder Woman's appearance coming at the 0:49 mark:
Is Gal Gadot Staying in the New DCU?
Gadot's future as Wonder Woman is still up in the air at the moment with James Gunn and Peter Safran's new DCU slate not including any projects featuring her as the main character.
However, Safran did state in an interview that Gadot could potentially continue to play Wonder Woman moving forward, and her appearing in Shazam! Fury of the Gods only adds to that idea.
It is also important to note that Gadot's role in this film appears to be more than just a mere cameo. If that was her in the trailer talking to Zachary Levi's Shazam, then she has already been seen in two separate sequences. In the footage that was just released, she seemed to be a part of some sort of action scene, potentially even the final battle that will likely occur during the movie's climax.
In short, it appears as though Gadot is back as Wonder Woman, at least for the time being. With a character that big showing up in the film, it would be assumed that DC would want to keep it a secret, but she has nevertheless been spotted, possibly on multiple occasions.
Shazam!: Fury of the Gods premieres in theaters on March 17.