MCU newcomer Emilia Clarke finally broke her silence on the identity of her new Marvel character, and it turns out fans met her once before in 2019's Captain Marvel. 
A new report revealed that Clarke will be playing G'iah, the daughter of Talos the Skrull, in the upcoming Secret Invasion series made for Disney+. 
Fans met G'iah when Talos introduced his family to Carol Danvers and Nick Fury, who discovered the Skrulls' hideout and helped rescue the group of aliens. She was last seen playing with a young Monica Rambeau at the end of the film. 
Talos and the Skrulls have been relegated to mysterious post-credits scenes since then, and no further mention of Talos' family has been made until now. As it turns out, Emilia Clarke explained this was done so her new character can come to light. 
Emilia Clarke Talks Being an MCU Skrull 
Marvel just confirmed that Emilia Clarke's character in the upcoming Secret Invasion series on Disney+ is named G'iah, and she is the daughter of the Skrull Talos. 
When speaking with Vanity Fair about her new MCU gig, Clarke described the "punk feeling" you get from G'iah since she's been "hardened" by the life she's lived as "a refugee kid who's had Talos for a dad:" 
"It's hardened her for sure. There's a kind of punk feeling that you get from this girl. She's a refugee kid who's had Talos for a dad, you know what I mean?"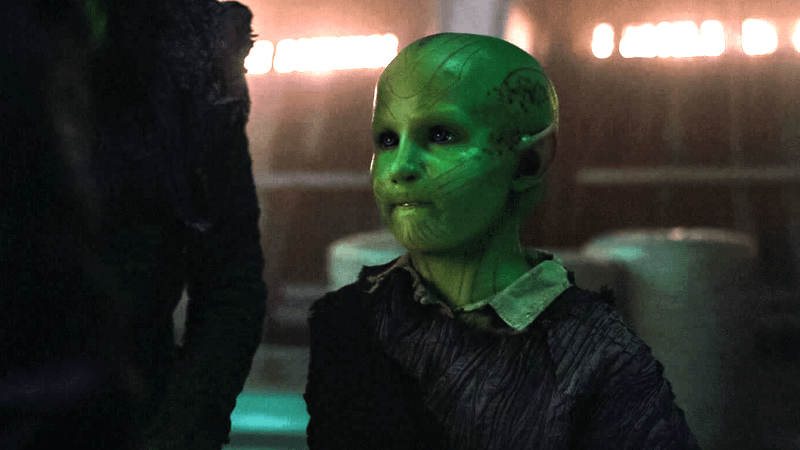 Although fans have met G'iah once before when Carol Danvers discovered the Skrull hideout in 2019's Captain Marvel, Clarke implied the rest of the MCU still doesn't know Talos has a daughter, even saying the silence and secrecy of her existence "tells you everything you need to know about (Talos and G'iah's) relationship:" 
"Maybe the fact that we didn't know he had a kid up until this point tells you everything you need to know about their relationship." 
When expanding on G'iah's role in the series, it quickly became clear she's not the same fan of Nick Fury as her father. Audiences may be confused by this since Fury helped rescue Talos' family back in the 90s, but Clarke explained that "a certain amount of resentment has built" because "not a lot has happened" since G'iah was reunited with Talos: 
"These people promised a lot of stuff a long time ago, and not a lot has happened. So understandably, a certain amount of resentment has been built. There's a lot of emotions that live within her, and there's a lot of confrontational aspects to her character that have come from circumstance. You understand why she has the feelings that she does." 
Secret Invasion's Trouble in Skrull Paradise 
Fans will recall G'iah as a small child witnessing the malice of the Kree warriors that tried to capture her family in 2019's Captain Marvel. And although Talos and his family survived the escape, the events were surely traumatic for the small Skrull as she witnessed her father get shot. 
Growing up on an invisible spaceship probably didn't help either, and that likely didn't change for G'iah even after her rescue. Thirty years later and still presumably hiding in the silence of space (or elsewhere), the daughter of Talos probably has a lot of strong feelings about humans and how they've shaped her existence. 
This is likely from where the "resentment" toward Nick Fury stems. The man who rescued the Skrulls still keeps them hidden in Earth's orbit right where he found them. G'iah likely thought by the end of Captain Marvel that she was moving onto a new life, playing with Monica Rambeau and enjoying the open world. Since she likely didn't get anything close to that life, Emilia Clarke calling G'iah's emotions "understandable" is beginning to make sense. 
Fury likely has his reasons for keeping the Skrulls out of sight, with Earth having a terrible track record with alien visits not going very well through the past twenty years or so. Nevertheless, G'iah and the Skrulls that have spent their whole lives in the shadows are likely tired of waiting for permission to live freely. 
Secret Invasion debuts on Disney+ June 21.