Marvel Studios officially confirmed the identity of Emilia Clarke's MCU character for Secret Invasion.
Despite her presence in the Secret Invasion trailer, Marvel has kept Clarke's role under wraps, despite rumors suggesting she was a certain comic book Skrull or mutant and SWORD agent, Abigail Brand. 
Now, days after announcing Secret Invasion's release date, the studio has finally revealed just who the Game of Thrones star is actually playing in Marvel's next Disney+ series. 
Emilia Clarke's MCU Character Confirmed
As shared via Vanity Fair, Marvel announced that Emilia Clarke's character in Secret Invasion is someone who has already appeared in the MCU: G'iah, Talos' daughter.
G'iah was last seen as a young girl in 2019's Captain Marvel.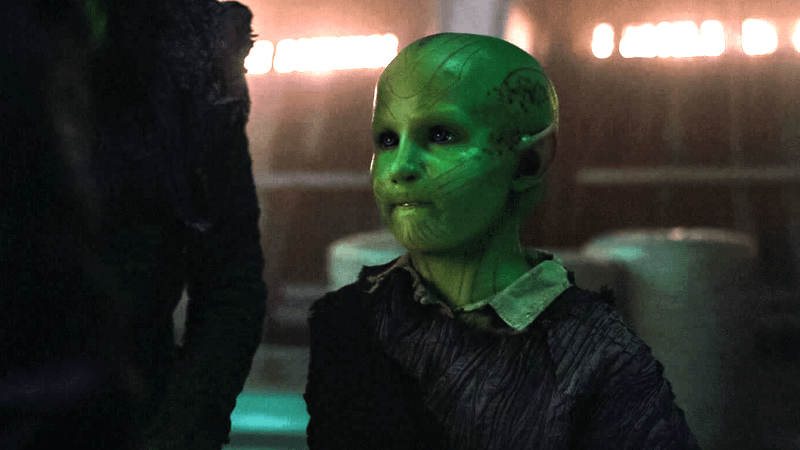 When asked about Clarke's role, Nick Fury's Samuel L. Jackson called her "the little Skrull girl grown up" and recalled the Captain Marvel scene where Ben Mendelsohn's Talos reunited with his Skrull family:
"Remember when (Talos) was there with his wife and daughter? She's the little Skrull girl grown up. She's his daughter."
Based on the report, it seems as though Talos and G'iah's relationship has a few issues which will contribute to the events of the Disney+ series. 
Emilia Clarke's Captain Marvel Connections 
Although many believed Clarke would be playing Abigail Brand after an official Tenor GIF of the Secret Invasion actress seemingly spoiled the news, it turns out the rumor claiming Emilia Clarke is playing the Skrull, G'iah, was correct. 
Perhaps Clarke is actually playing both characters with her true identity being G'iah and her false human persona being Brand? 
After all, in the comics, Abigail Brand is present when the Skrulls destroy the SWORDS headquarters during the "Secret Invasion" comic run.
While that remains to be seen, it sounds as if Mendelsohn's Talos and Emilia Clarke's G'iah may be on opposite sides when the series begins. 
Something else to note is how her MCU story parallels that of Monica Rambeau, who was also young during the events of Captain Marvel and is now disillusioned with her Aunt Carol Danvers.
Also, G'iah and Monica met each other and even played together at the end of the 2019 film. Perhaps this allows for a Monica cameo in Secret Invasion or G'iah's presence in The Marvels later this year. 
Secret Invasion debuts Wednesday, June 21 on Disney+.