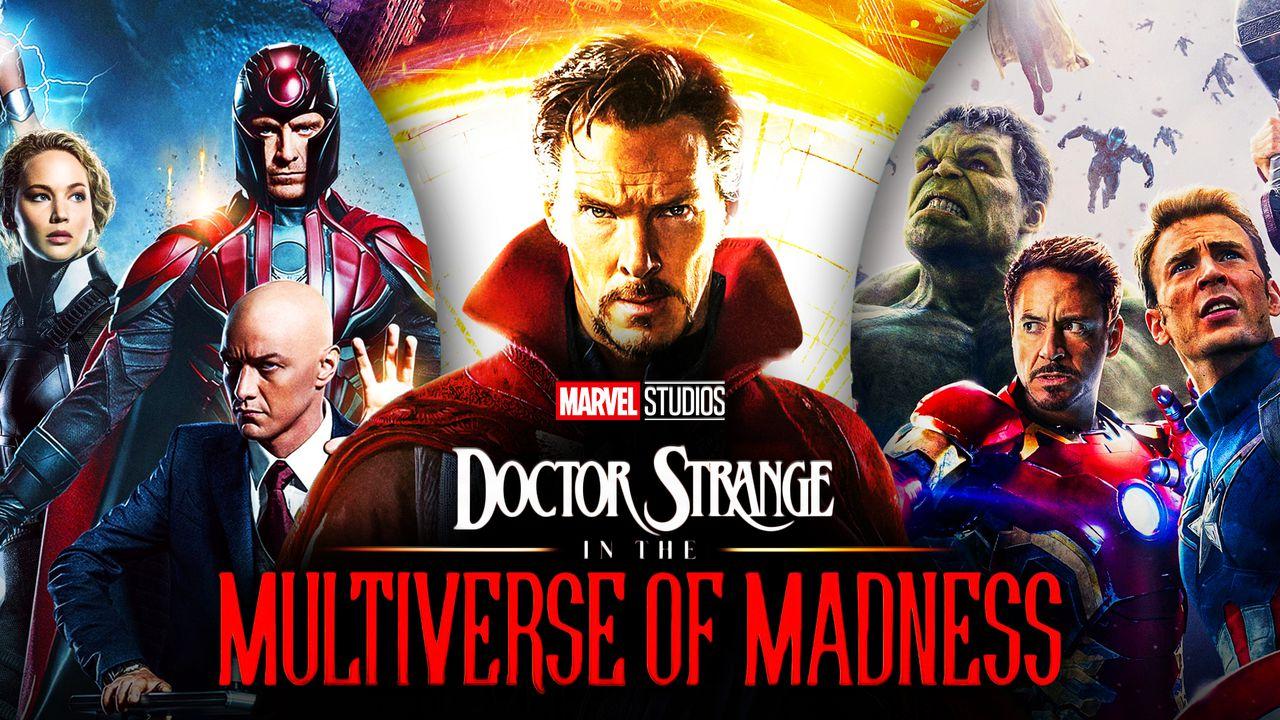 Marvel Studios is set to kick off its next round of theatrical blockbusters this summer with one of its biggest solo movies ever in Doctor Strange in the Multiverse of Madness. While the leaks coming from this film aren't quite Spider-Man: No Way Home-level in quantity, the information out there is slowly bringing hype for the Doctor Strange sequel to crazy levels.
The list of confirmed details about what's coming in the May 2022 release is much shorter than the list of everything unconfirmed, but all of it is teasing something truly insane joining the expanding MCU narrative.
Most of this has to do with the cameos and guest appearances that have been leaked in recent weeks, which could be at least as big as those from Spider-Man: No Way Home, if not bigger. Throw in the fact that director Sam Raimi still has no idea if the film is truly complete only three months before its release, and the recipe could be there for the sequel to be another game-changer.
Actors and movie personnel from all corners of the Marvel-verse have shared their thoughts and ideas about this new blockbuster, most recently including Deadpool creator Rob Liefeld. While his Merc with a Mouth isn't someone directly involved with the Doctor Strange sequel (for now), the comic writer recently hinted that there is plenty of truth to what he's heard is coming in May.
Rob Liefeld on Doctor Strange 2 Leaks
On an episode of The Big Thing with Kristian Harloff on YouTube, Deadpool creator Rob Liefeld shared his thoughts on the hype and discussions surrounding Doctor Strange in the Multiverse of Madness. Specifically, he addressed how fluid the movie's core story currently is and the chatter about the rumored cameos on the way.
Liefeld asked Harloff and co-host Coy Landreau if either of them had tried to get into one of the test screenings for the sequel, confirming that the screenings are happening fairly consistently:
"Here's the deal you all know, I want to know — have either of you been caught trying to sneak into a screening of Doctor Strange 2? ...They are testing the shit out of this movie."
Liefeld admitted that not only is Marvel testing the movie on a regular basis, but that major moments seen in those screenings are leaking out to the world before it fully releases:
"The thing is, uh, they're testing, it's all getting out. We're all guilty of hitting those hashtags, there's always that one guy because, here's how I know..."
While rumors are pointing to Multiverse of Madness including potentially major cameos at every turn, Liefeld made it clear that some of it "(is) happening" and that people have seen it already:
"I think it's safe to say some of the stuff, you just said that's out there, it's happening. It's in, it's been seen… And so dude, give us lots of that."
Liefeld also gave some insight into what Marvel Studios' thought process entails after each reported test screening. With each new major plot point and/or cameo, the Deadpool creator teased that Marvel wants "more cool shit" in the film with every new bit of information that leaks to the public:
"But yeah, Doctor Strange… to answer that other question and, you know, whatever they're testing. I kind of feel like each… result of each test that's being reported in the press is 'We need to put more cool shit in that movie.'"
The Deadpool creator ultimately said that he "know(s)" that Fox-centric material, some of which has been previously leaked, will be present in the Doctor Strange sequel:
"You want me to see it six times, you bring some of that [Fox-Marvel] stuff in… And actually, I know on some level, some of it is already there. I have just revoked every - every one of my [Marvel] passes just got revoked."
"The Multiverse Is Real?!"
Officially, Marvel Studios hasn't shared much about just how massive Doctor Strange in the Multiverse of Madness could be, with an evil Doctor Strange stealing the show in the film's first trailer. However, Liefeld speaking definitively about all the leaks and rumors surrounding characters and shocking moments should only serve to amp up the hype even further.
Almost more so than it was with Spider-Man: No Way Home, fans are consistently getting new information regarding who could play a role in this film, which goes far beyond Doctor Strange's solo story.
The movie tying into both Loki and WandaVision from Disney+ is only what kicks things off thanks to Wanda Maximoff's co-starring role and an appearance by Tom Hiddleston. Beyond those tenured MCU stars, Multiverse of Madness even has the potential to take on formerly Fox-owned material with the X-Men and the Fantastic Four, both with the classic actors and new ones.
Right now, there is no way to actually set into stone what's coming in the 2022 sequel and what's more of a fantasy. And with three months still remaining until it debuts, things can change on an almost daily basis.
However, with what Liefeld is teasing in these quotes, the Multiverse appears to be coming in a big, big way.
Doctor Strange in the Multiverse of Madness will debut in theaters on May 6, 2022.