Funkos have become a consistent marketing tool to promote superhero movies over the years, whether it be for Marvel or DC. These vinyl figures are movie-accurate representations of notable heroes and villains, and sometimes, they depict memorable scenes from the movies in Funko form. On the DC side of things, The Batman previously received 12 new collectibles as part of its promotional push, and now, Peacemaker is being highlighted after its successful first season on HBO Max. 
Directed by James Gunn, the John Cena-led series earned positive reception from fans and critics while also breaking the biggest single-day release on HBO Max. As a result, this led to the show being renewed for another season.
Now, in celebration of its upcoming second season, a new batch of Funkos highlighting several main characters from the series has been unveiled.
DC Celebrates Peacemaker With New Funkos 
Funko, via Entertainment Earth, officially revealed five new Pop! figures for Peacemaker, showcasing a fresh batch of figures for John Cena's titular hero, Eagly, Vigilante, and Judomaster. 
Nhut Le's Judomaster is ready to defend the Butterflies in his stunning Funko Pop form: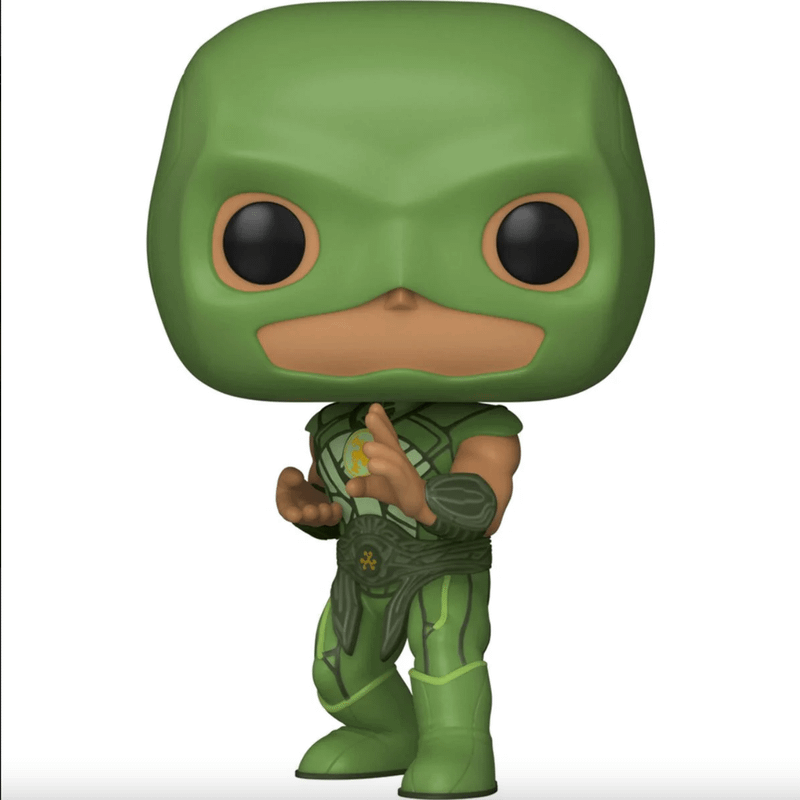 Judomaster's Funko form includes a detailed look at the character's costume, with the figure showing off an iconic fighting stance. 
Pre-order the Judomaster Funko Pop here. 
In this official Funko figure, fans can relive John Cena's hilarious scene where he is wearing underwear while singing his heart out during Peacemaker's first episode:
Christopher Smith's trademark Peacemaker helmet is the icing on the cake in this latest Funko figure: 
Pre-order John Cena's Peacemaker (in his underwear) Funko Pop! here. 
This batch of collectibles is not complete without the titular anti-hero's trusted best friend, Eagly: 
Eagly's Funko can be seen holding the American flag as well: 
Pre-order Eagly's Funko Pop! here.  
Vigilante, the self-proclaimed best friend of Peacemaker, is also highlighted with his own Funko Pop! figure: 
Vigilante is wielding a chainsaw, the weapon that he almost used to raid the factory full of Butterflies: 
Pre-order Vigilante's Funko Pop! here. 
Peacemaker and Eagly are ready to save the world against Butterflies in this official Funko figure: 
Peacemaker's X-ray vision in his helmet is the main highlight of this Funko figure:
Pre-order Peacemaker and Eagly's Funko Pop here.
All items are priced at $11.99 USD and will arrive in July 2022. 
Peacemaker Receives Stunning Collectibles 
Peacemaker's new wave of Funkos highlights the stunning costumes of the characters alongside their impressive designs.
While some protagonists are missing, such as Emilia Harcourt and John Economos, it's understandable that the main focus of the first batch is on the costumed characters in order to potentially generate more sales. 
Judomaster's costume can be seen in great detail in his Funko figure, which proves to be valuable for toy collectors everywhere. In the series, the character is often featured in high-octane fight scenes, so many would agree that it's hard to keep up with every single detail that is showcased in the costume. 
Meanwhile, Vigilante's comedic antics have been consistent in the show's first season, and his Funko figure is a fitting reminder of that. 
Peacemaker and Eagly's bond is one of the memorable highlights in the show, and toy collectors will have the chance to recreate the adorable moments in Funko form. Given that Season 2 has been given the green light, it's safe to assume that there will be more scenes showcasing the pair's friendship that could ultimately lead to more Funkos in the future. 
Peacemaker is now streaming on HBO Max.