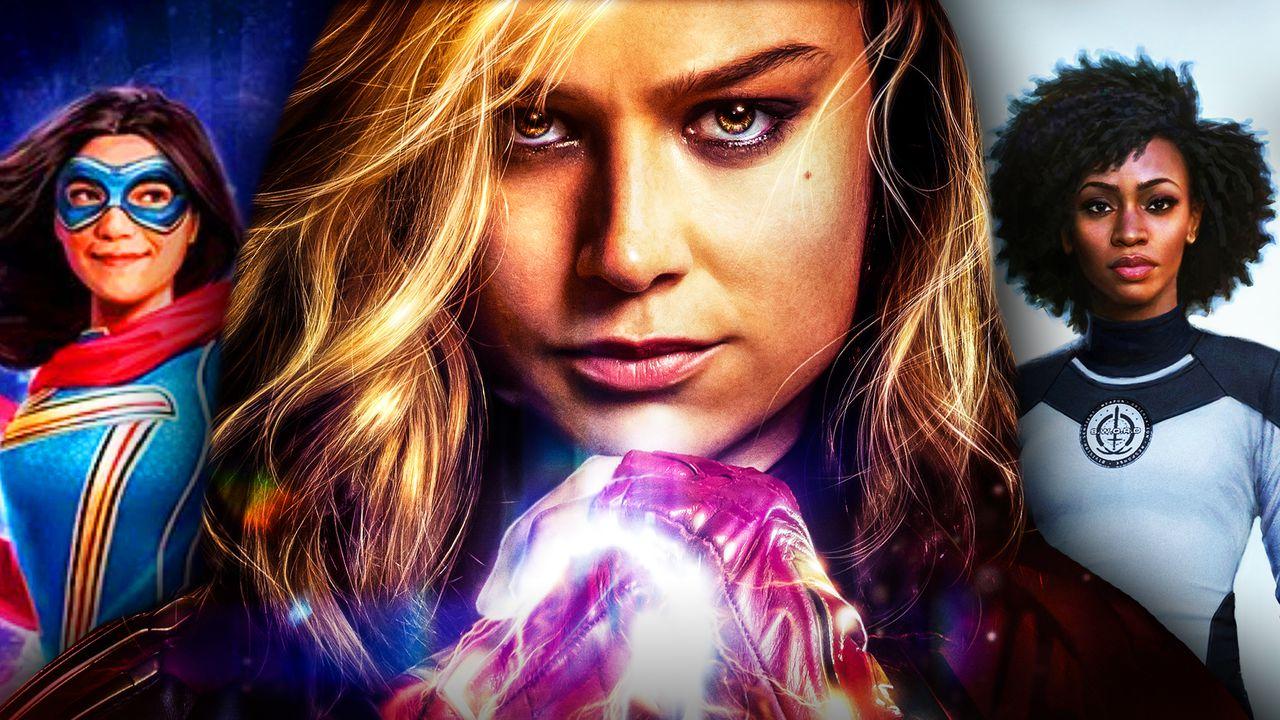 After the most recent scheduling change for the Marvel Cinematic Universe's movies, 2023 is now set to open in theaters with Nia DaCosta's The Marvels on February 17. Although no specific plot details for the blockbuster sequel have been revealed to the public yet, the cast alone is driving anticipation to new heights with more than a year until the film releases in full.
Brie Larson's Carol Danvers will come into her second solo adventure with two powerful co-stars at her side in Teyonah Parris' Monica Rambeau from WandaVision and Iman Vellani's Kamala Khan from Ms. Marvel. Following Larson's surprise appearance in the mid-credits scene from Shang-Chi and the Legend of the Ten Rings, she's now deep into production for what will likely be her next MCU outing.
With 15 months still remaining until The Marvels joins the MCU's narrative, there is still plenty of shooting left to complete and even more extensive work to be done in post-production.
However, recent news is signaling that there may not be too much more material to shoot thanks to one actor finishing his own work.
Park Seo Joon Completes Work on The Marvels
allkpop revealed that actor Park Seo-Joon has returned to his home country of South Korea after completing his work on Marvel Studios' The Marvels in the U.K.
The Marvels Nearly Finished Filming?
Marvel Studios has been hard at work filming The Marvels in the United Kingdom since early August 2021, although the recent scheduling changes gave the movie three more months to finish everything Marvel needs to film and edit. With the sequel now almost four months into its shooting schedule, it's likely that DaCosta, Larson, and the team are closer to the end than the beginning before the footage goes into the editing room.
As for Seo-Joon, there is still a great deal of mystery surrounding not only his role in the movie but how much screentime he will see alongside the leading superhero trio. With the MCU newcomer having been in the U.K. for most of the last four months, however, it seems that he will be someone to watch out for once more details come to light.
With Seo-Joon now having completed his time on set, the wait begins to see when other actors like Samuel L. Jackson and Zawe Ashton will make their way back home as The Marvels moves closer to finishing shooting. This will hopefully come with more insight into not only Seo-Joon's role in the movie but also more of an idea of what Brie Larson's Captain Marvel and her team will be in for in the sequel.
The Marvels is currently filming and will release in theaters on February 17, 2023.