Lucasfilm and Disney+'s feverishly anticipated Ahsoka is on the horizon, and executive producer Dave Filoni discussed how Episode 1 of the Star Wars streaming series begins.
Rosario Dawson returns as the fan-favorite Togruta Jedi Ahsoka Tano in her self-titled show. Set in the post-Return of the Jedi MandoVerse era, the show will also serve as a quasi-sequel to Star Wars Rebels, which ended in 2018.
Ahsoka was actually last seen in the overall Star Wars chronological timeline at the very end of Rebels, summoning Sabine Wren to her quest to find Ezra Bridger, but this key moment isn't rumored to occur until during the Ahsoka series itself.
So what has Tano been up to before that, beyond her roles in The Mandalorian and The Book of Boba Fett?
Dave Filoni Reveals How Ahsoka Starts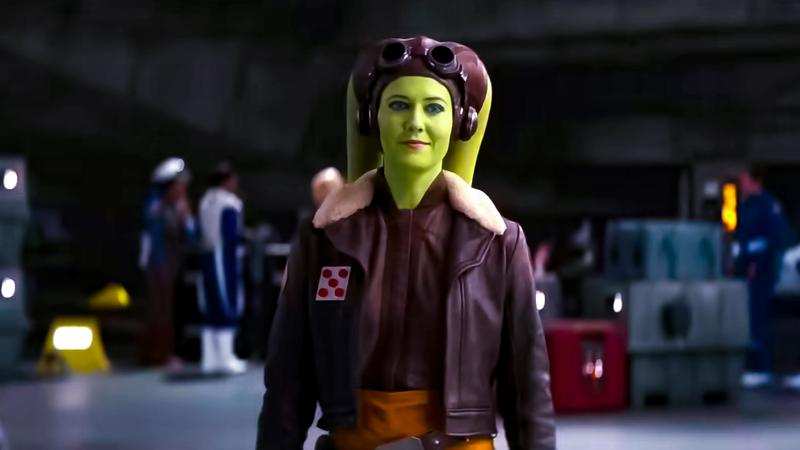 In a new featurette for Ahsoka posted to the official Star Wars YouTube channel, series executive producer Dave Filoni spoke about where the eight-episode tale finds its central character in the season premiere:
"From the beginning of this series, Ahsoka is out there on the fringe of the galaxy. When she hears whispers of this warlord's return, she decides to enlist her friends' help."
While it's currently unknown where specifically these galactic fringes are located, fans are well aware that the "warlord" Filoni references is none other than Grand Admiral Thrawn (Lars Mikkelsen.) 
Ezra sent himself, Thrawn, and Thrawn's command ship into the galaxy's Unknown Regions at the end of Star Wars Rebels. Ahsoka knows firsthand the grave danger which Thrawn represents to the New Republic, so it makes sense that she'd reach out to her friends.
And judging by the series' marketing materials, the friends Ahsoka seeks are Sabine Wren and Hera Syndulla, two of the principal heroes of Rebels.
In the show's production brief, Filoni further expanded on Ahsoka's lone wolf, "samurai-like" status that audiences find her in at the outset of the series, noting that the character has been keeping busy "doing good deeds where she can:"
"She's a wandering samurai-like Jedi doing good deeds where she can but always ever watchful of greater evils that may lurk, that may threaten all that's good in the New Republic." 
The producer additionally commented on "the threat of Thrawn's return." Ahsoka was previously seen gathering clues on the Chiss ex-Imperial during Season 2 of The Mandalorian, but now, Thrawn has made a comeback:
In the series 'Ahsoka,' she has indeed detected a great threat to the Republic in the form of Grand Admiral Thrawn—the greatest of the leaders of the Imperial Navy. He had disappeared, heroically defeated by would-be Jedi Knight Ezra Bridger. Now, there's the threat of Thrawn's return. There are whispers in the galaxy of this evil rising up to threaten all that's good. All that really stands in the way is Ahsoka and her own Padawan in Sabine Wren."
A mention is made of Sabine who, as it was recently revealed, was trained as a Jedi by Ahsoka. In the series, it seems the time has come for Wren to call upon the skills taught to her by Tano.
What Can Fans Expect From Ahsoka?
Ahsoka is a Star Wars project. So, naturally, it'll contain intense action, memorable characters, and well-polished visual effects. But beyond all that, what can be expected when the series begins airing its episodes?
It's long been maintained by fans as well as even some who are involved with the show, that Ahsoka acts as a continuation of Star Wars Rebels. A Rebels Season 5 of sorts.
So that means, whilst also moving the story of its titular Jedi forward in a meaningful fashion, the plot must also serve additional heroes like Hera, Sabine, and Ezra. This show will also do some setup for the eventual, Dave-Filoni-directed MandoVerse movie.
Beyond that, perhaps some other characters from the surrounding time period could pop in. A Din Djarin or a Luke Skywalker, perchance? 
Or maybe Ahsoka will play host to everybody's favorite Lasat, Zeb Orrelios. Since The Mandalorian Season 3 saw Zeb put in his very first live-action appearance, Lucasfilm likely doesn't want to waste its fully realized CGI model of the character, so it feels very probable that he'll be present in Ahsoka, especially given his strong connection to Hera, Ezra, and company.
Whatever the case may be, and whatever surprises Star Wars: Ahsoka has in store, all will be revealed beginning on Wednesday, August 23 when the first two episodes launch exclusively on Disney+.